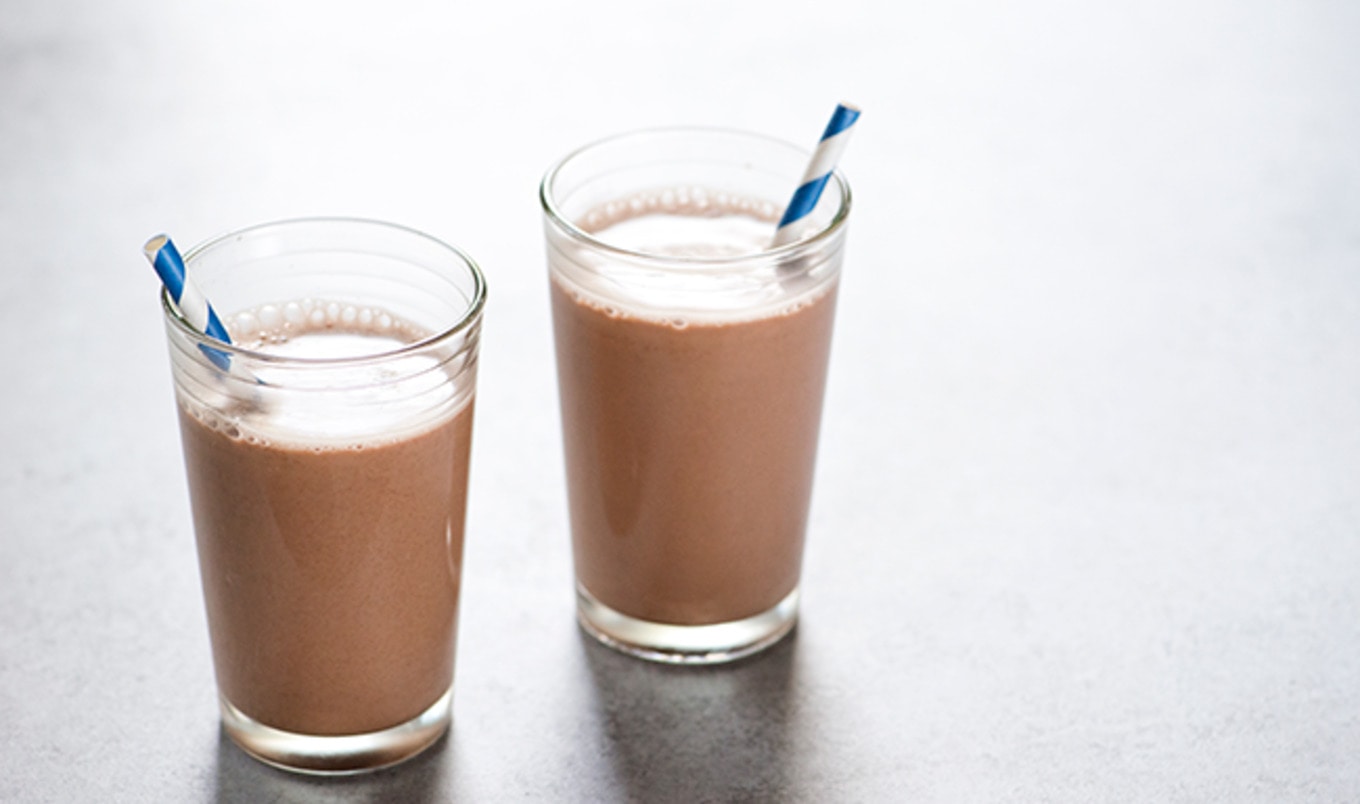 Get your straws out because it's National Chocolate Day.
October 27, 2017
---
Today is National Chocolate Day, which is basically an excuse for us to consume as much chocolate as we want (as if we needed one). And while we love the fact that chocolate is said to have numerous health benefits (lowering blood pressure, improving brain function, providing antioxidants, and elevating one's mood), mostly, we love chocolate because it's insanely delicious. This year, to celebrate this most special occasion, we're featuring five chocolate beverages because—let's be honest—there's nothing better to drink (or eat!) than chocolate.
1. Mint Chocolate Chip Tehina Shake from Goldie (Philadelphia, PA)
James Beard Foundation award winner Michael Solomonov is known internationally for his modern take on Israeli cuisine. Beginning with fine-dining restaurant Zahav, followed by the opening of the casual hummuseria Dizengoff (now with multiple locations), Solomonov recently opened his first vegan restaurant, a falafel bar called Goldie. While the falafel is good, no trip is complete without ordering the Mint Chocolate Chip Tehina Shake. This indulgent, mint green treat comes with chocolate sauce and chocolate chips and is topped with a chocolate swirl and mint leaves. Adding too much tahini is easy, as it has a strong flavor, but Goldie's shakes have the perfect balance and provide a subtle, earthy flavor.
2. Nut Cruncher Shake from Champs Diner (Brooklyn, New York)
If you're anything like us, you always order any menu item that incorporates chocolate and peanut butter, which might explain our love affair with Champs Diner's Nut Cruncher Shake. Made with a chocolate ice cream base and peanut butter, this mouthwatering shake is topped with crushed Chick-O-Stick and shaved coconut. If that's not the definition of "perfect," we don't know what is.
3. Spiked Hot Chocolate from Virtuous Pie (Portland, OR)
You might not expect a mind-blowing chocolate drink from an all-vegan pizzeria, but that's exactly what a spiked hot chocolate from Portland's Virtuous Pie is. Served during brunch, this breakfast cocktail is prepared using house-made milk, chocolate sauce, and New Deal Hot Pepper Monkey vodka, then garnished with a spicy rum. Order this with a breakfast pizza, and your day just got awesome.
4. Chocolate Spice Smoothie from B'Gabs Goodies (Chicago, IL)
Want to enjoy a healthy chocolate beverage? If so, head to B'Gabs Goodies in Chicago for a chocolate-spice smoothie. Made with cashew milk, raw cacao, maple syrup, and cayenne, this drink is ideal for either breakfast or a post-workout snack because it contains only simple, wholesome ingredients.
5. Checkpoint Cocktail from Au Lạc (Los Angeles, CA)
Known for its beautiful, fresh, plant-based Vietnamese cuisine, Au Lạc also has unique and creative cocktails. Case in point: the Checkpoint, a delicious combination of vodka, chocolate syrup, maca, coconut cream, blueberries, and grapes. Although it seems like a lot, this combination is rich and smooth and goes down easy.
Perri Lerner is a freelance writer and blogger eating her way around Portland, OR.