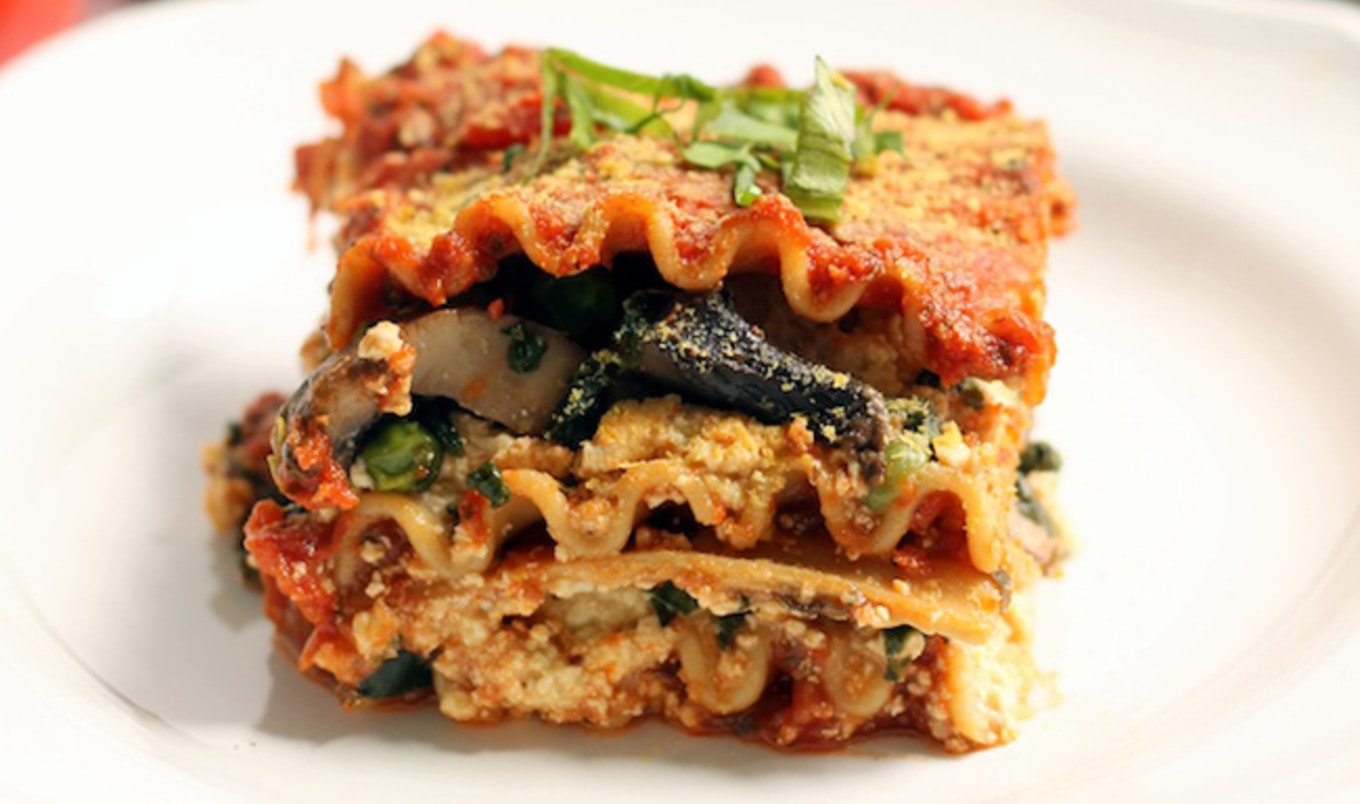 Say hello to high-protein plant-based pastas and goodbye to plain ol' starchy noodles.
November 1, 2017
---
Don't get us wrong—we love traditional pasta. That said, with so many new, fun, and innovative noodles on the market, we've been changing the way we make this classic dinnertime dish. Recent additions to our meals include an array of plant-based shapes, sizes, and colors perfect for quaint dinners by ourselves or for large office potlucks. Here, we're highlighting a few of our new favorite vegan pastas that'll have you twirling your fork in no time.
1. Avocado pesto pasta
Seapoint Farms' soy protein pasta blends use 100-percent organic edamame for both spaghetti and fettuccine dishes that become even more delicious when combined with fresh basil, garlic, pine nuts, heirloom tomatoes, and freshly ground black pepper. For more inspiration, look to Avocado Pesto, where the cheesy vegan basil pesto with hemp seeds is amazing when served with a side of Rudi's vegan seven-grain bread.
2. Lentil and bean pasta
With six different varieties, Tolerant has an assortment of organic lentil, black bean, and chickpea pastas. We also love the brand's broccoli-and-pea pasta with cherry tomato sauce recipe, which we make more scrumptious with the addition of diced cherry tomatoes and basil. Each serving has at least 14 grams of protein, so load up your dish, and save the guilt for another day.
3. Dairy-free macaroni and cheese
Ancient Harvest's eight pasta blends (including corn-quinoa penne, linguine, spaghetti, rotini, and shells) will have you transforming every day into National Pasta Day. Our favorites are the tri-colored garden pagodas or vegetables curls, which come with dried spinach, beet, and red bell pepper in each serving. Even better, the company has introduced a line called Pow! Pasta that features black-bean elbow, green-lentil penne and spaghetti, and red-lentil rotini, and linguine. Finally, Fork & Beans' vegan macaroni and cheese recipe takes approximately 25 minutes to prepare, which means you'll be eating in no time.
4. Veggie penne sauté
For a pasta that's high in protein, fiber, and iron, C & F Foods' organic, gluten-free green pea-penne pasta and bean pasta are our go-tos. The fact that these come packed with 15 grams of protein per serving are one more reason we might be eating pasta for breakfast, lunch, and dinner. Furthermore, The Nourshing Home has a vegetable penne sauté that includes zucchini, artichoke hearts, Kalamata olives, onion, and broccoli florets, you won't put your fork down for a sec!
5. Spaghetti with marinara
These traditional Alce Nero Italian organic pastas have been made with whole-wheat and organic ingredients for 39 years, and even though the website is in another language, these pasta varieties (including spaghetti, penne, and fettuccine pasta) will have you speaking Italian in no time. For a tasty marinara sauce, we recommend The Pioneer Woman's recipe, which calls for a lot of onions, tomatoes, garlic, (carrots are optional), a can of whole tomatoes, oregano, and basil.
6. Tofu lasagna
From brown rice spaghetti and lasagna to fusilli, Tinkyáda's 18 varieties of brown rice pasta allow you to create the perfect dish in 30 minutes or less. Lastly, Hummusapien features a vegan-friendly lasagna recipe using tofu, garlic hummus, and chopped spinach with a touch of marinara sauce. Trust us—you'll be prancing around the kitchen until the timer goes off.
Christa Alexis loves carbs, especially pasta.