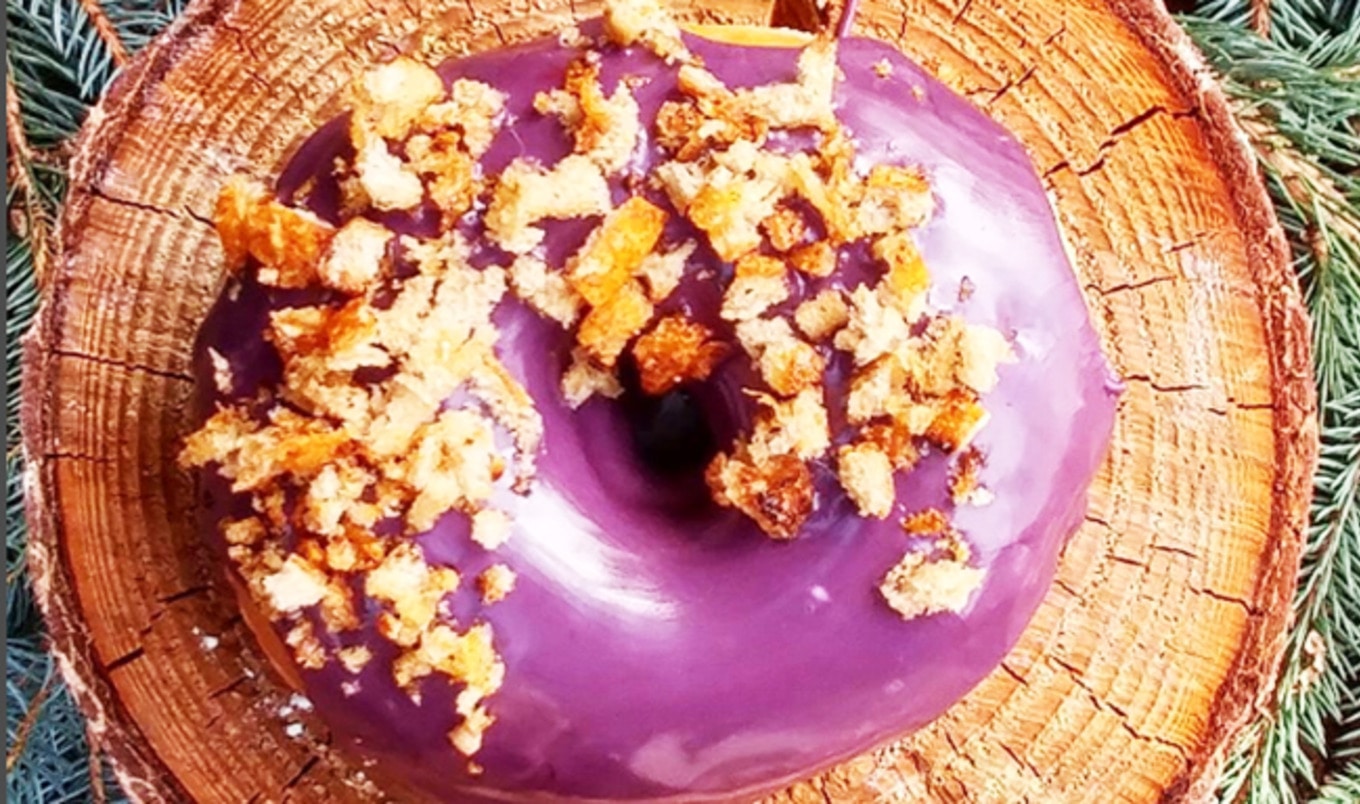 Sour Green Apple doughnuts, Caramel Apple Pie Shakes, and pumpkin everything are taking over Rip City.
October 3, 2017
---
Portland loves fall. In fact, Portlanders love autumn so much that it overshadows the citywide Seasonal Affective Disorder we will eventually experience due to the inevitable eight months of rain. And before Portlanders head indoors for the winter season, we get outside to bask in our love of watching scary movies at second-run theaters, going pumpkin and apple picking at Sauvie Island, and, most importantly, eating fantastic vegan food available throughout the city. Restaurants know how much we love this season, which is why many eateries give us vegan pumpkin burgers and sour-apple doughnuts during fall. For a more in-depth look at all of the delicious, seasonal creations emanating from Portland kitchens, we're highlighting six eateries to visit before pumpkins give way to candy canes.
1. Doe Donuts
Whether you're a pumpkin purist, craving something quince-essentially Portland, or prefer your tea in doughnut form, Doe Donuts has something to please everyone this fall. Options include the tried-and-true classics, as well as rotating seasonal flavors that are sure to put you in the sweater-wearing, pumpkin-carving, apple-picking mood. Embracing seasonal produce in true Portland fashion, Doe Donuts' fall flavors include Huckleberry and Quince Fritter, Pumpkin Cinnamon Sugar Pretzel Twist, Sour Green Apple, and Gluten-free Pumpkin Cake. Other fall-inspired flavors include the London Fog, Maple Coconut Bacon, and Mississippi Mud.
2. Shoofly Vegan Bakery
Although Shoofly Vegan Bakery is a newcomer to the Portland vegan scene, the bakery is already well-known for its stand at St. John's Market, as well as the distribution of its wholesale products to cafés and restaurants around the city. For fall, Shoofly is taking advantage of the beautiful produce Portland has to offer by creating seasonal pastries such as sweet potato and butterscotch apple hand pies, spiced-pear muffins, pumpkin bread, and butter pecan cake. Pair any of these treats with a cup of coffee or tea, and you'll slip into fall with ease.
3. Sweetpea Baking Company
Portland's first all-vegan bakery has been serving yummy treats for more than 10 years, and it seems as if the bakers get more creative each time fall comes around. For proof, hang out at their café, and warm up with a pumpkin-spice latte with homemade syrup or the daily soup special, which is served with fresh, homemade focaccia. If decadent pastries are more your thing, order a pumpkin-spice twist, pumpkin-chai bar, pumpkin rice cereal treats, pumpkin whoopie pies, or hot cocoa doughnuts. Then, sit in the corner behind a spooky book, and you've got yourself the quintessential Portland fall.
4. Next Level Burger
Next Level Burger has the perfect fall special for those who don't have a sweet tooth but still love fall flavors. If this sounds like you, order the White Bean and Pumpkin burger topped with savory pumpkin mayonnaise, sautéed kale, red onion, and tomato. That said, if you happen to need your sweet tooth satisfied, the Caramel Apple Pie Shake comes with cinnamon apples and coconut cream caramel, while the Pumpkin Spice Shake is made with pumpkin purée, secret autumn syrup, caramel, and cinnamon. Good news, Seattle dwellers: Next Level Burger now has a location inside the Roosevelt Square Whole Foods Market.
5. Back to Eden Bakery
Catering to both the vegan and gluten-free crowd, Back to Eden Bakery has been a mainstay in the Portland vegan community since 2007. With the recent expansion of the store, Back to Eden has gone from being a neighborhood bakery to an awesome dining spot, so now you can eat your dessert before dinner. Speaking of dessert, there's no shortage of fall specials at Back to Eden: choose from an array of fall treats, including pumpkin-maple cupcakes and miniature pumpkin cream pies with homemade coconut whip. And, if pumpkin isn't your thing, try the caramel apple crumb pie, gingerbread or chai-spice cookies, a cranberry-hazelnut cupcake, or an apple fritter scone.
6. Virtuous Pie
Hailing from Vancouver, British Columbia, Virtuous Pie is changing the pizza game with homemade cheeses and unique flavor combinations such as the Korean-inspired pizza Kim-Jack and Indian-inspired Curry Mile. This fall, the restaurant is featuring four new pizzas, including Ode to Philly, a cheesesteak in pizza form, and Southern Belle (featuring barbecue shreds, corn, and pineapple). Pair these new pies with seasonal salads the Golden Beet and Chevre (pearl farro, frisee, shaved fennel, and candied walnuts dressed with a sherry shallot vinaigrette) or the Charred Broccoli and Lentil (radish, white bean, toasted pumpkin seeds, dill, parsley, and garlic tahini dressing). Finish your meal with a seasonal scoop of Bourbon Sour Cherry and Chocolate or Pumpkin Pie and Pecan ice cream. Or, act like a local, and enjoy it in a kombucha float.
Perri Lerner is a freelance writer eating her way around Portland, OR.