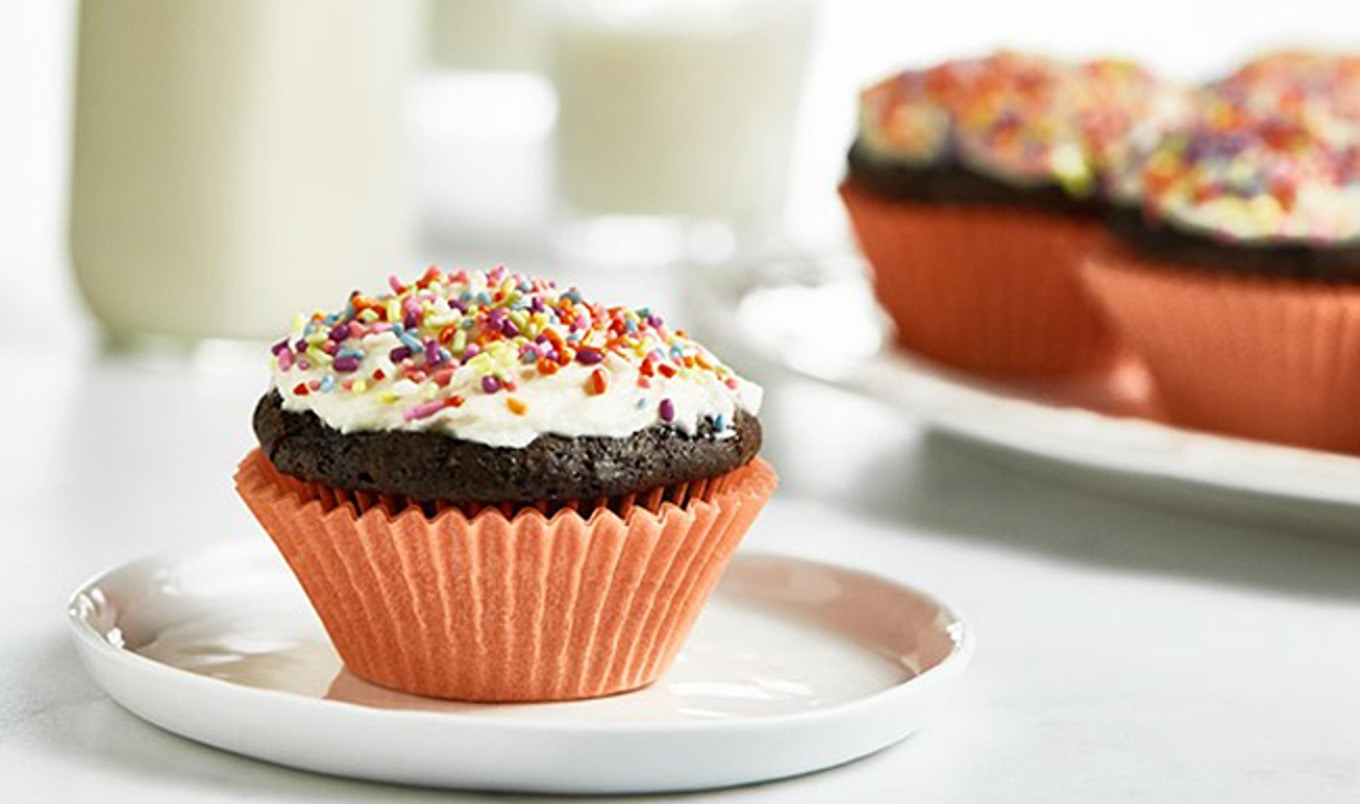 Chocolate tastes delicious in all shapes and forms, especially when that form is a cupcake.
November 10, 2017
---
There's only one thing better than chocolate, and that's chocolate cupcakes. However, as anyone who's ever enjoyed these tasty treats will tell you, a cupcake can go from "good" to "amazing" based on the chocolate used in the recipe. With this in mind, we're featuring eight plant-based chocolates that'll make you a candidate for the Hall of Fame of Cupcakery (and, yes, we just made that up).
1. Lily's Sweets
Lily's Sweets comes in 70-percent dark chocolate, dark chocolate, a baking bar, and chocolate baking chips, which are all naturally sweetened with stevia. All of the dark chocolate and baking products are vegan friendly, but our favorite pick is the baking bar because it melts quickly and can be used to replace pre-made cocoa. If you're creating a rich chocolate mousse cupcake, we recommend the dark chocolate, but if you're going for a semi-sweet chocolate infused cupcake, try the baking bar, and add some chocolate chips.
2. Theo Chocolate
Theo Chocolate makes an assortment of rich, organic, vegan-friendly, soy-free chocolate bars, including 70-percent dark chocolate with sea salt, orange, coconut, or raspberry flavors and pure 85-percent dark chocolate. We suggest using these delectable treats in Oh She Glows' recipe for Vegan Chocolate Chip Cupcakes with Salted Buttercream.
3. Madécasse
Madécasse is a Brooklyn-based company started from two Peace Corps volunteers in 2006. Now, the brand is an award-winning chocolate company with eight types of chocolate bars and three organic chocolate discs that come in a range of cacao varieties. We recommend the pure 70-percent dark chocolate bar, which was the winner at the New York Chocolate Show. For the best usage of Madecasse, we recommend Madhuram's Eggless Cooking's recipe for a vegan beet chocolate cake (which can easily be turned into cupcakes).
4. SunSpire
SunSpire has created vegan carob chips without any artificial flavors, colors, or preservatives that pair well with any chocolate cupcake recipe. We suggest the brand's DREAM semi-sweet cocoa baking chips for a creamier cupcake (just try not to use the whole bag).
5. Go Raw
These dairy-free chocolates from Go Raw are made with only two or three ingredients (depends on which kind you get) and are low in calories but high in flavor. For a plain vegan chocolate cupcake recipe, The Spruce fulfills your sweet tooth without overdosing on the chocolate by incorporating coconut milk, apple-cider vinegar, and cocoa. This recipe takes 30 minutes to prepare, but we're pretty sure you'll be eating the frosting beforehand.
6. EatingEvolved
These bars from EatingEvolved come in a variety of assortments—including signature dark, almond sea salt, crunchy caramel, and midnight coconut—with only three ingredients (organic cacao, organic coconut sugar, and organic cacao butter). We recommend this chocolate because it provides the ideal combination of salty and sweet, which pairs perfectly with Genius Kitchen's basic vegan chocolate recipe.
7. Alter Eco
Alter Eco makes deep rich chocolates in 14 varieties (such as dark almond, dark blackout, and dark salted burnt caramel) that are created with organic and fair-trade ingredients. If you're looking to make black-and-white vegan cupcakes, we suggest dark blackout because it will even out the richness with the vegan cream cheese. For the ultimate in plant-based treats, we love the black-and-white recipe at Vegan Cupcake Recipes, which uses vegan cream cheese, apple sauce, vegan chocolate chips, cocoa powder.
8. Endangered Species Chocolate
You can eat chocolate and feel good simultaneously with Endangered Species Chocolate because a portion of the proceeds goes to endangered wildlife. All of the dark chocolates are vegan and come in 17 varieties, including dark chocolate with blueberries; dark chocolate with cherries; dark chocolate with cinnamon, cayenne, and cherries; and dark chocolate with cranberries and almond. Allrecipes combines only a few ingredients for its cupcake recipe, but with the diverse assortment of Endangered Species Chocolate, you can create a more flavorful variety.
Christa Alexis is overly obsessed with vegan desserts, especially chocolate-flavored sweets.