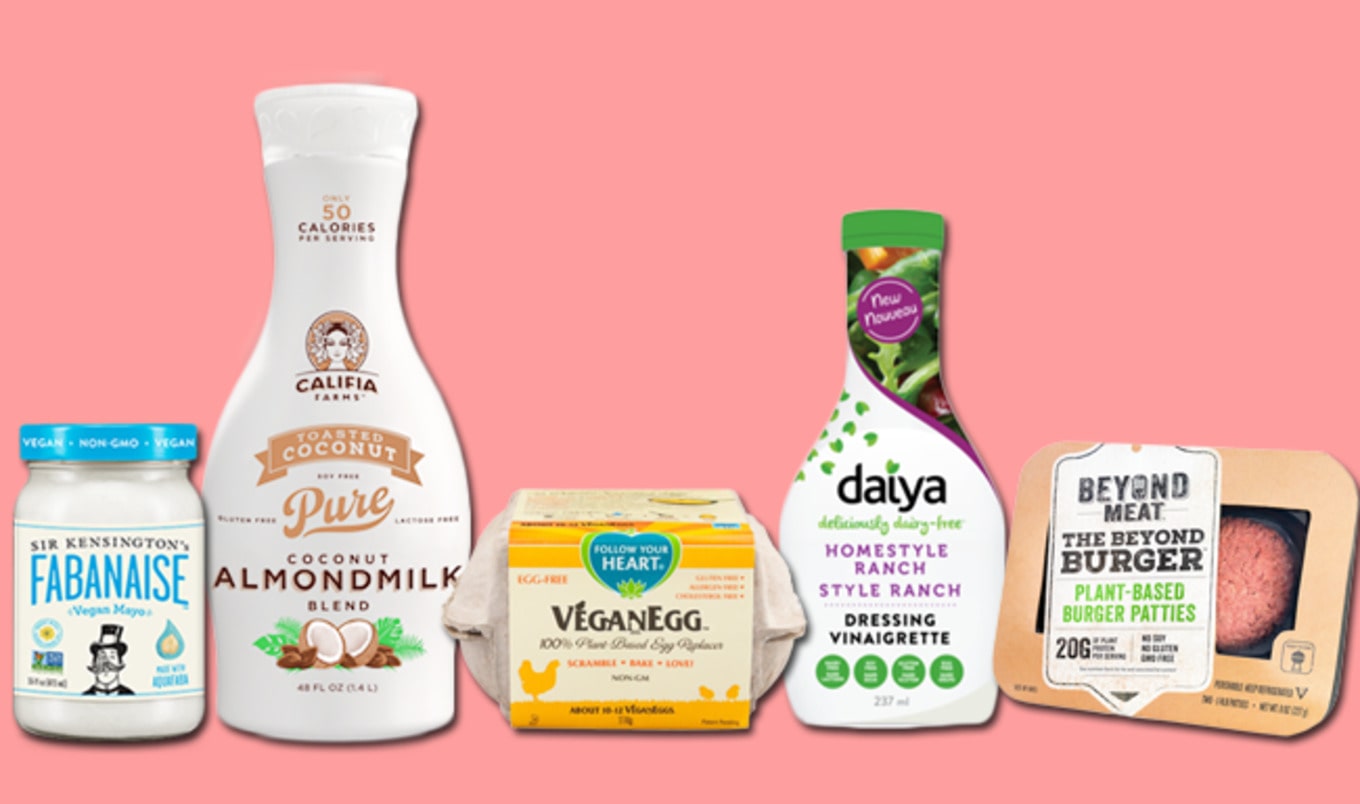 National Clean Out Your Refrigerator Day is one more reason to ditch the animal products.
November 14, 2017
---
You might be thinking that National Clean Out Your Refrigerator Day can mean only one thing: cleaning your refrigerator. And while that's pretty much true, if you're looking to eat healthier or if you're transitioning to veganism, this day can also provide inspiration to throw everything out and wipe down the shelves while swapping old ingredients for healthful, vegan alternatives. Here are eight products that you can switch for plant-based staples you'll mistake for the "real thing."
1. Mayonnaise
Traditional mayonnaise is an oil-in-water emulsion comprised of 70 to 80 percent fat (and very often includes eggs). However, plant-based mayonnaise brands are made from non-GMO and expeller pressed oils, and many vegan options are organic, low-sodium, and gluten-free. Try Hampton Creek or Sir Kensington's Fabanaise made with aquafaba (chickpea water), for a lighter, healthier option.
2. Milk
Though we've been conditioned to think that cows' milk has excellent nutritional benefits, it is suited to the nutritional needs of calves. According to the American Gastroenterological Association, for humans, it's the leading cause of food allergies among infants and children. Many people also become lactose intolerant with age because they begin to produce less lactase, the enzyme that helps with the digestion of milk as young as two years old. Fortunately, there's a healthier alternative that has recently exploded onto the food market: nut milk. Now more than ever, there are plenty of options from which to choose, all the way from plain, unsweetened almond milk to macadamia nut milk. Not only are plant-based milks better for our digestion, but they're also flavorful and packed with healthy fats and vitamins. So, leave the cows' milk for the cows, and enjoy a vegan milk from Califia Farms, Almond Breeze, Silk, or Milkadamia instead.
3. Cheese
You hear a lot of vegans and vegetarians say that cheese is the hardest thing to live without, but they don't have a reason to stress over completely eliminating it from their diet. Similar to cow's milk, cheese is approximately 70 to 80 percent fat, while cream cheese is 90 percent fat. However, similar to nut milk and vegan mayonnaise, the variety in vegan cheese is expanding seemingly by the day. If you want melty, tasty vegan cheese with your next meal, try Field Roast's Chao Creamery, Miyoko's Kitchen, Daiya, Kite Hill, Punk Rawk Labs, Follow Your Heart, and Go Veggie (to name a few).
4. Butter
We're happy to see that, nowadays, at conventional grocery stores, vegan butter and margarine are placed next to brands that contain animal products. Though vegan butter and margarine are healthy only when used in moderation (because they're high in saturated fats), we still love Earth Balance Original Buttery Spread and Miyoko's Creamery European Style Cultured VeganButter because even a plant-based eater can enjoy some butter now and then.
5. Coffee creamer
Instead of reaching for a generic coffee creamer that's loaded with sugar, artificial flavoring, and saturated fats derived from dairy, choose from one of the nut-based blends that are all over store shelves now. Again, Califia Farms has come up with delicious creamer flavors such as Pecan Caramel and Hazelnut, while Nutpods' dairy-free creamer and Wildwood are also great options.
6. Salad dressing
The ranch and balsamic dressings sitting inside the shelves of your refrigerator door are loaded with sugar, saturated fat, and preservatives to ensure their flavors and ingredients are stable for longer. Creating a balance of fat, sour, and sweet can be difficult, but brands such as Hilary's, Daiya, and Annie's Naturals have succeeded thanks to minimal ingredients and hardly any preservatives that are just as flavorful.
7. Eggs
When there was talk of plant-based eggs being released onto the market, the vegan community was skeptical. But ever since this release, vegans have been praising these scientific miracles that look and taste just like chicken eggs. In fact, Follow Your Heart's VeganEgg—comprised primarily of algal, an ingredient derived from algae—is so close to the "real thing" that we often have to look at the package to remind ourselves that what we're eating is cruelty-free.
8. Meat
These days, there's a vegan alternative to just about every meat product imaginable. Listing all of them would take weeks, so, for the beginner looking to sample vegan proteins, we recommend Field Roast's Mexican Chipotle Sausage, Gardein's Seven Grain Crispy Tenders, and The Beyond Burger by Beyond Meat, which is the world's first plant-based burger that looks, cooks, and tastes so much like beef that it's found in the meat section of grocery stores.
Anastasia Barbuzzi is a health and wellness enthusiast, journalist, freelance writer, and founder of Written Girl.