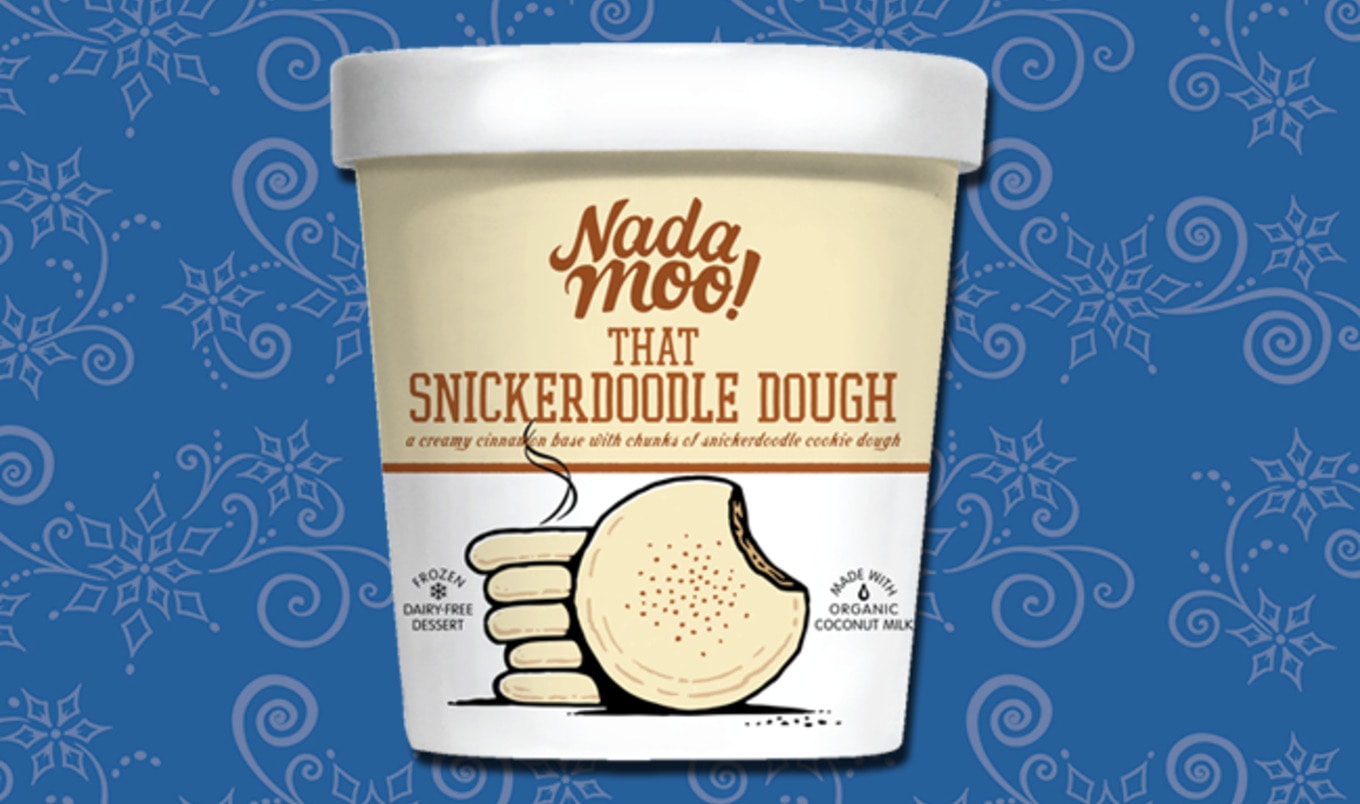 If it 's winter, that means it 's time to eat all the frozen cruelty-free desserts.
December 21, 2017
---
Winter—and more specifically, the holidays—is the perfect time to watch the snow fall with a bowl of vegan ice cream in your lap. But with so many options on the market today, choosing the perfect pint can prove challenging. Luckily, we're here to help, as we've chosen six of our favorite plant-based ice creams that are ideal for winter. However, we should warn you: one bite of each, and you just might want to stock up on enough of these flavors to get you to spring.
1. Nada Moo!
Nada Moo! makes an array of dairy-free, gluten-free, and non-GMO organic coconut milk ice creams, but for the holidays, we recommend That Snickerdoodle Dough. With blends of cinnamon and snickerdoodle cookies, this delicious treat brimming with holiday-spice flavor is slightly sweet and perfectly creamy, and pairs great with any vegan pie. If you're not a snickerdoodle fan, we also recommend the MMM…Maple Pecan or Lotta Mint Chip.
2. Luna & Larry's Organic Coconut Bliss
Whether you want a made-for-sharing pint, an individual sandwich, or a frozen bar, Luna & Larry's Organic Coconut Bliss has something for you. What tastes better than a Ginger Cookie Caramel? Not much, especially when it's frozen, easily scoopable, and made with the perfect amount of vanilla and cookie crunch to deck the halls. Other recommended flavors include Cherry Amaretto, Chocolate Hazelnut Fudge, or Cinnamon Chocolate Fusion. Even better? These ice creams are organic and free of gluten and soy!
3. DREAM
The holiday season is all about feeling refreshed, so try the Mint Carob Chip or the Mint Chocolate Chip flavors for a dessert that's perfect for savoring while sitting around a warm fireplace. DREAM also offers ice cream lovers the choice of almond milk, coconut milk, or soy milk, and if we have to choose one, it's the Soy DREAM in the Butter Pecan flavor, which offers a slight crunch from the finely chopped pecans.
4. Halo Top
Because it's the holiday season, indulge yourself in some pint-sized, high-protein, dairy-free coconut milk ice cream from Halo Top. Available in flavors such as Cinnamon Roll, Caramel Macchiato, Oatmeal Cookie, Chocolate Covered Banana, Chocolate, and Sea Salt Caramel, the brand's ice creams are also low in calories, so keep filling your grocery wagon until it's packed. For the holidays, you'll catch us enjoying a pint of the Cinnamon Roll and basking in the ooey goodness of each bite. One more thing: don't forget to pair these with a dairy-free apple pie.
5. Ben & Jerry's
Ben & Jerry's recently introduced a line of almond milk-based vegan ice cream flavors just in time for the holiday season. To spice up any holiday party, go with the cherries-and-fudge-laden Cherry Garcia. And, if you really want to overdose on chocolate, pair this with a delectable chocolate cream pie. That said, you won't find us saying no to the brand's other non-dairy flavors (Caramel Almond Brittle, Coconut Seven Layer Bar, Chocolate Fudge Brownie, P. B. & Cookies, and Chunky Monkey).
6. So Delicious
For all you chocolate and vanilla addicts, So Delicious' Dark Chocolate Truffle or Creamy Cashew are simple yet traditional holiday treats. Or, if you want to get wild this season, have a bite (or three) of new flavors Peachy Maple Pecan or Chocolate Drizzled Bananas Foster. By doing so, you just might find yourself in the midst of a frozen dance party. Don't say we didn't warn you.
Christa Alexis is often caught buying way too many vegan ice cream desserts and loves extra whipped cream and sprinkles to top off a decadent dessert.