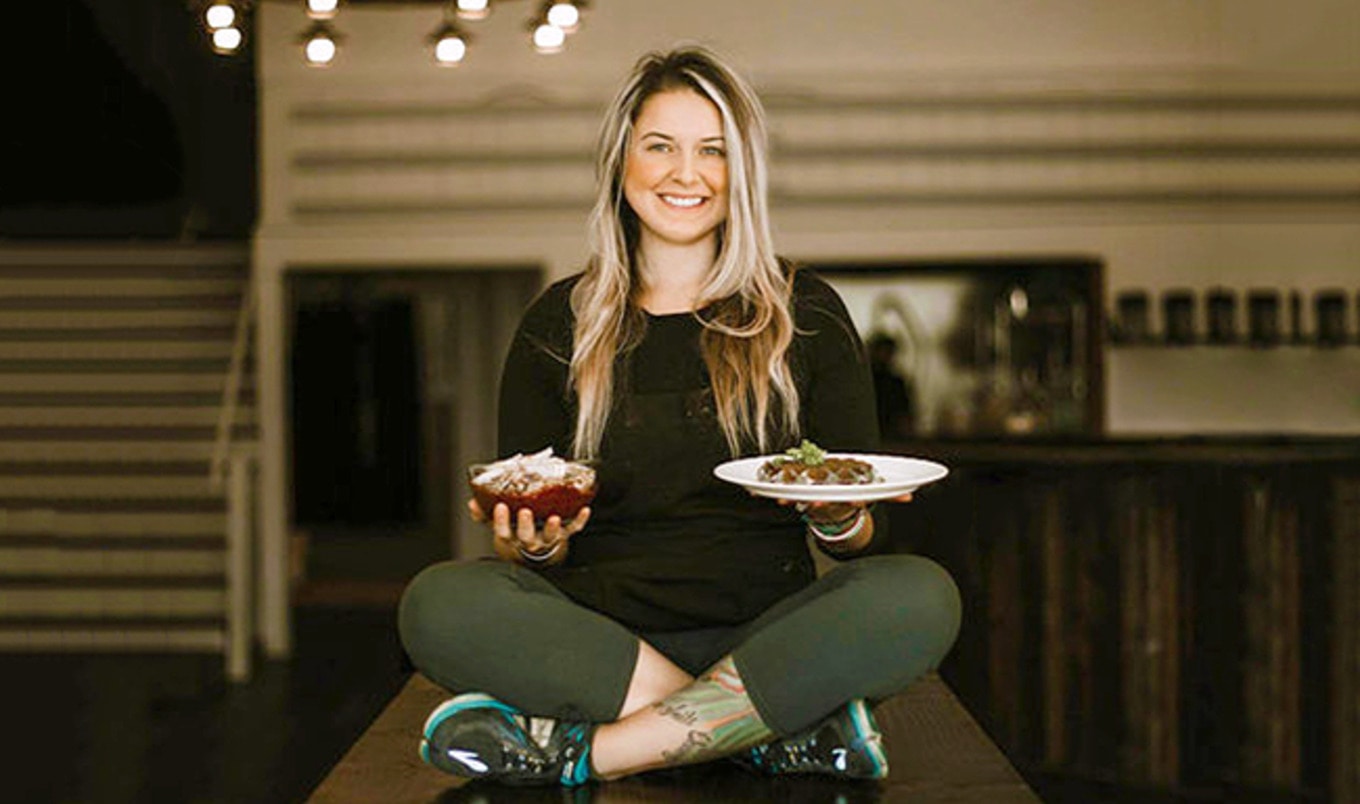 Serving raw tacos and plant-based waffles to your hunter husband and his meat-eating friends is easier than it sounds.
January 7, 2018
---
Tandi Rolen isn't your average vegan restaurateur, as her husband is an avid hunter who eats what he kills. This, if you're wondering, is where she got the name for her Wenatchee, WA eatery The Hunter's Wife, where a plethora of smoothies, juices, savory and açaí bowls, parfaits, veggie burgers, two types of waffles, and raw foods such as tacos, a Caesar salad, and a sushi burrito serve hungry Northwesterners. And, if you're wondering, being a vegan restaurant owner married to a hunter is both as difficult as it sounds and easier than you'd think.
Maui wowie
The former yoga instructor grew up with a traditional American diet, but after her grandmother was diagnosed with cancer, Rolen decided to reassess her lifestyle. Initially, after becoming vegetarian and getting involved with yoga, she and her husband took a trip to Maui, where she fell in love with açaí bowls. Upon her return home, she opened an açaí bowl stand in the yoga studio where she taught. In July 2016, she moved her business to its own brick and mortar and expanded her menu. That business is now The Hunter's Wife.
Small-town blues
After opening her stand at the yoga studio, Rolen realized how high the demand was for healthy food in Wenatchee and decided to open The Hunter's Wife. Although the name sometimes causes confusion, both vegans and omnivores are willing to try the food and feel better when they leave. "Some people assume there will be meat," Rolen says, "but the customers always give it a shot. Vegans want to know if my husband is actually a hunter, and sometimes they are really disappointed, but compassion for people of all lifestyles is most important. Sometimes customers are put off by the fact he's a hunter, but most are open about our lifestyle."
It ain't easy not being cheesy
Education and dialogue, Rolen says, are the two biggest challenges of owning a plant-based restaurant in a small town. "Dialogue is so important because you have to be the bridge for people." Conversations of health and sustainability are key, and she has found using the term "plant-based" as opposed to "vegan" is helpful because people are more open to the idea, as it is a less restrictive term. The seemingly odd pairing of different lifestyles has also created a conversation with her husband's friends, some of whom hunt as well. "It depends on the person," Rolen says, "but in general, most of them are open to discussing it. Some are super against it and think it's weird, but some are curious about adding more vegan options to their diet."
A real hunter's wife
While the name of her restaurant might seem like an oxymoron given her lifestyle, Rolen is, in fact, a proud hunter's wife. The two seem an unlikely pair on the surface, but they are high school sweethearts and have grown together. While her husband is a hunter, the only meat he eats is that which he hunts himself, and since her transition to veganism, he has eliminated dairy from his diet. Initially, he was apprehensively supportive of Rolen's transition, and they both re-evaluated his hunting, but ultimately decided it was about mutual respect of each other's lifestyle choices. Although he is her toughest critic, he loves the food at The Hunter's Wife and always feels great after eating it. His favorite menu item is the Rawkin Taco, consisting of walnut chorizo, pico de gallo, raw kraut, and cashew sour cream on a bed of romaine lettuce.
Screw cancer
Rolen hopes to open more The Hunter's Wife restaurants soon. She would also like to make the menu more of a grab-and-go style because people often feel they are too busy for healthy or home-cooked food. Aside from that, Rolen would like to expand her "Screw Cancer" program—inspired by her grandmother—which allows people with cancer to pick up a free "Screw Cancer" juice every day, which is full of cancer-fighting ingredients such as carrots, cucumbers, kale, garlic, and lemon. "(Poor) Nutrition is part of the problem with mind, body, and self-esteem," Rolen says. "I want people to leave feeling healthy and inspired."
Perri Lerner is a freelance writer eating her way around Portland, OR.