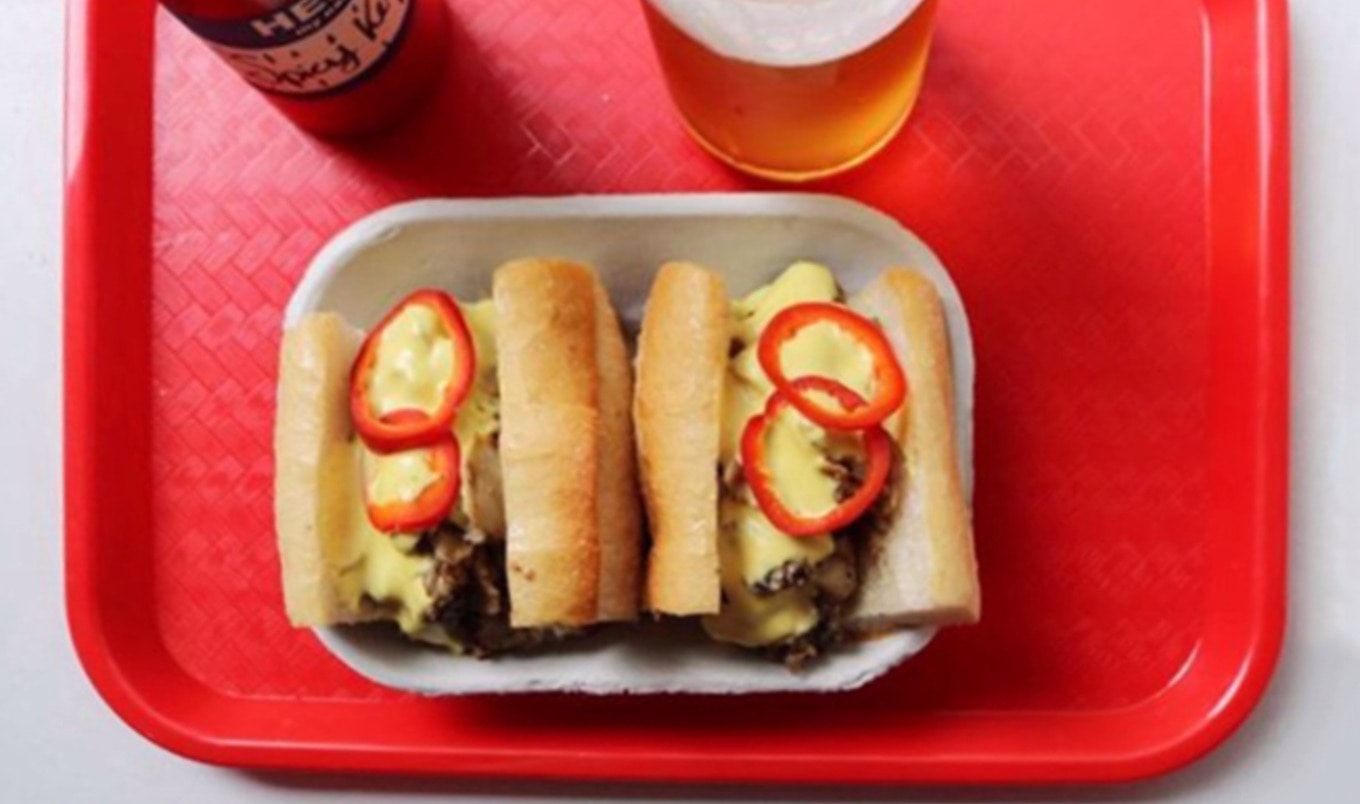 The City of Brotherly Love is also the City of Plant-Based Cheesesteaks.
January 1, 2018
---
Just because we don't eat meat or dairy doesn't mean we don't crave a good ol' cheesesteak as much as the next guy. Luckily, Philadelphia totally gets that, as more restaurants are currently offering vegan versions of the beloved sandwich. In fact, plant-based cheesesteaks have become so ubiquitous in the City of Brotherly Love that Philly.com began an annual Best Vegan Cheesesteak Contest a few years ago, which is still going strong. So, whether you like your cheesesteaks with chicken, in a burrito, or "wiz wit" (cheese whiz with onions), Philly has a vegan version for all types of cheesesteak-loving people.
1. Seitan cheesesteak at Blackbird Pizzeria
Winner of multiple Best Vegan Cheesesteak in Philly contests, Blackbird Pizzeria has everything one would want in a traditional cheesesteak, but without the animal products. Well-seasoned, thinly sliced seitan is topped with vegan whiz and grilled peppers and onions served in a freshly baked hoagie roll. We don't know what they put in their whiz, but we know it's glorious and want to put it on everything. In fact, we highly recommend getting some fries with whiz on the side. You won't regret it.
2. Philly Chicken Cheesesteak at Govinda's Gourmet Vegetarian
Ask anyone what they get when they go to Govinda's Gourmet Vegetarian, and they'll most likely tell you the chicken cheesesteak. While many vegan steaks are made with seitan, Govinda's makes the elusive vegan chicken cheesesteak. Topped with grilled peppers, vegan mayonnaise, and vegan cheese, this delicious meal will make you cry tears of joy (at least on the inside). Add some ketchup and hot sauce to the sandwich for some added zing—just be sure you have napkins nearby.
3. Vegan Cheesesteak Burrito at Cantina Dos Segundos
Unlike the rest of the sandwiches on this list (which are served on a traditional hoagie roll), Cantina Dos Segundos serves its cheesesteak in burrito form. Filled with seitan, vegan cheese, fried yucca, lettuce, chipotle onions, and smoked mushroom ketchup, this burrito is large enough to split and still feel too, full. The juxtaposition of texture from the soft tortilla, chewy seitan, and crunchy yucca and lettuce is wonderful, while the smokiness from the ketchup and chipotle adds a nice kick.
 
4. Wiz Kid Philly at Wiz Kid
A relative newcomer to Philadelphia, Wiz Kid is a casual restaurant from the people behind Vedge and V Street. Similar to the Blackbird cheesesteak, this sandwich takes a more traditional route with seitan, mushrooms, fried onion, and an amazing rutabaga wiz. If you're looking for something a little less traditional, go with the sabich steak, which also comes with grilled eggplant, whipped tahini, Israeli salad, and harissa tofu.
5. Philly Steak at HipCityVeg
Philly loves its sandwiches. Because of this, sometimes it's difficult to choose whether we want a cheesesteak or a hoagie, so we decided not to choose, and thus the cheesesteak hoagie was born. HipCityVeg's version includes pulled steak, grilled onion, mushroom, lettuce, tomato, and ketchup on a whole-wheat hoagie roll. The freshness from the lettuce and tomato pairs beautifully with the warmth of the steak, onion, and mushrooms. If you've never tried a cheesesteak this way, you need to.
Perri Lerner is a Philadelphia native living and eating her way around Portland, OR.