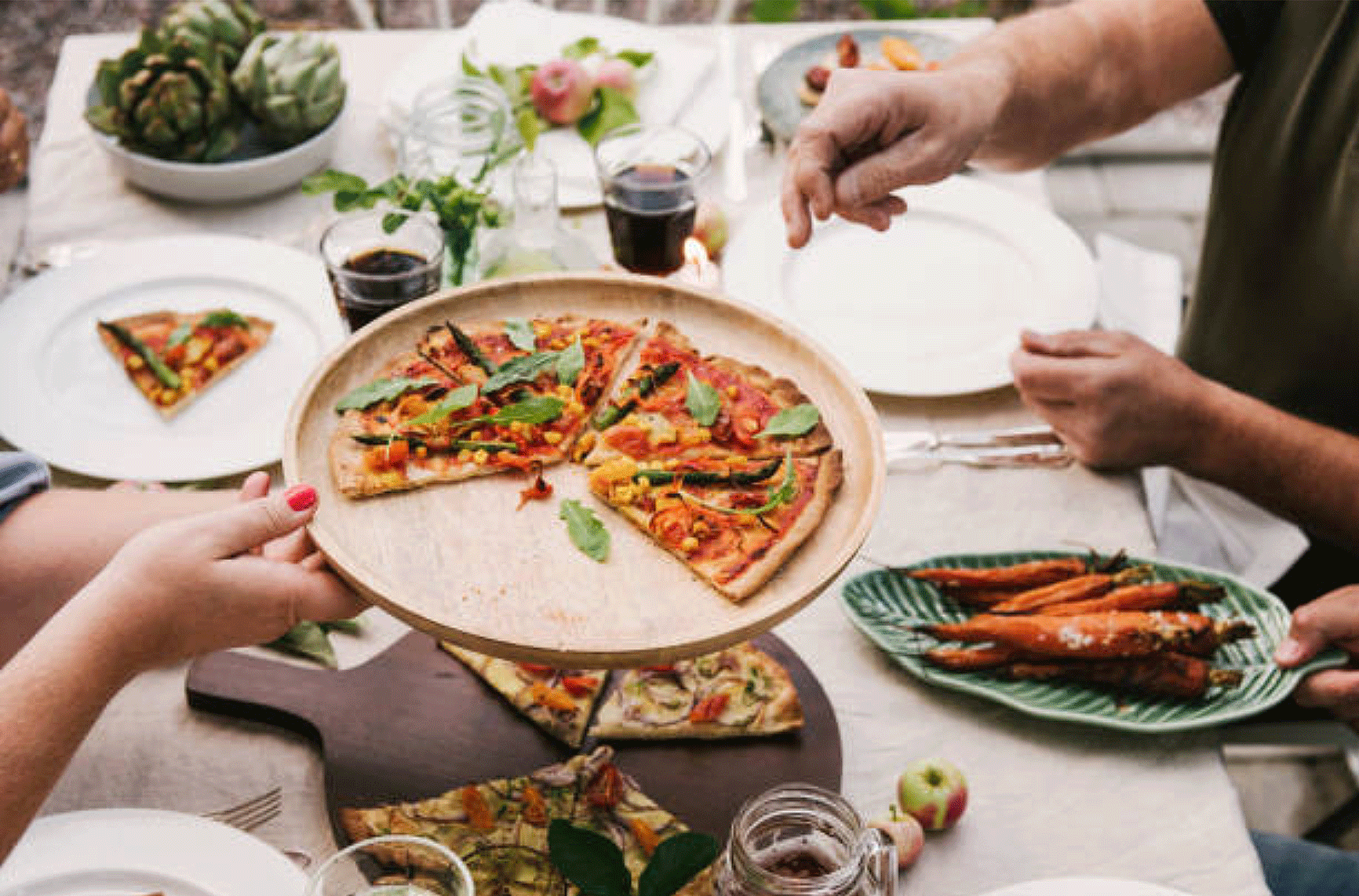 It's always a good time for perfectly grilled vegan pizza.
July 4, 2016
Makes 1 pizza
What you need:
8 to 10 white mushrooms
1 medium onion, sliced
1 red bell pepper, halved
3 medium to large ripe tomatoes, sliced
1 to 2 jalapeños, de-seeded and halved
1 large zucchini, yellow summer squash, or eggplant, cut into bite-size pieces (optional)
Olive oil, for brushing
1 prebaked thin vegan pizza crust
1 teaspoon finely chopped fresh rosemary leaves
1/2 teaspoon crushed dried red pepper flakes
1 teaspoon dried oregano
1 tablespoon minced fresh basil, if using tomatoes
1/8 teaspoon nutritional yeast
What you do:
Create zones of direct (medium heat over flame) and indirect heat (next to flame but not directly over it) on your grill. Brush mushrooms, onion, bell pepper, tomatoes, jalapeños, and zucchini with oil. Using a grilling screen or combination grilling screen, grill basket, and naked grate, grill vegetables to preferred level of tenderness, about 6 to 10 minutes, turning once or twice. Keep warm while grilling the pizza crust.
Generously brush both sides of pizza crust with oil. Place crust on grill over direct heat for 1 to 2 minutes, or until bottom is lightly browned and top begins to get very warm. Transfer crust to indirect heat for 4 to 6 minutes, or until bottom is browned and crispy. Turn over crust and place uncooked side over direct heat for 1 to 2 minutes until lightly browned. Transfer to indirect heat. Top with grilled vegetables and rosemary, red pepper flakes, oregano, basil, and nutritional yeast and return pizza to direct heat for 4 to 6 minutes, or until pizza reaches desired doneness.
Chef's Tip: You can also place the oiled pizza crust with toppings on a pizza stone set over direct heat, and grill until the pizza is browned and crispy.
Hot "Wing" Grilled Pizza: For a little added flare, marinate sliced seitan in your hot sauce of choice for several hours to overnight. While grilling the vegetables, using a grilling screen, grill seitan for 8 to 10 minutes, turning once or twice. Add seitan to pizza crust when vegetables are added. If desired, drizzle additional hot sauce over finished pizza.