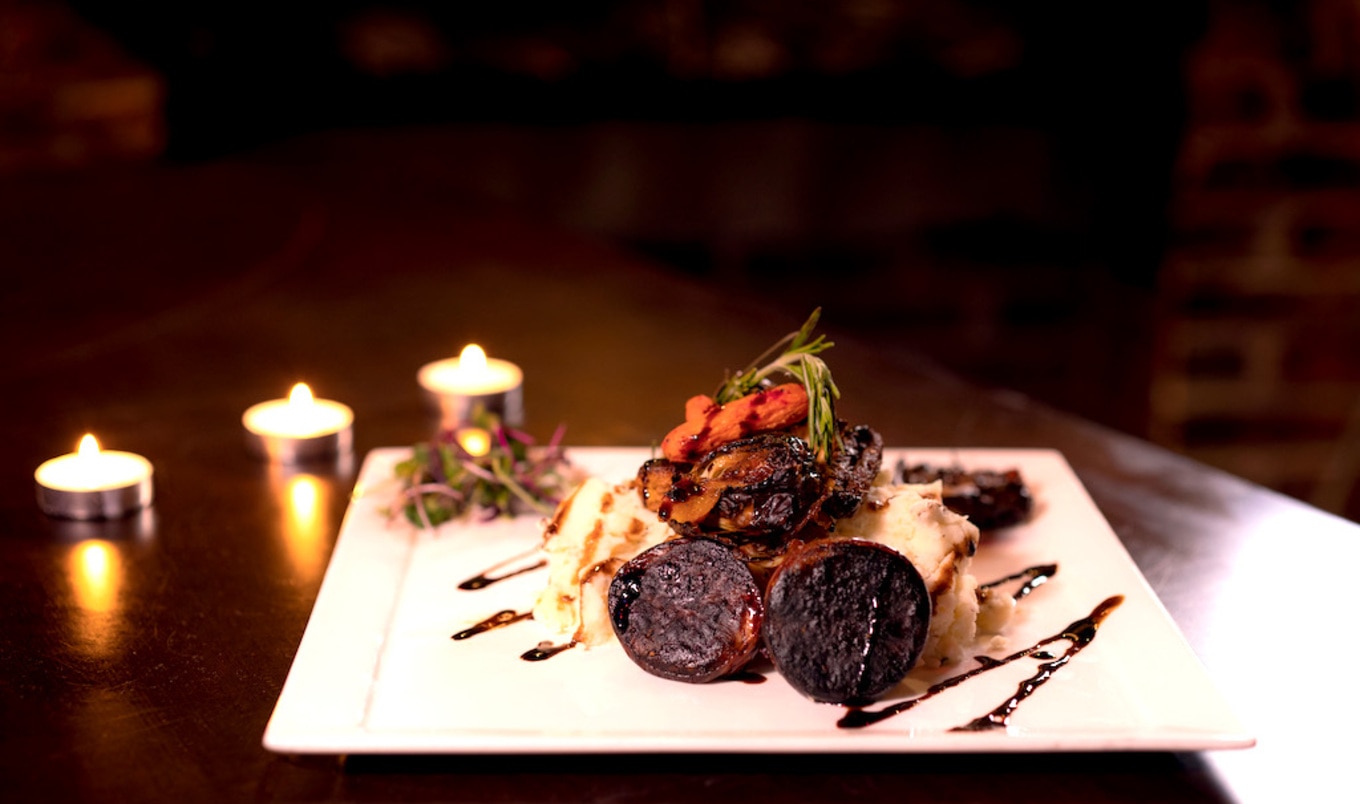 Rosemary and sage roasted potatoes, onions, and squash swap in for a spiced, herbed roast in this plant-focused dinner recipe.
September 7, 2022
This deliciously savory vegetable-forward dinner from the Death for Dinner Cookbook makes for a simple, but elegant meal for those nights when you want to wine and dine.
What you need:
For the roasted vegetables:
1 cup chopped red potatoes
1 cup chopped red onion
2 cups rainbow baby carrots
1 (8-ounce) package whole portobello mushrooms
1 cup chopped butternut squash
¼ cup olive oil
1½ teaspoons salt
½ teaspoon ground cinnamon
1 tablespoon finely chopped garlic
1 teaspoon agave nectar
¼ cup finely chopped fresh rosemary
¼ cup finely chopped fresh sage
¼ cup chopped scallions
¼ teaspoon cayenne pepper
¼ cup water
For the whipped garlic mashed potatoes:
6 whole red potatoes
Salt, for cooking water
¼ cup unsweetened vegan milk of choice
1 teaspoon agave nectar
1 teaspoon finely chopped garlic
1 teaspoon salt
What you do:
For the roasted vegetables, preheat oven to 400 degrees. In a large bowl, combine 1 cup chopped potatoes, onion, carrots, mushrooms, and squash. Add olive oil, 1½ teaspoons salt, cinnamon, 1 tablespoon garlic, agave, rosemary, sage, scallions, and cayenne. Toss to coat vegetables evenly, then transfer to a baking sheet.
Add water to base of sheet and roast uncovered for 15 minutes. Reduce oven temperature to 375 degrees and roast for another 30 minutes, or until vegetables are tender enough to pierce with a fork. (If edges of vegetables start to burn, cover with foil.)
For the whipped garlic mashed potatoes, in a large pot, bring enough salted water to a boil to submerge the whole unpeeled potatoes. Once boiling, add potatoes and boil for about 20 minutes, or until soft and ready to mash.
Drain potatoes and transfer to a large bowl. Mash with skins. Add milk, agave, 1 teaspoon garlic, and 1 teaspoon salt, then use a hand mixer to whip potatoes until creamy.
Onto serving plates, place a large dollop of potatoes and place some roasted vegetable medley on top. Serve warm.