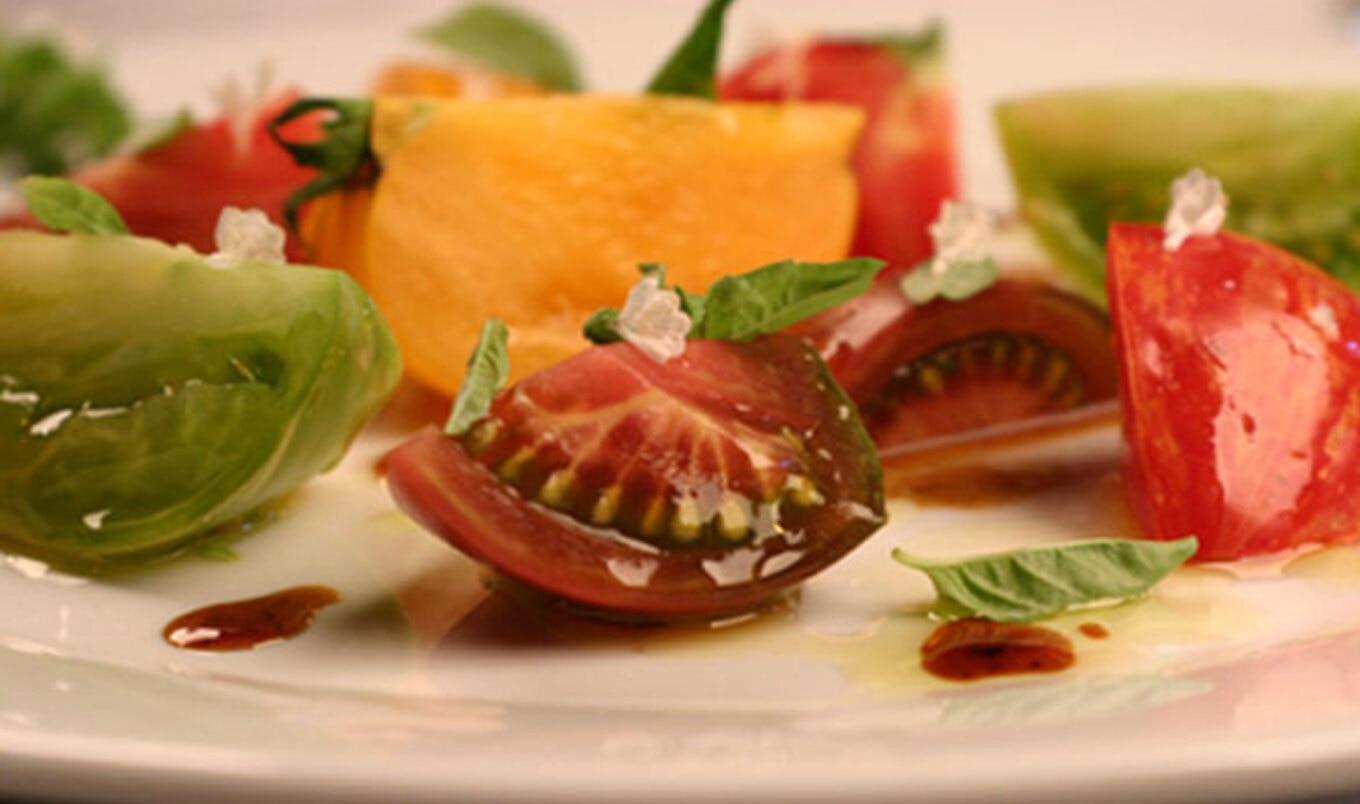 California's Napa Valley now has a destination restaurant celebrating the seasons.
October 5, 2008
---
Sandy Lawrence—the owner and mastermind behind Ubuntu—dreamt up a vision for her restaurant to create a place that would appeal to meat eaters and herbivores alike. Intentionally underemphasizing the vegetarian angle is her way to direct diners' focus to the kitchen's world-class, plant-based creations that defy categorization. "It is simply exquisite preparation of fresh ingredients—a celebration of our garden bounty—designed for anyone who loves good food," says Lawrence.
At the table, waitstaff dressed in black t-shirts emblazoned with the Ubuntu credo, "Practice humanity toward others," deliver the daily menu that features roughly 20 unique, mouth-watering offerings that are divided into sections including "bites," "small plates," "pizza," "larger plates," and "desserts." Roughly half the menu is vegan, and thankfully, most of the menu's star attractions are absent of any animal products. The Marcona Almonds ($5), mounded on a plate and covered in a lavender-sugar sea-salt blend, taste like a trip to Provence and are terribly addictive. The equally delicious Chickpea Fries ($6), served with a rich romesco dipping sauce, would have made at least two diners happy if there'd been a few more of them on the plate. Several salads are offered daily, such as the Salad of Baby Beets, Avocado, and Red Quinoa ($10). Artfully arranged on a square plate, the dish is an explosion of color and taste, from the fluffy mounds of beet cream to the tangy rhubarb pickles.
Diners accustomed to supersize portions might experience culture shock at the conservative serving size, but the flavor packed into each bite leaves the palate sated. Vegans hankering for a slice of pizza with the rich mouth-feel of cheese will want to make a beeline for any of Ubuntu's seasonal offerings. Prepared with a creamy, béchamel-type sauce, the Mushroom Bianco pie ($15) will have you dreaming of its thin, chewy crust and healthy smattering of fat, wild mushrooms long after it's been devoured. Some of the larger plates, such as the Farro with Green Garlic, are offered in half or full-size portions ($14/19), and our server suggested we start small. The warm, bright-green bowl of simmered grains arrived with a small blanket of buttery braised baby carrots, beets, and fresh peas, and, because of its richness, proved filling enough for two. Roughly 45 percent of the produce served at Ubuntu comes from the restaurant's own organic, biodynamic garden, located just outside Napa at Lawrence's home. Desserts are conceived and prepared by Chef Jeremy's wife, Deanie Fox, and on this day the vegan offerings include the flashy Creamsicle Float ($8) and the Cupcake of the Day. The former is a visual rhapsody involving striated layers of deep purple elixir and vivid orange sorbet. Tangy, tart, and with a lingering flavor of beets that delivers its bright purple hue, this clever concoction offers taste and novelty in every spoonful. The Cupcake arrives as three quarter-size chocolate cakes topped with a decorative swirl of icing. The diminutive size of these sweet confections—their only downside—left us pondering the idea of ordering seconds before reality—and the memory of the multi—course meal just consumed—kicked in. For diners willing to make the drive, Ubuntu is definitely a destination worth the trek.