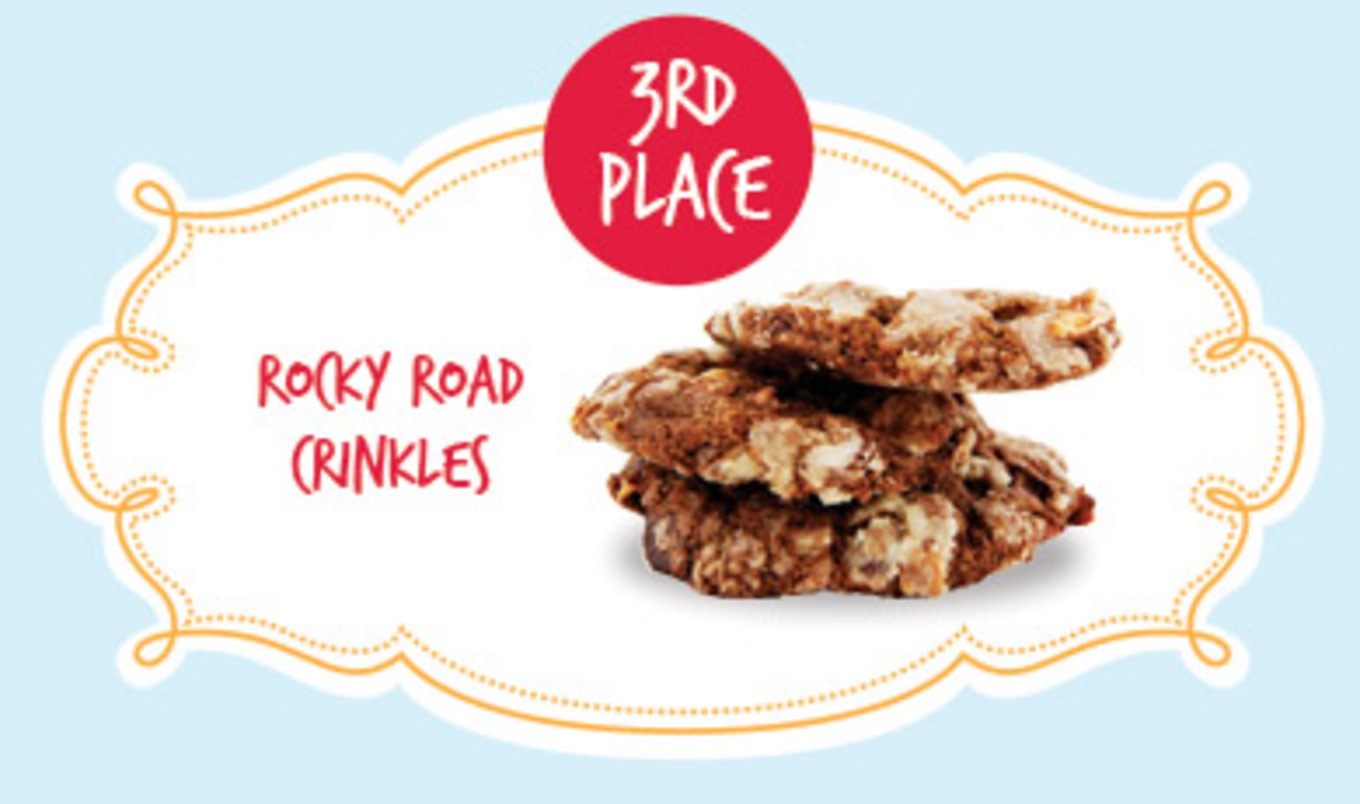 The popular ice cream flavor becomes a warm chocolate cookie studded with melted marshmallows and almonds. The s'mores flavor combined with rich chocolate chips helped this winner snag third place in our second annual Holiday Cookie Contest.
December 18, 2012
Makes 24 cookies
What you need:
1 cup vegan margarine, at room temperature
1-1/2 cups sugar
1/3 cup cocoa powder
1 teaspoon instant coffee powder, dissolved in 1 tablespoon hot water
1/2 cup plain soy yogurt
1 teaspoon baking soda
1 teaspoon baking powder
3/4 teaspoon salt
2 cups flour
1 cup chopped vegan marshmallows
1 cup finely chopped almonds
1 cup vegan chocolate chips
1 cup powdered sugar 
What you do:
1. In a large bowl, cream margarine and sugar until fluffy. Mix in cocoa powder until completely incorporated. Add coffee powder, yogurt, baking soda, baking powder, and salt and mix well. Add flour and mix until soft dough forms. Using a spoon or spatula, stir in marshmallows, almonds, and chocolate chips. Cover dough and refrigerate at least 90 minutes or overnight.
2. Preheat oven to 350 degrees. Form dough into balls about 1-1/2 inches in diameter, then roll in powdered sugar. On a parchment-lined cookie sheet, place at least 1-1/2 inches apart. Bake for 15 to 20 minutes or until tops are crinkled and cookies are firm on edges. Cool on baking sheet for 3 to 4 minutes before transferring to a wire rack to cool completely. Store cookies in an airtight container. 
Check out all of our 2012 VegNews Holiday Cookie Contest Winners!
First Place: Apple Pie Cookies with Maple Cream Filling by Leigh Saluzzi
Second Place: Chocolate-Covered Speculoos Balls by Jessie Smith
Honorable Mention: Chocolate-Covered Peppermint Sandwich Cookies by Cara Reed
Click here for the 2011 VegNews Holiday Cookie Contest Winners.