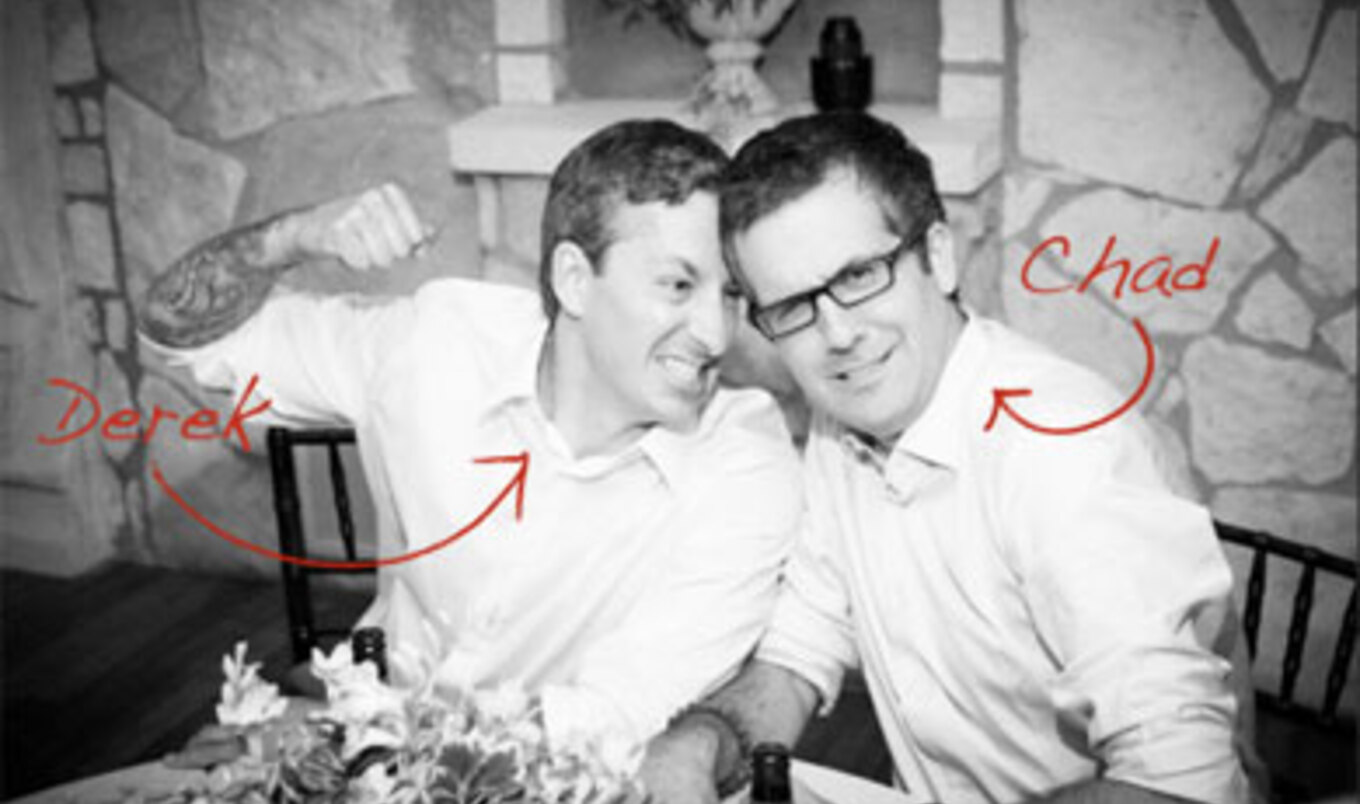 Chefs Chad and Derek Sarno spill the beans on eating healthy and having fun while doing it.
April 28, 2013
---
Brothers Chad and Derek Sarno are whizzes in the kitchen and have a wicked sense of humor (plus, they might just be ninjas). Both have chopped, sautéed, and led the way as Whole Foods Market's culinary educators, and Chad has a new cookbook out (Crazy Sexy Kitchen, with Kris Carr), but the busy brothers just couldn't resist taking on another plant-based project––this time together. Wicked Healthy Food is a blog offering plant-strong recipes that are accessible even to the cooking-challenged and enticing enough for the veg-curious. Chad took a little time out of his hectic schedule to answer a few of our most pressing questions––mainly, where can we find the most wickedly healthy food?
VegNews: You and Derek recently teamed up to start Wicked Healthy Food; tell us about Wicked Healthy's inception.
Chad Sarno: As brothers, we have always pushed each other to do better as only brothers can do. It started out as just a fun thing to do, and the simple 'say how it is' approach has been very well received––cutting out all the nonsense around healthy eating and keeping it real honest and basic. Both of us come from different culinary angles and styles as far as food, so it only made sense to team up and combine resources. Although we have different backgrounds and cuisine, we both feel strongly that enjoying plants as the center of any meal is the only way to go to be Wicked Healthy.
VN: Your first connection with health and diet came after you realized dairy may have been behind your childhood asthma––can you talk more about how you and Derek made the transition to plant-based living?
CS: Yes, having that first hand experience was the 'a-ha' moment for me and no-brainer connection between food and health. For both of us, we have been cooking all our lives and through the years our individual work has shed light on how important food is to being properly nourished. It's amazing that we have this wonderful gift of common sense and yet, when it comes to our health, we refuse to use it. Wicked Healthy has the mission to demystify healthy eating by showing that simply getting in the kitchen is the foundation of knowledge we all need for a solid healthy path.
VN: There's a lot of talk recently about superfoods. Do you and Derek have a contender to throw into the ring that you think everyone should add to their shopping list?
CS: Sriracha hot sauce is a superfood. Why? Because the simple condiment allows people to eat things they might not normally eat. We've recently been making our own fresh and it's awesome; we'll be featuring some recipes on the blog soon, for sure. As far as eating healthier, this superfood allows you to eat all the best foods with little to no salt, and it only takes a small amount. Derek is obsessed with it. I love it (and love spice in general). Giving your dishes that kick not only allows you to cut back on salt, fat, and sugars, but can also put simple rice and beans over the top.
VN: What's your day-to-day like, balancing Whole Foods, Wicked Healthy, and other projects? And Derek's?
CS: We both love to make a difference in people's lives no matter what we are doing. Whole Foods Market is such an amazing company to work for; we're both very thankful for the opportunities it presents us, and being surrounded by such conscious leaders in the industry is truly a blessing. We are driven by passion and being of service with everything we do. One good thing about being brothers is we both keep each other in check whether we like it or not and it's not uncommon for us to wrestle over who's right or wrong or who's the better cook. We both travel two to three weeks a month with our current jobs, for training, public events, and working with venders. Finding our personal balance is always a challenge with being on the road so much––giving time for gratitude and stillness is essential.
VN: What are some upcoming projects you two have on your plates?
CS: Supper clubs, culinary trainings, and books. We recently started doing super secret underground supper clubs in a number of cities, which is an opportunity to showcase Wicked Healthy. Trainings and weekend events have also been in discussion and planning stages, and will give our community the opportunity to cook together and get inspired in the kitchen, Wicked Healthy-style. We are in the beginning process of a cookbook as well, which will showcase both our styles in the kitchen.
VN: As a fellow Austinite, I just have to ask: can you let us in on the best-kept secret veg dishes in Austin (or just places with great food)?
CS: We are a bit biased; so our first choice would be Whole Foods Market. As far as Austin's veggie food scene, it seems like it has been slowly growing over the years but still has lots of room to continue to grow. An all-vegan, sit-down, date-night kinda restaurant would do stellar in the city. Pho Dan off of Braker Lane is the bomb for veggie phở, offering a veggie broth, which not all places do. Korea House and China Cafe are also great options. The food truck scene is rocking, and it's also easy to eat tacos three meals a day in Austin––just about everywhere you can get excellent veggie tacos.
Be sure to check out Chad and Derek's blog Wicked Healthy Food for some of the latest recipes brewing in their kitchen. Or stop by their Facebook for some daily recipes and inspiration in support of your Wicked Healthy life.