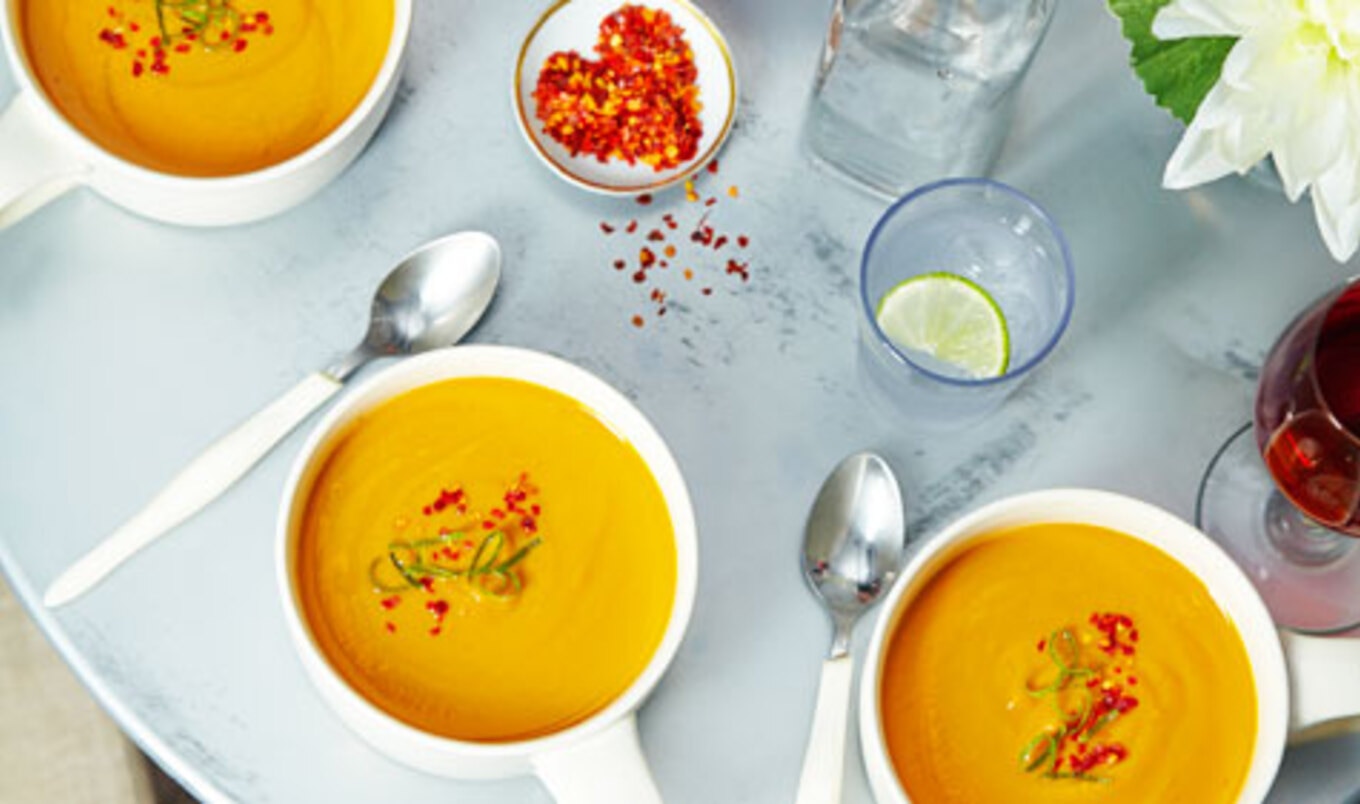 Combine simple ingredients for an autumnal soup that'll have everyone giving thanks.
November 22, 2016
---
The only thing better than eating Thanksgiving meals such as this Sweet Potato Soup with Ginger and Vanilla is the amazing scent that will waft through your mansion (or studio apartment) as you simmer this seasonal recipe. Okay, that's not totally true because eating is always better than smelling, but who doesn't love an aromatic home with even better tasting soups? No one—that's who.
Serves 8

What You Need:
1 tablespoon olive oil
1 medium yellow onion, medium diced
½ teaspoon salt, plus a pinch
2 tablespoons chopped fresh ginger
½ teaspoon crushed red pepper flakes
3 pounds garnet yams, peeled, and cut into 1-inch chunks
4 cups vegetable broth
1 vanilla bean, split and scraped
2 tablespoons fresh lime juice
1 tablespoon maple syrup
​Lime wedges, for serving (optional)
What You Do:

1. Preheat a 4-quart soup pot over medium heat. Heat the oil, then sauté the onion with a pinch of salt until translucent, approximately 3 minutes. Add the ginger and red pepper flakes and sauté for another minute.
2. Add the yams, vegetable broth, and remaining ½ teaspoon salt. Cover and bring to a boil. Once boiling, lower the heat to a slow simmer and cook until the potatoes are tender (approximately 5 more minutes).
3. Once tender, add the vanilla seeds. Use an immersion blender to purée the soup until smooth, or transfer the soup in batches to a blender or food processor to purée. Be sure to let the steam escape between pulses so the steam doesn't explode. Transfer soup back to the pot.
4. Stir in lime juice and maple syrup. Taste and adjust for salt, and thin the soup with water (if necessary). Soup can be served immediately, but the lime becomes more mellow and the vanilla becomes more pronounced as the soup sits, especially the next day. Garnish with lime wedges.