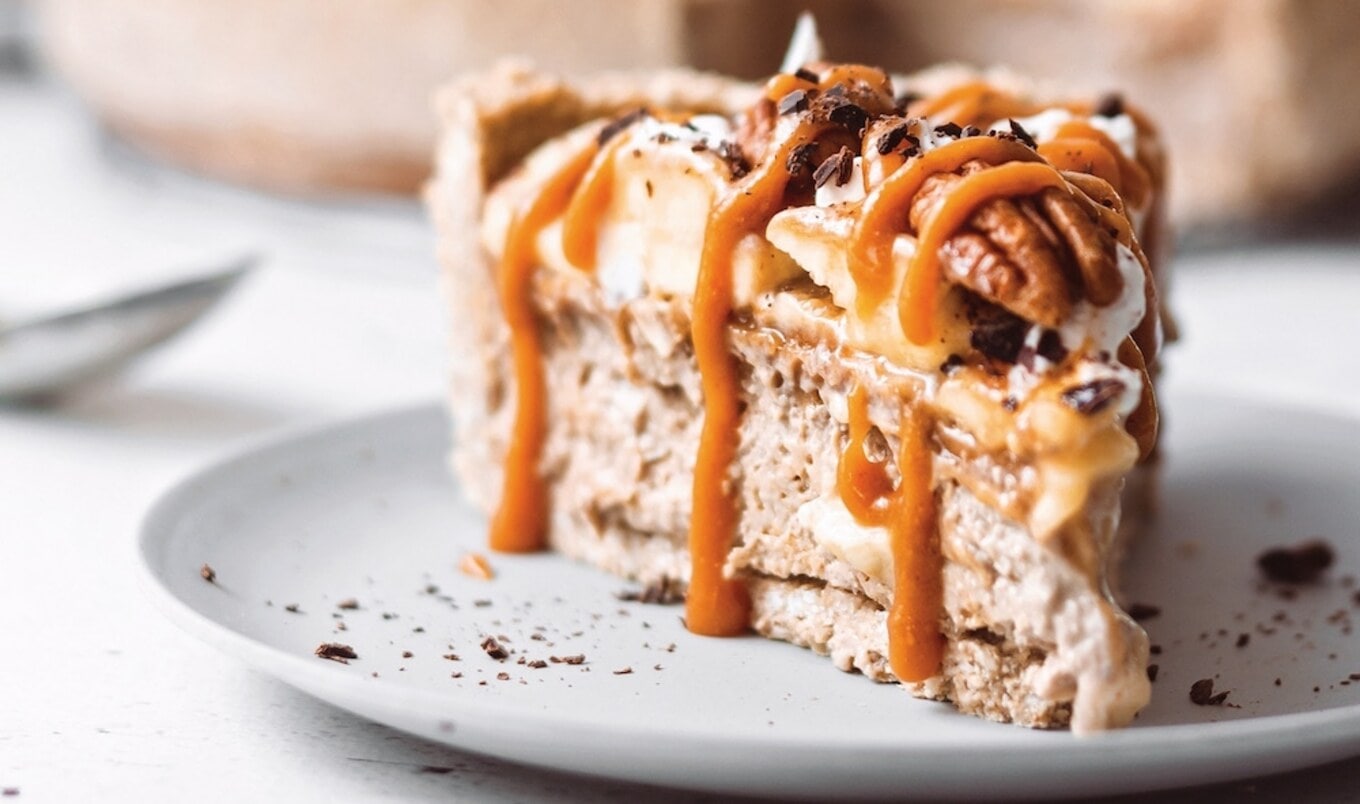 This banana-coconut-caramel vegan pie is irresistible yet super easy to make. And there's no oven required!
November 23, 2022
The layers of this vegan take on the traditional British dessert from the No-Bake Vegan Desserts cookbook include an oat base, a creamy filling, and sticky date caramel topped with fresh banana, coconut cream, caramel sauce, and chocolate shards.
What you need:
For the crust:
1 cup buckwheat groats
2 cups rolled oats
½ teaspoon salt
4 tablespoons solid coconut oil
3 tablespoons maple syrup
¼ teaspoon ground nutmeg

For the filling:
1½ cups cashews, soaked and drained
2 large ripe bananas
1 cup vanilla soy milk
1 teaspoon vanilla extract
1 tablespoon solid coconut oil
½ teaspoon ground cinnamon
2 tablespoons maple syrup

For the caramel:
9 Medjool dates, pitted
½ cup peanut butter
½ cup plus 3 tablespoons maple syrup
1 teaspoon salt

For the topping:
2 large bananas, sliced
Juice of ½ lemon
1 cup whipped coconut cream
¼ cup dark chocolate chunks

For the sauce:
2 tablespoons peanut butter
4 tablespoons maple syrup
What you do:
For the crust, line a 9 x 3–inch cake pan with parchment paper. In a pan over medium heat, add buckwheat and toast for 4 to 5 minutes until just begins to brown, tossing occasionally. Let cool completely before using.
Into a food processor, add buckwheat, oats, and salt, and pulse until it's a crumb consistency. Add coconut oil, maple syrup, and nutmeg and blend until mixture begins to stick together.
Press dough into cake pan, going up approximately 2½ inches on side of pan. Using the flat bottom of a glass, smooth top of dough evenly. Using a knife, trim top edges of dough to make even. Place crust in freezer.
For the filling, into a blender, place all ingredients and blend until smooth. Pour mixture over crust and tap gently to knock out any air bubbles. Place back in freezer to set for 2 hours.
For the caramel, into blender, add all ingredients and blend until a smooth paste is formed. Remove pie from freezer, drizzle caramel on top, and smooth out using a spatula. Place pie back in freezer to set fully for another 2 hours.
Once ready, remove pie from pan while still frozen. In a small bowl toss bananas with lemon juice. Arrange bananas in a circular design to cover entire top of pie. Spoon whipped coconut cream onto top of pie.
For the sauce, in a small bowl, mix peanut butter and maple syrup. Drizzle on top of pie, sprinkle with dark chocolate chunks, and serve.