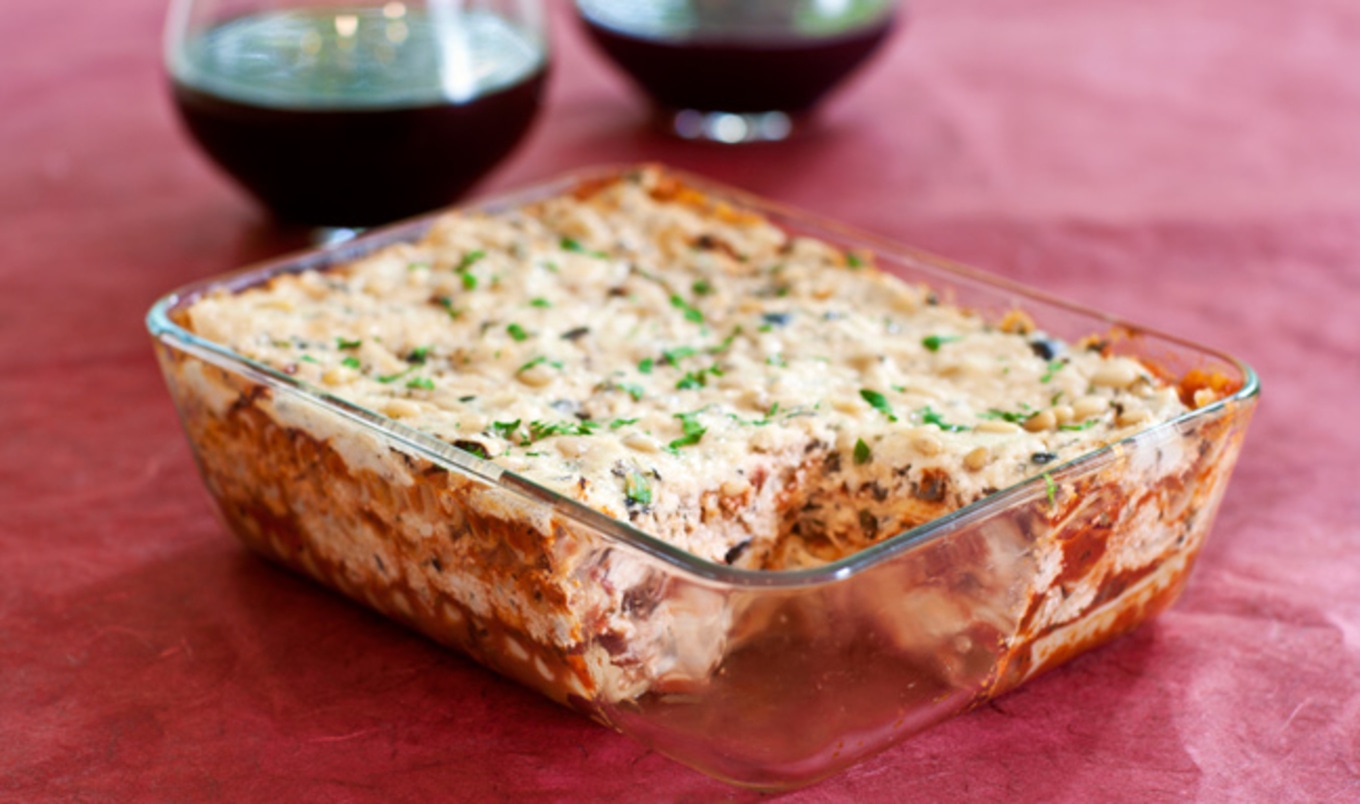 Served piping hot straight out of the oven with a side of warm garlic bread, this mile-high lasagna will satisfy your craving for quintessential Italian food.
September 21, 2023
Bubbling cheese sauce layered with a rich macadamia ricotta, earthy portabello mushrooms, and an authentic marinara sauce will give your inner child plenty to smile about. Take one bite of this comforting baked lasagna teeming with savory herbs and oozing cheeses, and instantly transport yourself to Italy with a dairy-free version that would make any Italian grandmother proud. Mangia!
What you need:
For the noodles:
12 lasagna noodles
4 quarts boiling water
For the marinara sauce:
2 tablespoons olive oil
1 cup diced onion
2 cups diced portabello mushrooms
1 teaspoon minced garlic
4 teaspoons dried oregano
2 teaspoons dried basil
1 teaspoon dried rosemary
1 teaspoon fennel seeds
1 28-ounce can chunky tomatoes
1 28-ounce can tomato purée
2 teaspoons salt
For the herbed macadamia ricotta:
1-½ cups macadamia nuts, soaked in water 4 hours or longer
½ cup water
2 tablespoons fresh lemon juice
2 tablespoons olive oil
1 teaspoon minced garlic
¾ teaspoon salt
2 tablespoons minced fresh Italian parsley
1 cup chiffonaded fresh basil leaves
1 cup coarsely chopped green or black olives
For the cashew-cheese sauce:
1 cup raw cashews
½ cup water
2 tablespoons fresh lemon juice
1 teaspoon salt
½ teaspoon rice vinegar
For garnish (optional):
2 tablespoons coarsely chopped pine nuts
¼ cup minced fresh Italian parsley
What you do:
1. In a 9x12-inch baking dish, place noodles and cover with boiling water. Let sit about 15 to 25 minutes until al dente. Drain and set aside.
2. For the marinara sauce, in a large saucepan over medium heat, heat olive oil and add onion. Sauté for 10 minutes, stirring frequently, until onions are translucent. Add mushrooms and cook for 5 minutes. Stir in garlic, oregano, basil, rosemary, and fennel, and reduce heat to low. Add tomatoes and purée, and cover loosely, simmering for 30 minutes. Add salt and cook another 15 minutes. Preheat oven to 350 degrees.
3. For the herbed macadamia ricotta, in a food processor, purée macadamia nuts, water, lemon juice, olive oil, garlic, and salt for 1 minute. Scrape down sides and purée another minute until light and fluffy. Transfer to a bowl and fold in parsley, basil, and olives.
4. For the cashew-cheese sauce, in a dry blender, grind cashews into a fine powder. Add water, lemon juice, salt, and rice vinegar. Process until completely smooth.
5. Lightly cover bottom of 9x12-inch baking dish with marinara to prevent noodles from sticking to dish. Arrange a layer of noodles and top with a quarter of the remaining marinara. Spread a third of the ricotta over noodles and then a third of the cheese sauce. Repeat layers with remaining ingredients, sprinkle with pine nuts, and cover with foil. Place baking dish on a sheet pan to catch any drips in oven and bake for 30 minutes. Remove foil and bake an additional 20 minutes until sauce bubbles. Cool for 15 minutes, garnish with fresh parsley, and serve hot.
Chef's Tip
As with most Italian dishes, this luscious lasagna tastes even better after the flavors are able to marinate overnight. Double the recipe and freeze one for a quick and convenient dinner that's ready to eat.
For more vegan recipes, read:
Here at VegNews, we live and breathe the vegan lifestyle, and only recommend products we feel make our lives amazing. Occasionally, articles may include shopping links where we might earn a small commission. In no way does this effect the editorial integrity of VegNews.