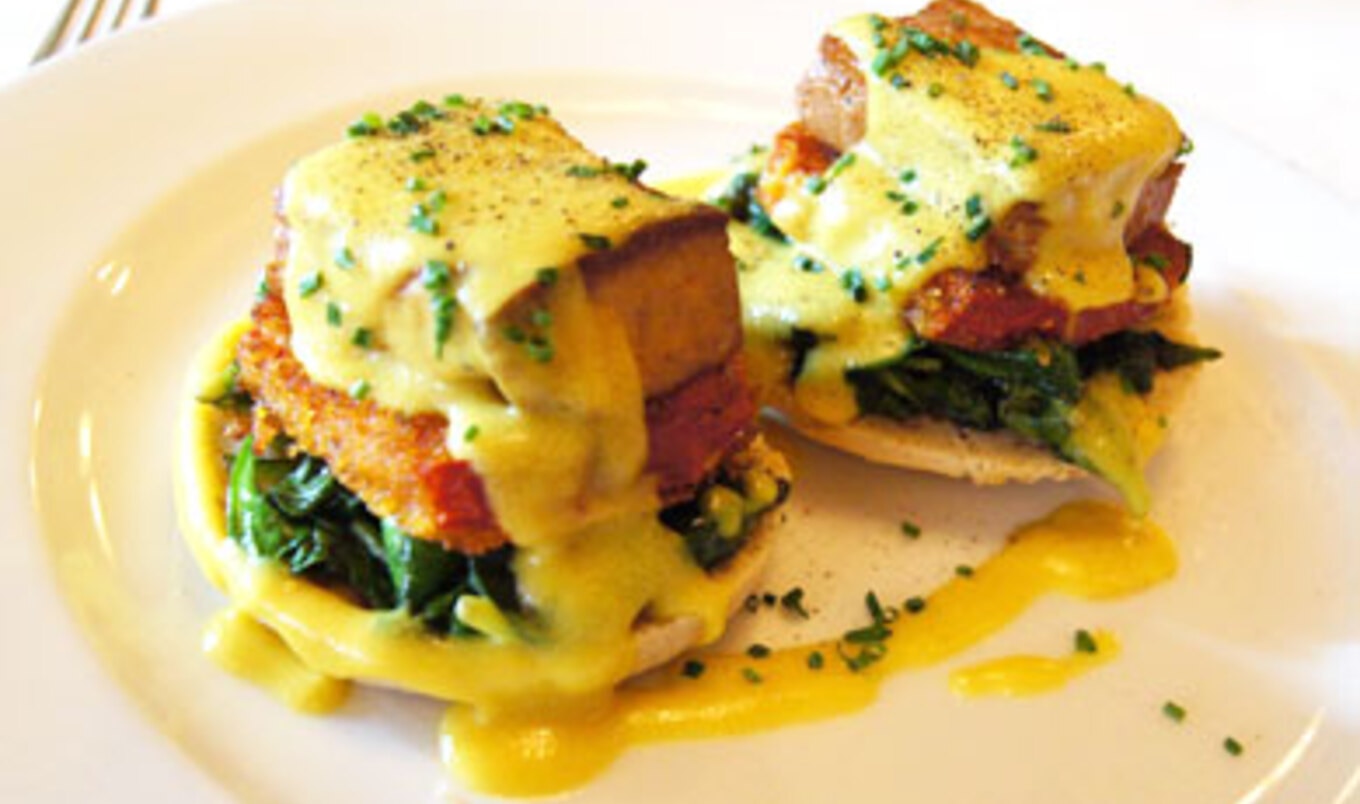 Seared tofu layered with fried tomatoes and Hollandaise sauce will be your go-to brunch entrée.
February 16, 2022
The essential plant-based addition to your brunch? This creamy vegan hollandaise sauce poured over perfectly cooked smoky tofu.
What you need:
For the smoky tofu:
1 16-ounce container firm tofu, sliced lengthwise into 4 slabs
1/4 cup wheat-free tamari
3 tablespoons filtered water
2 tablespoons agave nectar
1 teaspoon liquid smoke
3 tablespoons grapeseed oil
For the Hollandaise sauce:
1/4 cup coconut oil
1/4 cup brown rice flour
1/8 teaspoon turmeric
3 tablespoons dry white wine
2 tablespoons fresh lemon juice
1-1/2 cups almond milk
1 tablespoon nutritional yeast
1-1/2 teaspoons Dijon mustard
1/2 teaspoon salt
For the fried tomatoes:
1/2 cup coarse grind cornmeal
2 tablespoons whole fennel seeds
2 teaspoons garlic powder
1 teaspoon sweet paprika
1/2 teaspoon salt
3 tablespoons grapeseed oil
1 large vine tomato, cut into 4 slices approximately 1/2-inch thick
For the spinach:
2 tablespoons grapeseed oil
5 garlic cloves, minced
4 cups tightly packed baby spinach
1/4 cup dry white wine
Salt, to taste
2 English muffins
Freshly ground black pepper and chopped fresh chives, for garnish
What you do:
1. For the smoky tofu, in a roasting pan, combine tofu, tamari, water, agave, and liquid smoke until well combined. Cover and set aside to marinate for 30 minutes.
2. For the Hollandaise sauce, in a small saucepan over medium heat, add coconut oil, brown rice flour, and turmeric and cook for 2 to 3 minutes. Add wine and cook for 2 minutes. Add lemon juice and cook until a thick sauce has formed. Add almond milk and stir until smooth, then lower heat to low and simmer for 10 minutes, stirring continuously. Remove from heat and stir in nutritional yeast, Dijon mustard, and salt. Pass sauce through a fine mesh strainer and keep warm until ready to use.
3. For the fried tomatoes, in a bowl, combine cornmeal, fennel seeds, garlic powder, paprika, and salt until well combined. In a small sauté pan on medium heat, heat grapeseed oil. Sear one side of tomato until golden brown and crisp. Flip tomato and cook on other side for 1 to 2 minutes, then set aside.
4. For the spinach, in a sauté pan over medium heat, heat grapeseed oil. Add garlic and cook 2 to 3 minutes or until garlic just begins to brown. Add spinach and toss well to wilt. Add wine and cook until it evaporates. Season with salt and set aside.
5. To serve, toast English muffins until crisp. In a sauté pan over medium heat, heat grapeseed oil and sear both sides of tofu until lightly golden. Divide toasted English muffin slices equally between two plates. Top with spinach, fried tomatoes, and tofu. Ladle a generous amount of Hollandaise sauce over each, and garnish with pepper and chives.