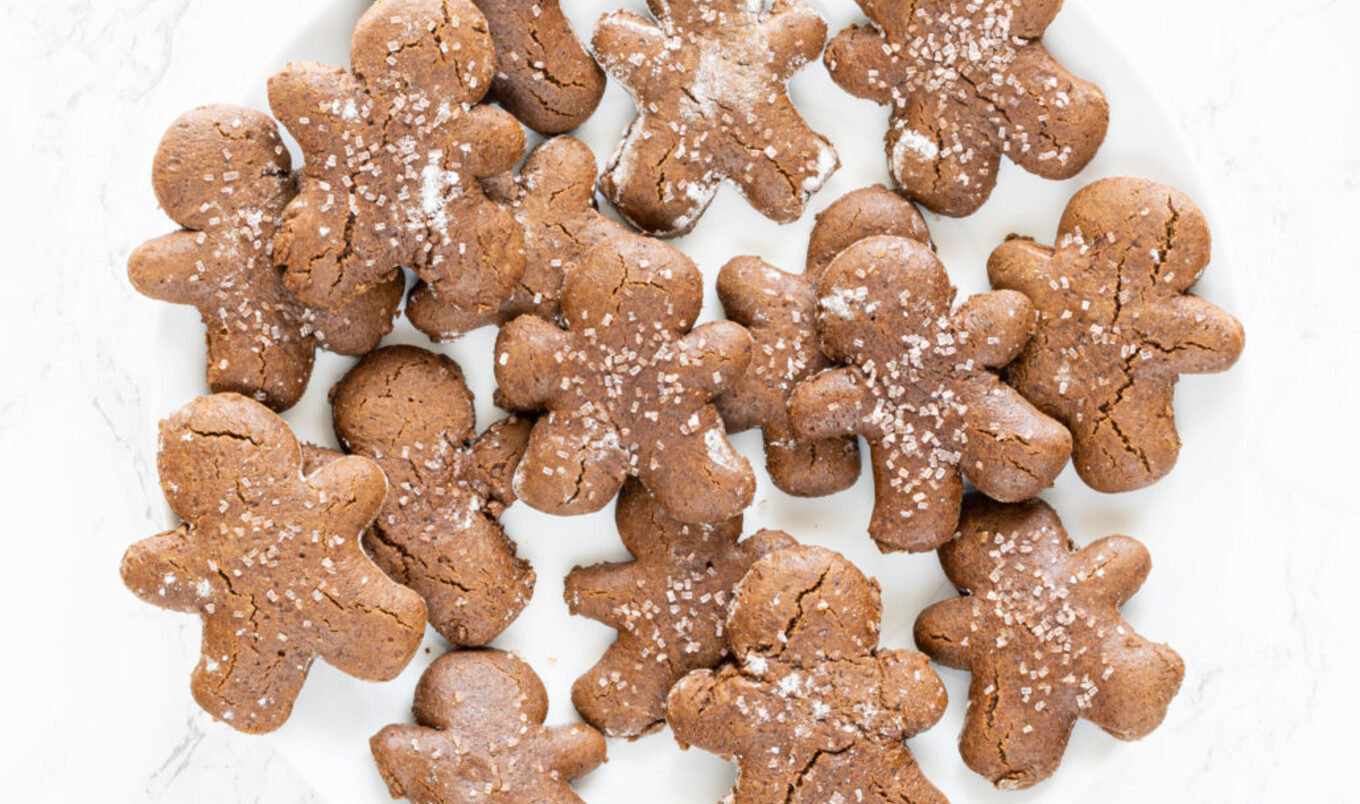 These oil-free and gluten-free cookies are perfectly soft and chewy with just the right amount of ginger flavor.
December 23, 2022
These one-bowl gingerbread cookies from HealthyGirl Kitchen blog are primed and ready for decorating with your favorite vegan icing, sprinkles, and adornments.
What you need:
1 tablespoon ground flaxseed
2½ tablespoons water
½ cup coconut sugar
¼ cup almond butter
3 tablespoons molasses
¼ cup unsweetened applesauce
¾ teaspoon ginger powder
½ teaspoon cinnamon
¼ teaspoon nutmeg
¼ teaspoon salt
½ teaspoon baking soda
1½ cups gluten-free flour
What you do:
In a large mixing bowl, combine flaxseed and water and let sit for a few minutes until thickened. Add applesauce, molasses, almond butter, coconut sugar, spices, and baking soda and whisk until combined. Add flour to bowl and stir with a wooden spoon.
Cover and let dough chill for at least an hour.
Preheat oven to 350 degrees and line a baking sheet with parchment paper. In between two pieces of parchment paper, roll out dough, until ⅛-inch thick. Remove top sheet of parchment, dip cookie cutter in a little flour, tap off excess dough, and press into dough. Repeat until there are no spots left to cut out. Peel away dough from gingerbread men shapes. Roll our extra dough and repeating process until there is no more dough left.
Carefully transfer to baking dish, placing cookies 2 inches apart. Place in oven and bake for 8 to 10 minutes. Remove from oven and let rest on pan for 3 minutes then transfer to a cooling rack.
Photo credit: Danielle Keith