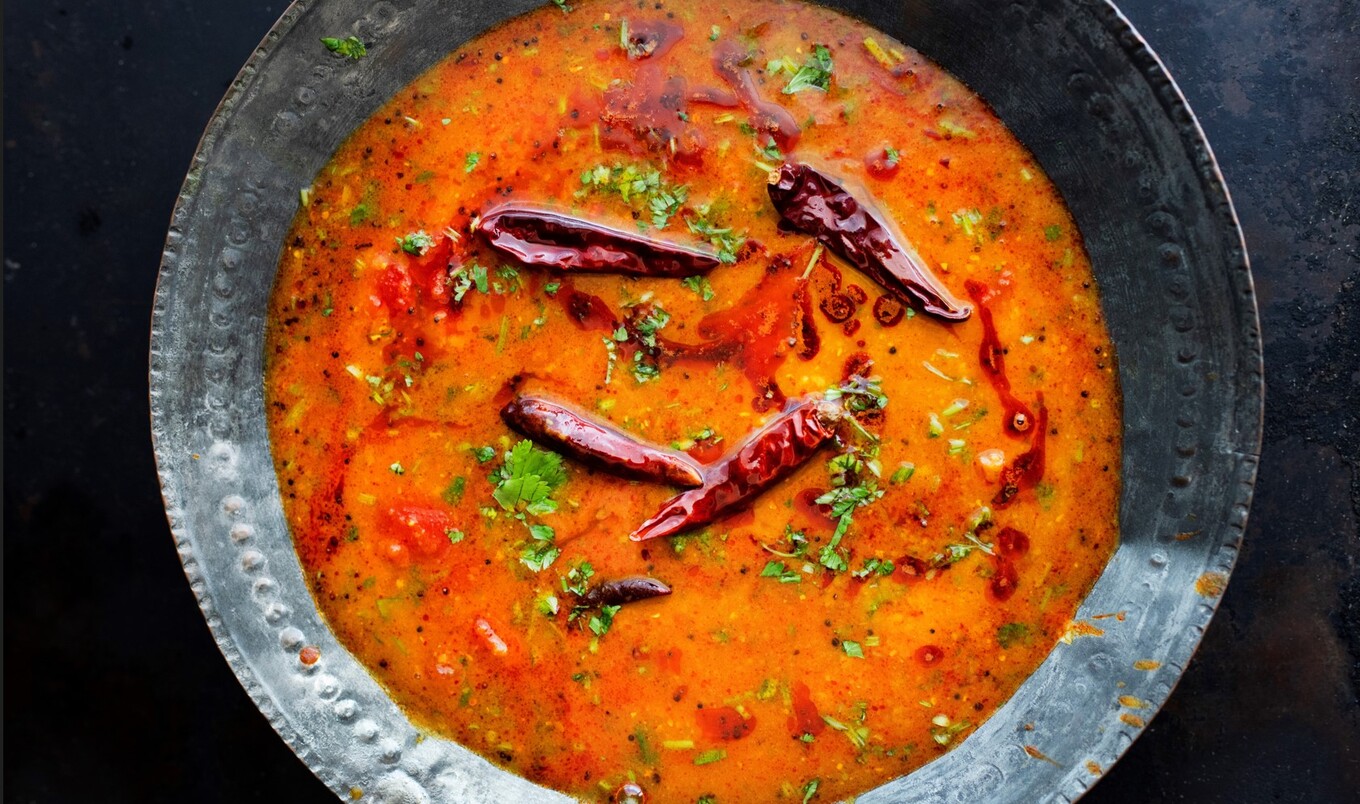 This sweet, tangy, and spicy dish is filled with warming spices and protein-rich pigeon peas.
January 26, 2023
Traditionally served in India at events such as weddings and baby showers, this lusciously spiced split pea dal has a fiery kick from chiles and homemade Northern India-style pickle masala lends a depth of flavor to this nourishing dish from the From Gujarat with Love: 100 Authentic Indian Recipes cookbook. You can use store-bought pickle masala, found at most Indian grocery stores, to simplify the recipe.
What you need:
For the pickle masala:
1⁄2 cup fenugreek seeds, crushed
1⁄4 cup split yellow mustard seeds
1 tablespoon salt
2 teaspoons asafoetida
3 tablespoons peanut oil
⁄4 cup Kashmiri chili powder
1 tablespoon red chili powder
1⁄2 teaspoon citric acid
For the dal:
1⁄3 cup dried split pigeon peas, rinsed and drained
1⁄2 cup chopped tomatoes
3 tablespoons grated jaggery (Indian unrefined cane sugar)
2½ teaspoons lime juice
1⁄2 teaspoon ground turmeric
1½ teaspoon cumin powder
3⁄4 teaspoon salt
½ cup water
For the seasoning:
2 tablespoons neutral oil
1 teaspoon mustard seeds
¼ teaspoon asafoetida
1½ teaspoons Kashmiri chili powder
1 teaspoon Pickle Masala
3 tablespoons chopped cilantro
2 dried chilies, to garnish
2 cups cooked rice, to serve
What you do:
For the pickle masala, in a dry heavy-bottomed frying pan over low heat, place fenugreek and mustard seeds, and cook for 10 minutes, stirring continuously. Transfer seeds to a plate and let cool. Add salt to same pan and toast for 1 minute, then set aside.
Into a blender or food processor, transfer seeds and pulse for 10 seconds, or until coarse. Add to a medium bowl and make a well in center and add asafoetida, but do not mix.
In a small saucepan over medium heat, warm oil until it just begins to smoke. Immediately pour oil over asafoetida and cover bowl for 2 minutes.
Uncover, stir in chili powders and mix well. Add toasted salt and citric acid and mix again. Transfer to a container with an airtight lid and let sit for 4 days to marinate before use.
For the dal, heat a dry heavy-bottomed frying pan over low heat. Add cumin seeds and toast for 3 minutes. Turn heat off and set aside to cool completely.
Into a pressure cooker, place rinsed peas along with 3 cups water. Secure lid and cook under full pressure for 20 minutes. Allow pressure cooker to decompress before safely removing lid. Allow mixture to cool slightly before transferring to a blender and blending until smooth.
Into a deep saucepan, add dal, tomatoes, jaggery, lime juice, turmeric, cumin, salt, and water. Mix well and bring to a boil, then reduce heat to medium and simmer for 8 minutes, stirring occasionally.
For the seasoning, in a small frying pan over medium heat, warm oil., then add mustard seeds. Once seeds begin to crackle, add asafoetida. Cook for 15 seconds and add chili powder, then immediately pour seasoning over dal.
Stir pickle masala and cilantro into dal and cook for 3 minutes over low heat. Garnish with dried chilies and serve with rice.
Here at VegNews, we live and breathe the vegan lifestyle, and only recommend products we feel make our lives amazing. Occasionally, articles may include shopping links where we might earn a small commission. In no way does this effect the editorial integrity of VegNews.