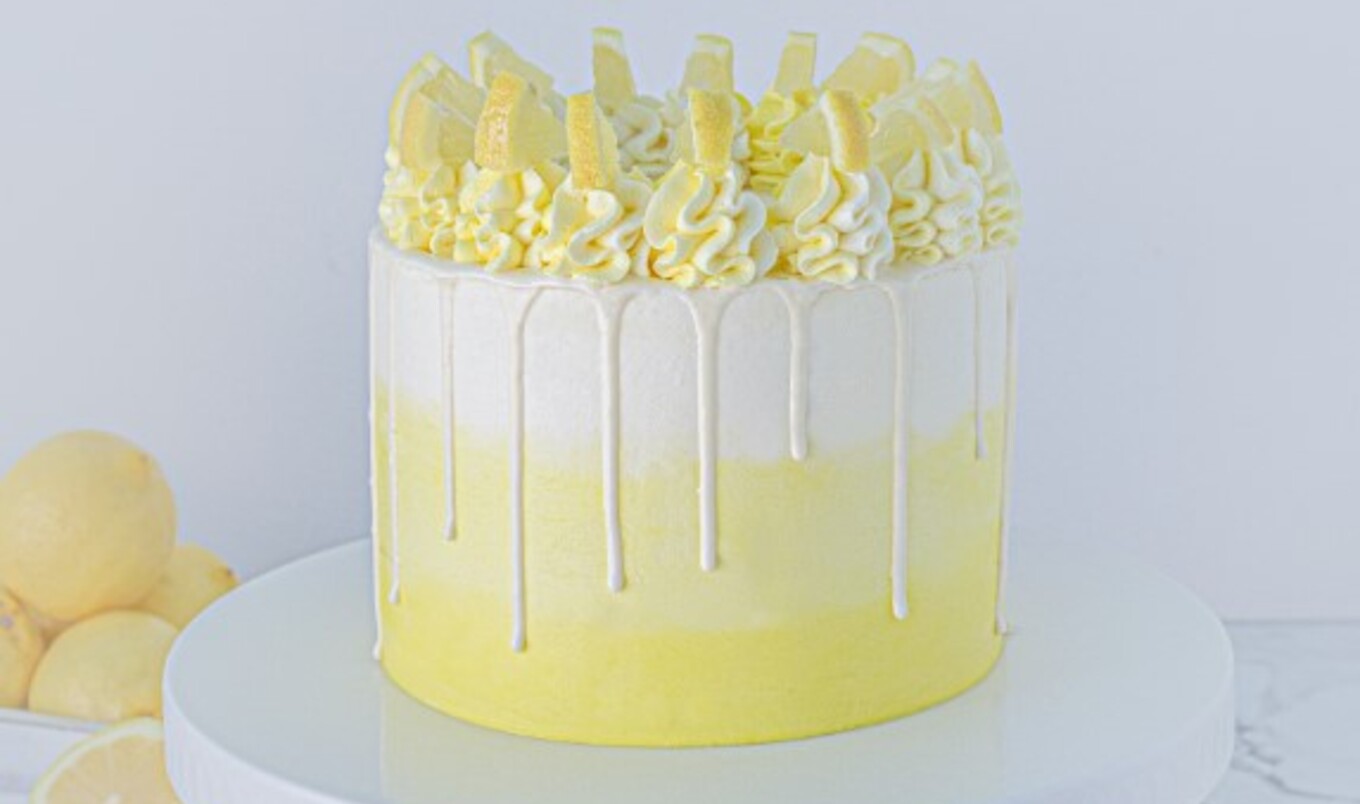 This gluten-free lemon cake has a light and airy crumb that's paired with a tangy lemon curd and simple American-style buttercream.
April 20, 2023
An easy homemade lemon curd and buttery, rich frosting lend an impressive air to this sweet and tart lemon cake from The Vegan Cake Bible cookbook. And while it will require a bit of time in the kitchen, this cake is well worth the effort.
What you need:
For the cake:
2 cups white rice flour
1 cup almond flour
⅔ cup potato starch
1 cup superfine sugar
3 teaspoons baking powder
1 teaspoon baking soda
1 teaspoon xanthan gum
1 teaspoon salt
1¼ cups plain soy milk
1 tablespoon lemon zest
¾ cup lemon juice
¾ cup vegetable oil
2 teaspoons vanilla bean paste
2 teaspoons lemon extract
For the lemon curd:
1 tablespoon vegan butter
3 teaspoons cornstarch
¾ cup lemon juice
¼ cup superfine sugar
For buttercream:
¾ cup vegetable shortening
¾ cup vegan butter, cubed
1 tablespoon boiling water
3 cups powdered sugar
½ teaspoon vanilla bean paste
½ teaspoon vegan butter flavoring
¼ teaspoon salt
For drip icing:
5 teaspoons raw cacao butter, grated
½ cup vegan white chocolate, chopped
¼ cup full-fat plant-based cream, at room temperature
4 drops vegan white food coloring
Yellow food coloring, for decoration
What you do:
For the cake, preheat oven to 325 degrees. Grease and line three 6-inch cake pans with parchment paper, then grease again and dust with a small amount of rice flour to coat pans, tipping out excess.
Into a large bowl, sift rice flour, almond flour, potato starch, sugar, baking powder, baking soda, xanthan gum, and salt, and whisk to combine. Make a well in center.
In a bowl, place soy milk, lemon zest, and juice, vegetable oil, vanilla bean paste, and lemon extract and stir to combine. Into well in dry ingredients, pour wet ingredients and gently mix until just combined, being careful not to overmix.
Evenly divide batter among prepared pans. Tap gently on surface to release any air bubbles and place on middle rack of oven. Bake for 40 minutes, until a butter knife inserted into center of cakes comes out almost clean. Allow cakes to cool in pans for 20 minutes, then turn onto a cake rack to cool completely.
For the lemon curd, in a small saucepan over medium heat, melt butter. Remove from heat and mix in cornstarch to form a smooth, thick paste. Return to medium heat and add lemon juice and sugar. Continue to stir for about 3 minutes, until sugar is dissolved and curd has thickened. Remove from heat and set aside to rest for 30 minutes.
For the buttercream, warm vegetable shortening and butter in a microwave for 15 to 30 seconds, until soft to touch but not melted. Place in bowl of a stand mixer with paddle attached and beat on low speed for 5 to 10 minutes, until completely smooth and lump free. If there are still lumps, add boiling water and beat thoroughly.
Still beating on low speed, sift powdered sugar into mixture 1 cup at a time. Add vanilla bean paste, butter flavoring, and salt and beat until combined. Set aside in refrigerator for 30 minutes, or until firm enough to use.
For the simple drip icing, in a heatproof bowl over a saucepan of simmering water, place cacao butter and stir constantly until butter has just melted.
Using a candy thermometer, heat butter until it reaches no higher than 104 degrees, then stir in chopped chocolate, ensuring it does not go over 104 degrees. Remove from heat and stir in remaining chocolate until melted, then stir in cream and white food coloring.
To assemble, using a large, sharp serrated knife, cut domes off top of cakes so they are level. Place one cake layer onto a cake stand.
Transfer buttercream to a piping bag with a large round nozzle. Pipe a 1-inch high border around top edge of cake layer. Fill inside border with lemon curd until it's three-quarters height of border. Place second cake layer on top and repeat process. Place final cake layer on top.
Frost exterior of cake in buttercream, then divide remaining buttercream among three bowls. Add a few drops of yellow food colouring to first bowl, add a few more drops of yellow to second bowl to make it a darker yellow, and leave remaining buttercream white.
Divide buttercream among three piping bags with round nozzles attached. Divide cake into three equal sections. Pipe darker yellow buttercream onto bottom section, pale yellow buttercream onto middle section, and remaining white buttercream onto final top section. Smooth out sides with an offset spatula.
Using a teaspoon, drip small amounts of simple drip icing down side of cake to create a drip effect.
Here at VegNews, we live and breathe the vegan lifestyle, and only recommend products we feel make our lives amazing. Occasionally, articles may include shopping links where we might earn a small commission. In no way does this effect the editorial integrity of VegNews.