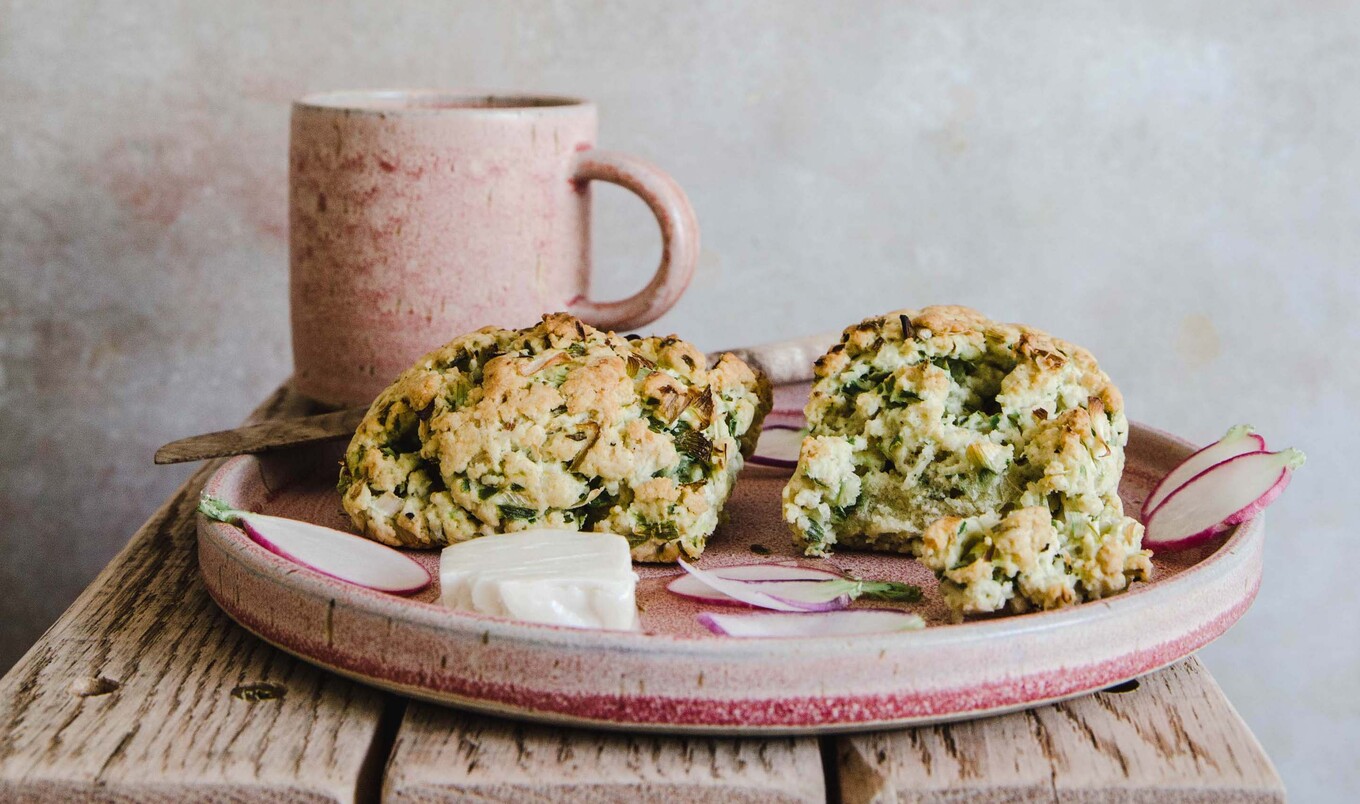 Richly flavored and deliciously flaky, these scones don't take much time to prepare and can be enjoyed warm or at room temperature.
April 29, 2023
These tangy, homemade cashew sour cream scones from the No-Waste Save-the-Planet Vegan Cookbook are a delicious, carb-loaded vessel for soup or as an indulgent pairing to a fresh, crisp salad.
What you need:
For the cashew sour cream:
2 cups raw cashews
½ cup unsweetened plain vegan yogurt
2 tablespoons lemon juice
1 teaspoon salt
Water, as needed
For the scones:
1¼ cups all-purpose flour
1 teaspoon baking powder
1 teaspoon salt
½ teaspoon sugar
¼ teaspoon black pepper
¼ cup cold vegan butter, cubed
⅓ cup cashew sour cream, divided
3 scallions, white and green parts, chopped and squeezed dry
What you do:
For the cashew sour cream, in a medium-size bowl fitted with lid, add cashews. Cover with filtered water and stir. Cover bowl with lid and soak overnight at room temperature.
Drain and rinse cashews. Transfer to a high-speed blender with remaining ingredients and 2 tablespoons water. Blend on high until completely smooth. Add more water as needed, 1 tablespoon at a time, until desired consistency is reached. Transfer to a medium-size bowl fitted with a lid and let stand at room temperature overnight so it becomes sour. Once ready, transfer to refrigerator for another 2 days to allow a slower souring process to develop.
For the scones, preheat oven to 425 degrees. Line a baking sheet with a silicone baking mat.
In a medium-size bowl, whisk flour, baking powder, salt, sugar, and pepper. Transfer to a food processor. Add butter and pulse a few times to distribute. Add sour cream and pulse a few more times. Add scallions and pulse to distribute. Transfer dough to baking mat and shape into an 8 × 4-inch log. Cut into 4 equal scones, leaving 1½ inches between scones.
Bake for 22 to 24 minutes or until golden brown. Store in an airtight container at room temperature.
Here at VegNews, we live and breathe the vegan lifestyle, and only recommend products we feel make our lives amazing. Occasionally, articles may include shopping links where we might earn a small commission. In no way does this effect the editorial integrity of VegNews.