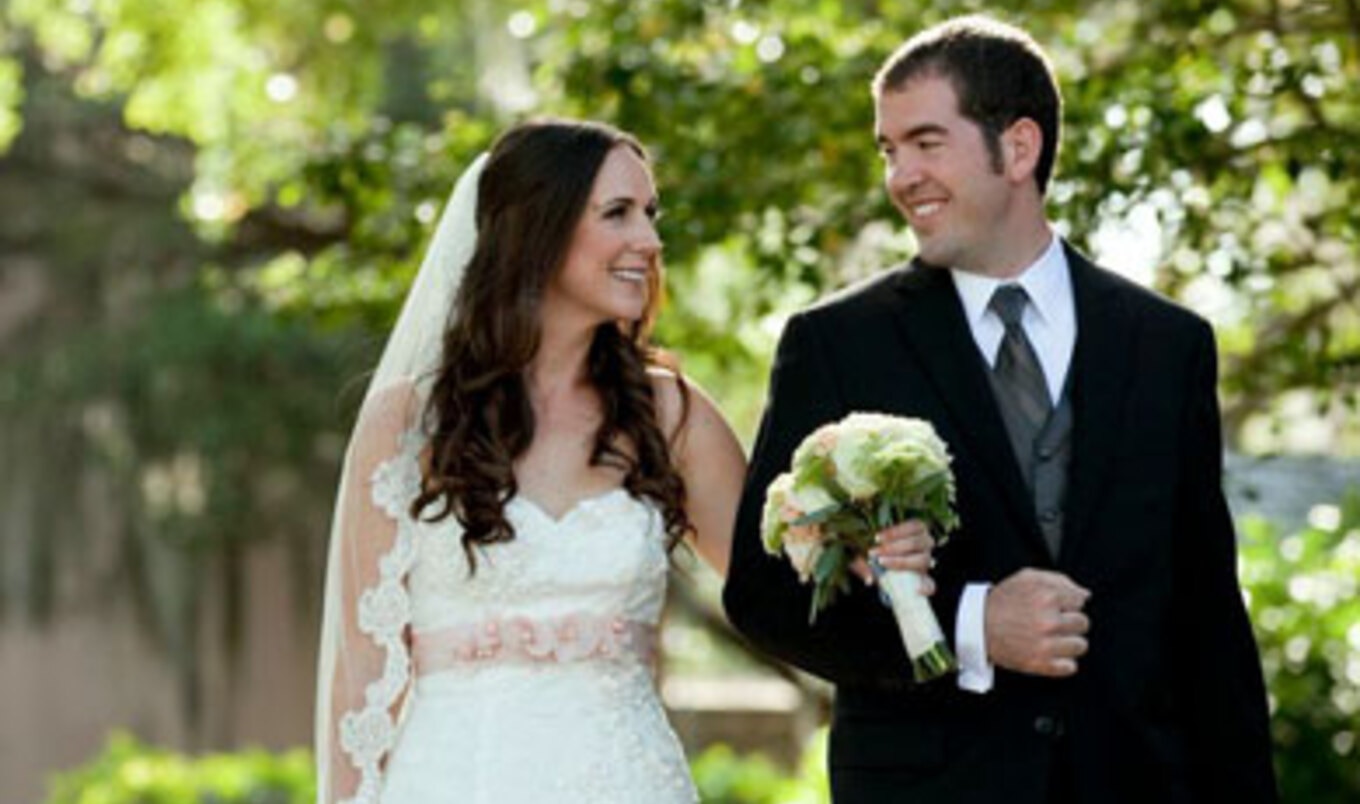 Our 2014 wedding couples tied the knot with style, compassion, and great vegan food.
September 17, 2014
---
Wedding place: St. Augustine, FL
Honeymoon destination: Tahiti and Bora Bora
Menu standouts: Panko-crusted cremini mushrooms with orange-ginger soy sauce; tomato bruschetta with basil and olive oil; Mediterranean beggars purse (puff pastry filled with vegetable ratatouille and stacked on top of toasted shallot-mashed Yukon gold potatoes)
Alison & Theodore's love story …
It was a dark and stormy flight. Alison was white-knuckling it in first class, when suddenly the cockpit door opened—and out stepped a kind, extremely hot pilot. He saw her sweaty, distressed face and offered a glass of champagne and a shoulder to help ease her anxiety. They started talking, and before the wheels hit the tarmac, the two were in love. That's the story Ali and Ross, a pilot, like to joke about anyway. The truth is that she saw his profile on Match.com and thought he was too good to be true, so she looked for him on Facebook. After a few weeks of messages and phone conversations, they finally met and have been together ever since. At the time, Ross was an omnivore but very open-minded. While dating, he ate strictly plant-based foods and followed her lead when ordering in restaurants. Though she never pushed or expected him to change, he eventually did, and creating the menu for their wedding was a combined effort.
The big day …
Since both bride and groom are from conservative families, it was important that their wedding reflect traditional values and still be strictly vegan. Ali feared that even the phrase "vegan wedding" would give their old-school guests visions of Woodstock hippies and a ceremony in a forest somewhere, so careful planning was crucial. They knew that out of nearly 100 guests, they were the only vegans in the room, so they wanted to make sure the food was the only unique thing about their wedding. Guests took a trolley to the ceremony—in the garden of the oldest house in St. Augustine. In the later hours of the reception, paper cones of french fries with ketchup were passed around and sparklers were held high overhead as the bride and groom were whisked off to their exotic island getaway.
Want more vegan weddings? Check out all of our 2014 vegan wedding couples here, 2019 couples here, 2018 couples here, 2017 couples here, and our 2016 couples here!