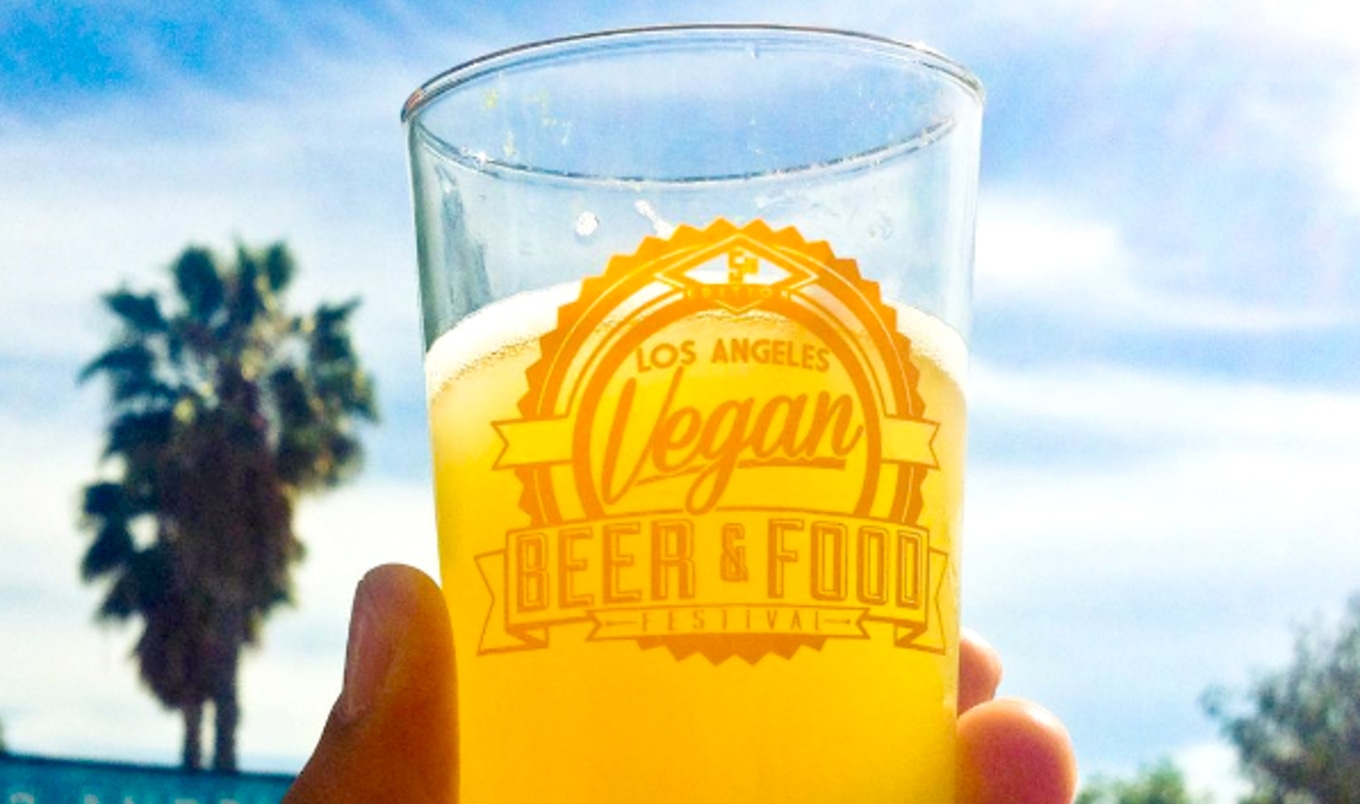 We've perused the menus for the Portland and Los Angeles Vegan Beer & Food Festivals, and—needless to say—we're excited.
June 9, 2016
---
If there's anything Oregonians and Californians know better than vegan food, it's beer, which is what makes the upcoming Portland and Los Angeles Vegan Beer & Food Festivals must-attend events. From beer brewed by Belgian monks to vegan ramen bowls—soy egg included!—these two gatherings are enough to get you excited about adopting a cruelty-free diet all over again. Here are the top 10 things we can't wait to sink our teeth into.

1. Vegan "KFC Double Down" at The Herbivorous Butcher
The Minneapolis-based makers of mock meat and cheese are preparing exclusive dishes for both events. Attendees will be able to snack on foot-long "jerky" made from wheat gluten and seasoned with both their signature Korean and Cajun marinades, while Portlandians can whet their taste buds with The Herbivorous Butcher's exclusive "Walking Chicken and Waffles" meal—a waffle cone bowl filled with mashed potatoes, homemade seitan sausage gravy, two pieces of fried "chicken," and maple syrup. Angelinos, however, will be served a vegan version of the KFC Double Down featuring two pieces of homemade fried "chicken" as a bun filled with homemade seitan bacon, garlic-pepper havarti cheese, lettuce, tomato, and homemade ranch dressing.

2. Deep-Fried Cheesesteak on a Stick at Southern Fried Vegan
If you've wanted to get down with Southern Fried Vegan's fried chickun, collard greens, biscuits, and mac and cheese but have been continuously thwarted by the food truck's ever-changing route, these events are for you. Those same gluttonous gobs of Southern goodness will be available at both festivals in its classic build-a-bowl setup. The vendor will also be frying up specials such as Deep-Fried Cheesesteaks on a Stick and Fried Chickun and Waffle Sandwiches.

3. Falafel Tacos at Falasophy Truck
"Falafel is a serious mental disease" is the darkly humored motto of this California-based food truck, and the garlic, chickpea, and eggplant-heavy menu of this Mediterranean-inspired purveyor is enough to drive us crazy. Falasophy—available only at the LA fest—will be serving turning up the heat with its classic falafel pita 'wich, spicy garlic fries, and falafel tacos topped with cilantro garlic sauce, house-pickled jalapenos, and avocado.

4. Sticky Buns and Fritters at Petunia's Pies and Pastries
Owner/founder Lisa Clark—the surrogate "Petunia" of Petunia's Pies and Pastries—has created a menu fit for a dozen kings. The bakery is serving more than 20 pastry items at the Portland festival, all vegan and gluten-free. While their Thin Mint Brownies speak to the Girl Scout in us all, we'd recommend going the breakfast route with their pecan sticky buns or their doughnut fritters, which come in two different flavors—apple with maple glaze or lemon blueberry with a lemon glaze.

5. Sunflower Seed Broth Ramen at Ramen Hood
You might have heard of Ramen Hood, the Los Angeles Grand Central Market stall from Top Chef winner Ilan Hall that's making a new name for vegan ramen. From their creamy, sunflower seed broth and hearty fried oyster mushrooms to fresh-chopped scallions and soy-based "egg" accompaniments, these bowls are perfect for an afternoon of sunny LA beer drinking.

6. Loaded Pretzel Bites at Heidi Ho Organics
From nacho to chèvre, Heidi Ho Organics has an expansive vision when it comes to vegan cheese products. At the Portland festival, they'll be serving heaping plates of warm pretzel bites layered with gobs of savory chia cheeze and coconut bacon. For all the salt freaks out there (ie, us)—don't miss your chance to gobble these up, and wash it down with your vegan beer of choice.

7. Pizza for Breakfast at Sizzle Pie
You didn't think a vegan beer and food festival would transpire without a generous selection of vegan pizzas, did you? Of course not, which means a trip to Sizzle Pie's booth is mandatory. The PDX pie purveyors will be offering a large selection of pizzas ranging from the Nector Sector (topped with roasted red pepper pepita spread, mandarin oranges, baco bits, tofu cheese, arugula, and Thai sweet chili spirals), the Buffalo 666 (shredded Buffalo jackfruit, Daiya mozzarella cheese, onions, and drizzles of ranch and wing sauce), and the Drugs Benedict (white bean spread, tofu cheese, baco bits, onion, and hash browns). With a pie like that, why not stop by for brunch?

8. Spicy Tuna Roll at Happy Elephant Health Hut
Happy Elephant Vegan in Long Beach is known for its eclectic menu of pan-Asian cuisine, from banana-stuffed breakfast flatbreads to tempura eggplant caviar. The restaurant will be bringing a few refreshing rolls to the table at the Los Angeles festival, but we're most excited about the Spicy Tuna Roll. Carrot, cucumber, spicy soy tuna salad, and tempura flakes are rolled and topped with bell pepper for a decadent but somehow still light meal that will save room for dessert.

9. Brownie Sundaes at Charlie's Brownies
Organic brownie company Charlie's Brownies makes super-moist treats while sponsoring a long list of social organizations, including The Black Aids and Dreamland Foundation. Attendees of both festivals can pick up the company's signature brownie packs, but Charlie's will also be offering two ice-cream sundaes to celebrate the festival season. Customers can choose from fresh brownies and blondies—gooey and warmed in the oven—topped with scoops of vanilla ice cream and chocolate or caramel sauces. For toppings, expect crushed almonds, raw cacao nibs, hemp seeds, and coconut bacon. Do we have you drooling yet?

10. Croissant Bread Pudding at The Ridiculous Baking Co. & NadaMoo
Stunning vegan chocolate croissants, cronuts, and gluten-free Italian bread loaves, you say? Impossible. Paired with creamy coconut milk ice cream? Ridiculous. Well, artisanal vegan bakery The Ridiculous Baking Co. is teaming with vegan ice cream company NadaMoo to make this dream a reality. We're preparing ourselves for Donut Cones—doughnuts molded in the shape of an ice cream cone and filled with one of NadaMoo's select flavors (including chocolate, vanilla, and maple pecan)—and a coconut and pecan-topped, gluten-free German Chocolate Cake à la mode. The team also designed a dessert just for the Los Angeles festival: croissant bread pudding topped with cinnamon, pecans, and ice cream.

Emily Hunt is just your average falafel taco-eating, beer-swilling vegan. Far less importantly, she lives and works as a writer in Los Angeles.