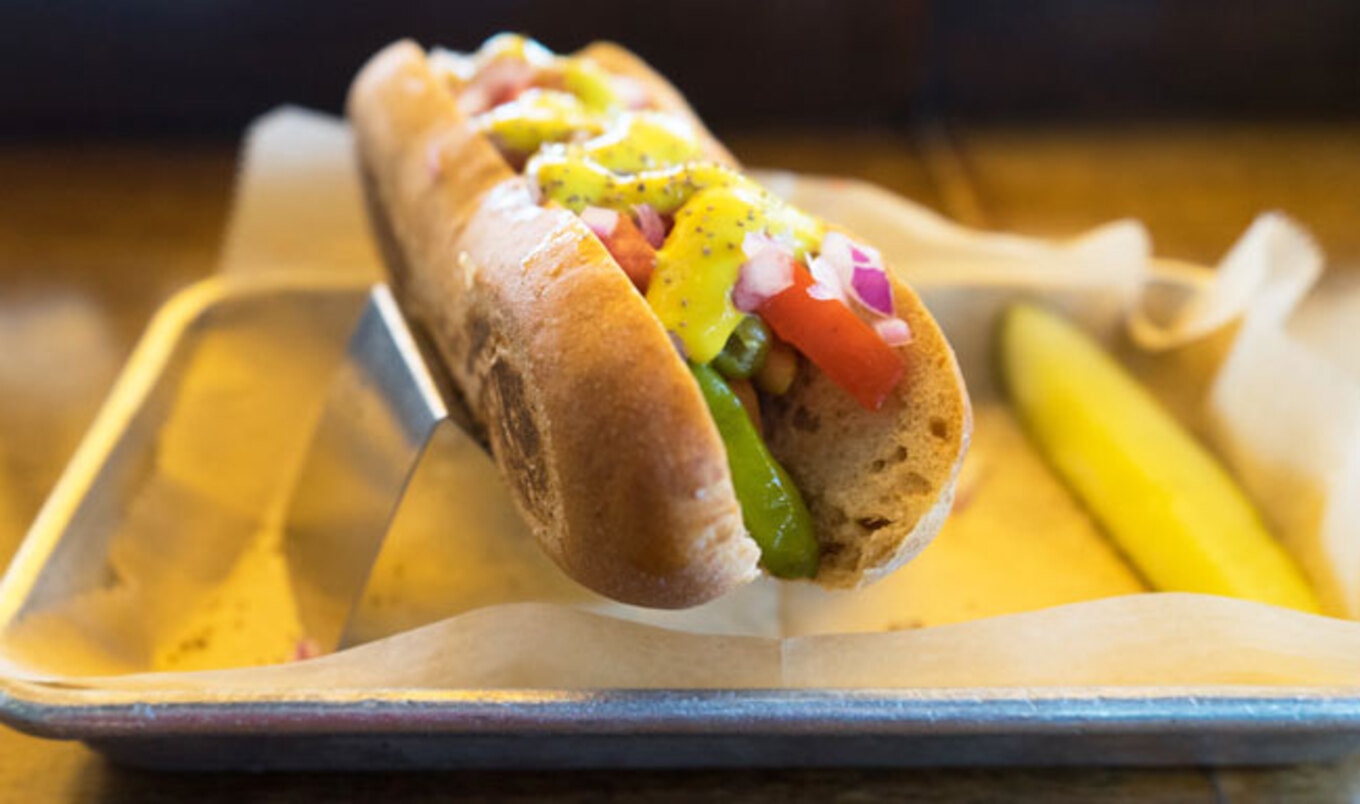 This former hippie hangout has a long legacy of serving vegan meals.
September 17, 2017
---
Though it's surrounded by rolling wooded hills and pierced by the Huron River, Ann Arbor, MI feels more like a mid-sized city than a sleepy Midwestern suburb. Packed with art galleries, bookstores, coffee shops, museums, and a startling number of restaurants—more than 300 in a 20-mile radius of the town—Ann Arbor has a decades-long tradition of serving the meat-free community thanks to the sprawling University of Michigan. With a multicultural campus and a vibrant dining community, this town's vegan scene rivals that of some larger cities in this part of the country.

Where to dine
Since its opening in August 2013, herbivores have flocked to trendy, all-vegan The Lunch Room Diner & Canteen in the Kerrytown neighborhood, home to the tiny shopping center and adjacent outdoor market of the same name. The Lunch Room serves comfort-food options such as the Chicago Dog, the Chili Mac and the Beet Burger, and a tempting menu of guilt-inducing treats that includes sundaes, floats, and ice cream sandwiches. All of the restaurant's vegan meats and cheeses are made in-house, and many other ingredients are sourced locally. Business at The Lunch Room was so good that a second location near North Campus opened with vegan sandwiches, soups, baked goods, and coffee, and, in August, The Lunch Room expanded to a third location on Detroit Street and took with it some popular menu items from the original location while introducing some fresh creations for the new spot. At the new Detroit Street Filling Station, sink your teeth into the Seitan Steak (house-made protein chunks over garlic mashed potatoes and green beans), or pig out on the Jackfruit Carnitas soft tacos with vegan queso fresco, cilantro, pickled red onions, and guacamole. Complete your meal with the not-too-sweet Berry Frangipane Tart, or get your sugar rush with the Southeast Asian Fried Bananas.
On Main Street is Vedge Café, which has you covered for a casual lunch or dinner. The sandwich shop, opened in November 2016, serves cold sandwiches, grilled sandwiches, soups, and salads. That said, no trip is complete without ordering a hearty Reuben sandwich, offered in two mouthwatering varieties: Irish, with "corned beef" and sauerkraut, and Georgia, with "turkey" and vegan coleslaw. The Vedge Philly, a newcomer not yet on the formal menu, comes wrapped in warm, freshly baked bread filled with seitan, sautéed peppers, caramelized onions, mushrooms, and melted vegan cheese.
Earthen Jar on 5th Avenue is a mostly vegan Indian buffet joint with a no-frills dining room where reggae tunes are always on rotation. Most items on the buffet, charged at $6.99 per pound, are vegan, and Earthen Jar has the distinction of being the first and only Kosher restaurant in Ann Arbor. Find hot dishes such as Chana Masala and Sag Dal, or pick from cold items such as spiced green beans, potato salad, and chickpea salad. Enjoy an all-you-can-eat vegan Ethiopian feast at The Blue Nile, where you scoop small portions of stew-like specialties (roasted yellow split peas, lentils with herbs and spices, and chopped collard greens) into a savory, spongy flatbread called injera. Even if you get your fill downtown, there's still more to sample just on the outskirts of town. Seva's location on the West Side was a major change after being located downtown for 41 years. This vegetarian restaurant's open space invites families and large groups to dine, while the meticulous menu indicates which items are vegan (and which can be made vegan). The Cilantro-Peanut Stir Fry is fresh and filling, with broccoli, peppers, mushrooms, carrots, and brown rice dressed with a cilantro-ginger-peanut-lime sauce. Sandwiches include a double-decker club with smoked coconut and a TLT (tempeh, lettuce, and tomato).
What to do
Ann Arbor is home to an array of beautiful parks to explore, many reachable on foot. Join fellow outdoor enthusiasts at the Nichols Arboretum (aka, the "Arb"), where wooded trails, peaceful glens, and local wildflowers comprise the 123-acre nature area. When in bloom, the peony garden is quite a sight to behold because it's the largest public display of the flower on the continent. Furthermore, tubing and kayaking the Huron River is the preferred way to spend hot summer weekends. Depart from Argo Park, where you can rent equipment, and let the river guide you through the man-made rapids at Argo Cascades and over the shallow, pebbled streams near Island Park. Shoppers also have plenty to do thanks to the town's many offbeat and independently owned businesses, such as The Himalayan Bazaar, The Bead Gallery, and Heavenly Metal. For art lovers, the university hosts a handful of impressive museums such as the Museum of Art, the Museum of Natural History and the Kelsey Museum of Archaeology. Admission is free, but donations are welcome.
Treat yourself
Wherever you choose to dine, be sure to leave room for vegan frozen yogurt at Yoggies Yogurt on Liberty Street. Most of the frozen yogurt selections aren't vegan, but the store almost always carries two vegan varieties (butter pecan and Hawaiian coconut make frequent appearances). Or, swing by The Cupcake Station for vegan options such as chocolate and vanilla topped with dense, creamy frosting. Finally, People's Food Co-op and its connected Café Verde offer loads of vegan goodies: cookies, cupcakes, ice cream, and all-natural chocolate coconut chews that conjure memories of Mounds candy bars.
Theresa Boehl is editor of BeachDeals.com and author of e-book Vegan in Santo Domingo: A guide to meat-free, dairy-free dining in the Caribbean's largest city.