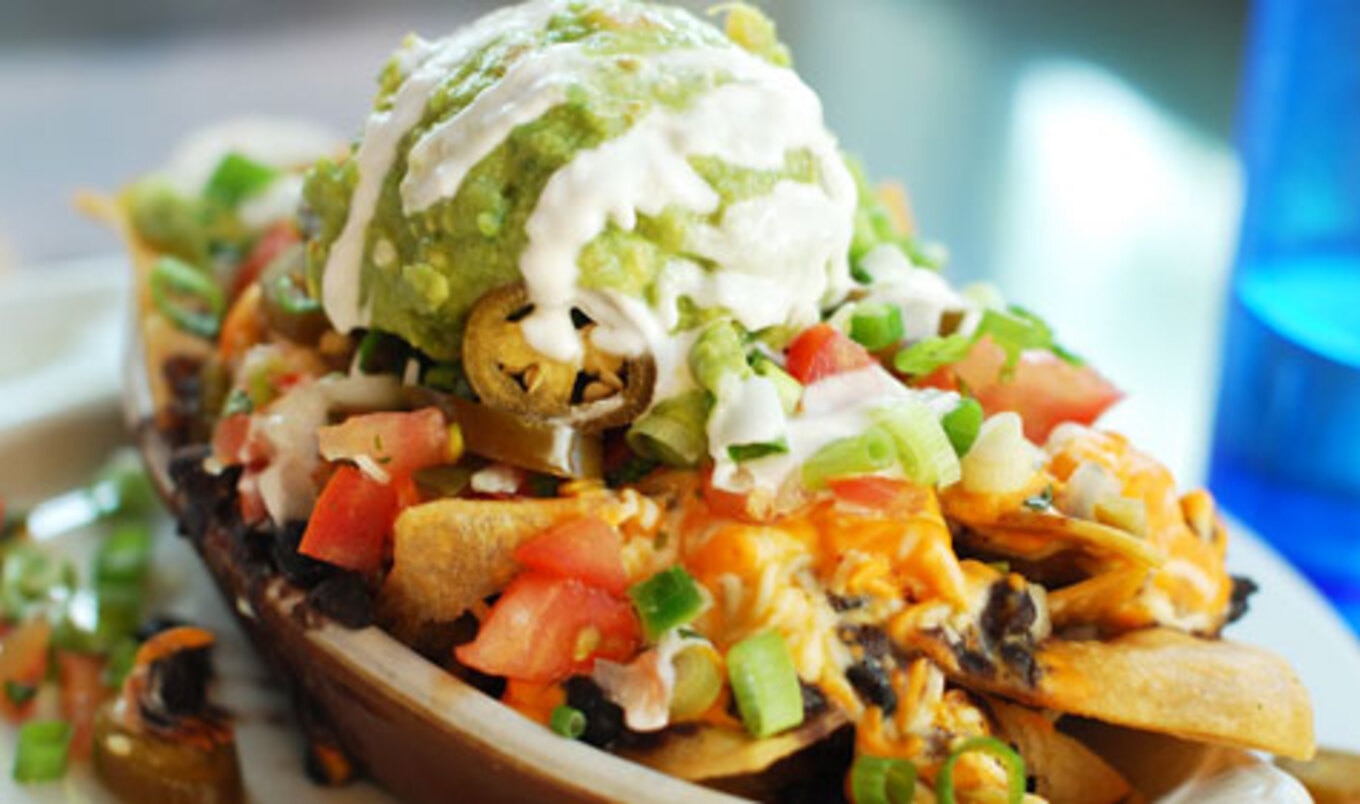 Technically Central Coast but culturally more Bay Area, this surf city is a small town with a big-city feel.
December 2, 2016
---
Although Silicon Valley buzzes 45 minutes to the north, Santa Cruz, CA is protected from being just the tech-industry's beachfront backyard thanks to a barricade of redwood-encrusted mountains that keep its unique character in (and the frenzy out). Nestled between the forests and the sparkling Monterey Bay and featuring expanses of largely organic farmland padding its edges, "the real surf city" (as it's known) boasts world-class waves, inspiring nature, a health-conscious community, and an abundance of vegan food. Recently, this special seaside community also became VegNews' new home. In light of the move, we're giving you the inside scoop on Santa Cruz's best vegan finds.
 
WHERE TO DINE
Considering how vegan-friendly Santa Cruz is, the city has surprisingly few dedicated vegetarian and vegan restaurants. But those we do have are true institutions. The progenitor, Dharma's, is an old-school cafeteria serving burgers, pasta, pizza, burritos, salads, and even breakfast. There's also Saturn Café, a space-themed vegetarian diner with the best French fries in town, and Café Gratitude, which dishes up nourishing plant-based fare and what is quite possibly the best key lime pie on the planet. Next door to VegNews' new digs is Malabar, a Sri Lankan fusion restaurant where most of the all-vegetarian menu is vegan. If we had to choose a favorite, it'd be the LaLa Tempeh. Or the veganized Steak Diane. Or maybe the Kofta India.
When a bowl of saucy noodles is in order, Santa Cruz has two stand-out options. The first is Charlie Hong Kong, which serves quick, healthy Asian street food (try the creamy yellow curry Chiang Mai Noodles with the Sweet Garlic Tofu topping). The second is Betty's Noodle House, where an expansive menu of Asian comfort food includes the Spicy Sesame Noodle Soup and deep-fried sweet red bean balls. If it's sushi you crave, hit Akira for a robust selection of creative vegan rolls such as the Treetop (tempura broccoli, spicy macadamia, and avocado), Shiitake Crunch (shiitakes, cucumber, and basil topped with avocado and shoestring yams), and Veggie Munster (sweet tofu, avocado, beets, lemon, jalapeño, spicy macadamia, and mango topped with ponzu sauce). Come lunchtime, grab a vegan tortilla soup at Café Campesino, the rotating seasonal vegan sandwich at Café Delmarette, or The Beet sandwich at The Picnic Basket—a combination of roasted beets, pickled red onions, lemony chickpea spread, toasted almond butter, and greens.
 
WHAT TO DO
With 14 state parks, Santa Cruz's vast outdoor offerings make frequent picnics a must. The art of packing the perfect Santa Cruz picnic starts at New Leaf Community Markets, where the deli case offers crowd pleasers such as Coastal Kale Salad and Tempeh Noodle Salad. In the mood for more than a salad? Hit the sandwich counter, where vegan sammies like baked tofu with sundried tomato pesto and extra pickles await. If you're looking to get away from the noise, your electronic devices, and animal products in a more urban setting, visit Santa Cruz's most serene café, Hidden Peak Teahouse, where owners David and Marilee Wright have created something palpably different in this traditional Chinese-style teahouse. Patrons enjoy gongfu tea ceremonies and a 100-percent plant-based small bites menu in a cozy, mystical atmosphere devoid of all digital distractions. Finally, no serious eater or cook can say they've tasted Santa Cruz if they haven't visited its farmers' markets. A handful of vibrant weekly events showcase the region's array of organic produce while offering tasty bites (such as vegan samosas with chutney) and interesting goods like a "Gut Shot" from the Farmhouse Culture booth.
 
TREAT YOURSELF
No vegan food tour of Santa Cruz is complete without dessert. But where to start? For a grown-up delight, stop in at The Penny Ice Creamery for an affogato with dark chocolate sorbet. The rich, perfectly bitter sorbet (vegan, of course) is drowned in espresso from local coffee superstars Verve Coffee Roasters, creating a hot-meets-cold sensation that will perk you right up. Nearby The Penny Ice Creamery is Buttercup Cakes & Farmhouse Frosting, where vegan cupcakes in flavors such as the Fruit Basket (blood orange cake topped with strawberry frosting and fresh fruit) and Chocolate Almond-Maple are not to be missed. For the perfect cup of hot chocolate, stop by Mutari Chocolate House, a purveyor of ethically sourced, single-origin chocolate bars. Catch Mutari during one of its pop-ups to try its thick, coconut-milk-based "drinking chocolates," the most popular flavor of which is Himalayan Pink Salt. And vegan desserts such as doughnuts, pies, truffles, cookies, and cakes are available at any of the city's myriad natural food stores: let's just say the dessert counter at the iconic Staff of Life should not be missed.
 
Elizabeth Limbach is an award-winning journalist based in Santa Cruz.