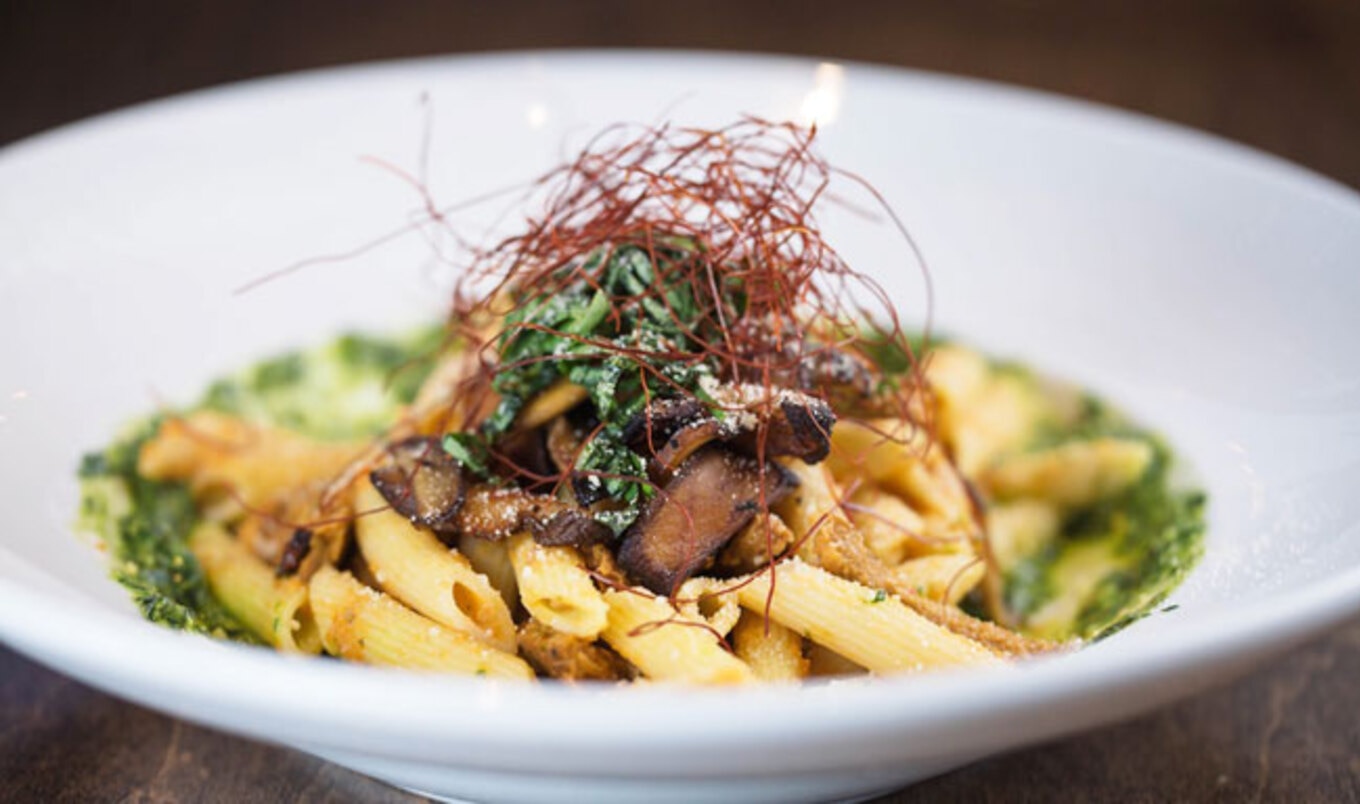 Thanks to an array of plant-based options, the Big D might want to consider changing its name to the Big V.
July 10, 2017
---
To celebrate VegNews naming the Top 10 Best Vegan Cities in America (found in our May+June 2017 issue), we asked our favorite vegans to explain why their winning town should be atop every meat-free traveler's list.
They say everything is bigger in Texas, and Dallas is known as "the Big D," so it should come as no surprise that the fourth largest metropolitan area in the country is also home to a plethora of vegan options. Outsiders might still think of Dallas as big hair, big hats, cowboy boots, and, well, cowboys, but the Big D is a much different city in real life (though you can get a pair of vegan cowboy boots if you want). In actuality, Dallas is home to the largest contiguous Arts District in the United States and the largest vegfest in Texas. What's big about the vegan options in Dallas is the variety—diners, pubs, pizzerias, raw, Mexican, Indian, and Vietnamese. Dallas is an ever-changing city, but, thankfully, the big hearts of the many dedicated animal advocates here remain a constant who help push the city to become more vegan-friendly all the time.
 
Top 3 vegan eateries
1. Spiral Diner & Bakery: They were the first fully vegan restaurant in Dallas, and are still one of the best. With two locations in the Dallas metro area and a third on its way, it's easy to get your hands on the delicious burgers, wraps, and desserts. Try the homemade bacon ranch cheeseburger with a mint chocolate shake, and you'll be feeling those '50s diner vibes all day long.
2. El Palote Panadería: Once a restaurant that served meat with vegan options only on certain days, El Palote is now completely vegan and is serving some of the best authentic Mexican food in the country. You can get tacos, burritos, and tortas filled with a selection of house-made soy meats such as Chicharrón, Carnitas, and Carne Guisada—plus all of their delicious Mexican sweet breads. Don't miss Crispy Chicharrón burrito—a favorite with a side of refried beans and Mexican rice.
3. V-Eats Modern Vegan: A relative newcomer to Dallas, V-Eats is already making headlines with its homemade vegan Brisket Sliders and Southern comfort food brunch options. Does Chicken Fried Seitan and Waffles sound good? Perhaps a vegan fried egg over-easy with a plate of biscuits and sausage gravy? Come hungry and leave happy at this amazing new restaurant.
 
Top 3 non-vegan restaurants with vegan options
1. Trinity Hall Irish Pub: An authentic Irish Pub that literally had its furniture imported from Ireland, Trinity Hall is also a place you can get traditional vegan Irish pub food like Shepherd's Pie and pub Curry. Visit on a Sunday to be serenaded by Irish music and Celtic dancing, and try some Loaded Potato Skins with vegan cheese, sour cream, and coconut bacon while you're at it.
2. Pizza Lounge: If pizza is your thing, Pizza Lounge is the go-to place in Dallas. In addition to an extensive selection of vegan meats and cheeses to create your favorite pie from, they have an inventive array of specialty pizzas like the "Regrubmah"—ketchup based red sauce, Daiya cheese blend, vegan hamburger, red onions, and tomatoes topped with diced dill pickles.
3. Anvil Pub: Finally, a trip to Dallas wouldn't be complete with a true southern dish such as Frito Chili Pie. Homemade vegan chili (a spicy version with vegan meat and beans) is topped with cheese and sour cream with a bag of Fritos on the side. If chili isn't your thing, opt for the loaded cheese fries, nachos, or Beyond Meat Chicken quesadillas.
 
Favorite vegan item in Dallas
This is an almost impossible question, as there are so many amazing menu items, and it often depends on what I'm in the mood for. If I had to choose one, it would probably have to be the Nachos Supremo from Spiral Diner. These nachos are so good that they were once named "best nachos in the city" (vegan or otherwise) by a local publication. A huge bed of tortilla chips is smothered with black beans, quinoa, olives, cilantro, corn, tomatoes, green onions, sour cream, guacamole, and pickled jalapeños, and topped with one of the best in-house made cashew quesos I've ever had.
 
Ultimate vegan meal
First, I'd start out on the rooftop deck at HG Sply Co with a ginger kombucha-based Moscow Mule and HG Chips & Queso—a spicy cashew-based queso topped with salsa and guacamole. Next, I'd choose the Coconut Kale Enchiladas from Be Raw Food + Juice, Dallas' first all-raw restaurant. Marinated kale encased with raw coconut tortillas, drizzled with nacho cheeze and cashew sour cream … and delicious. Finally, for dessert, I'd cool off with the best shaved ice in town at Ruby's Sno-Balls. They have an amazing array of freshly made vegan flavors, including Coconut Cream/Mango topped with Tajin chili seasoning.
 
First-stop for a visiting vegan friend
Because it's different than pretty much any vegan restaurant around, I have to take everyone to El Palote Panadería. People are always amazed by what they can do with their vegan meats, and the fact that all of their tortillas and sweet breads are made fresh in-house daily makes it a can't miss experience.
 
Top three vegan desserts
1. Reverie Bakeshop: One of my favorite desserts is one of the most simple—the cannoli at the all-vegan Reverie Bakeshop. The fried pastry bread rolled up with a sweet vanilla mousse filling, then dipped in chocolate, makes it very hard not to want more than one … or 10.
2. Be Raw Food and Juice: In the category of "I can't believe this is raw vegan," the Cookies and Cream Cheesecake at Be Raw is one of the most delicious and decadent desserts around.
3. Glazed Donut Works: With late night hours until 2am on weekends, Glazed Donut Works is where many people end up for dessert. There's typically a line of people waiting for one of their vegan doughnut creations, the best of which is the Biscoff Cookie Butter doughnut.
 
Favorite non-food activity
I'm a runner and really enjoy going for runs around beautiful White Rock Lake, just minutes from downtown Dallas. The lake provides a serene environment for escaping the noise of the big city, perfect for exercise or just people (and bird) watching. Oh, and it doesn't hurt that you can finish your run with vegan soft serve at a convenience store down the street!
 
Vegan king and/or queen of Dallas
I am extremely honored to share the same city as Carol J. Adams, one of the most brilliant and important authors in the Animal Rights community. From The Sexual Politics of Meat to her most recent works Never Too Late to Go Vegan and Even Vegans Die, her contributions are invaluable. While her reach is far greater than Dallas, she stays active in the local community through her volunteer work at The Stewpot, a center for helping homeless and at-risk persons. In addition to her general volunteer work, she authors a vegan-centric column in STREETZine, a street paper published by The Stewpot.
 
One amazing vegan thing in Dallas every city should have
Vegan Drinks is one of the best ways to build community and help connect vegan and veg-curious people in a low-pressure social environment. And one of the keys to the success of Dallas Vegan Drinks is its consistency—having met every second Thursday of every month since 2009, attendees can count on at least one monthly event to look forward to. But Dallas Vegan Drinks is not just a way to connect people—it's also a great opportunity for restaurant outreach, switching locations each month to help show vegan-friendly businesses that there is demand for vegan options on their menus. This outreach has contributed to the increase of vegan options on several menus across Dallas.
 
Jamey Scott is the founder of DallasVegan.com and Texas Veggie Fair.
For more of VegNews' Top 10 Best Vegan Cities, check out what locals have to say about:
Chicago
Detroit
Las Vegas
Los Angeles
Miami
New York City
Oakland
Philadelphia
Portland