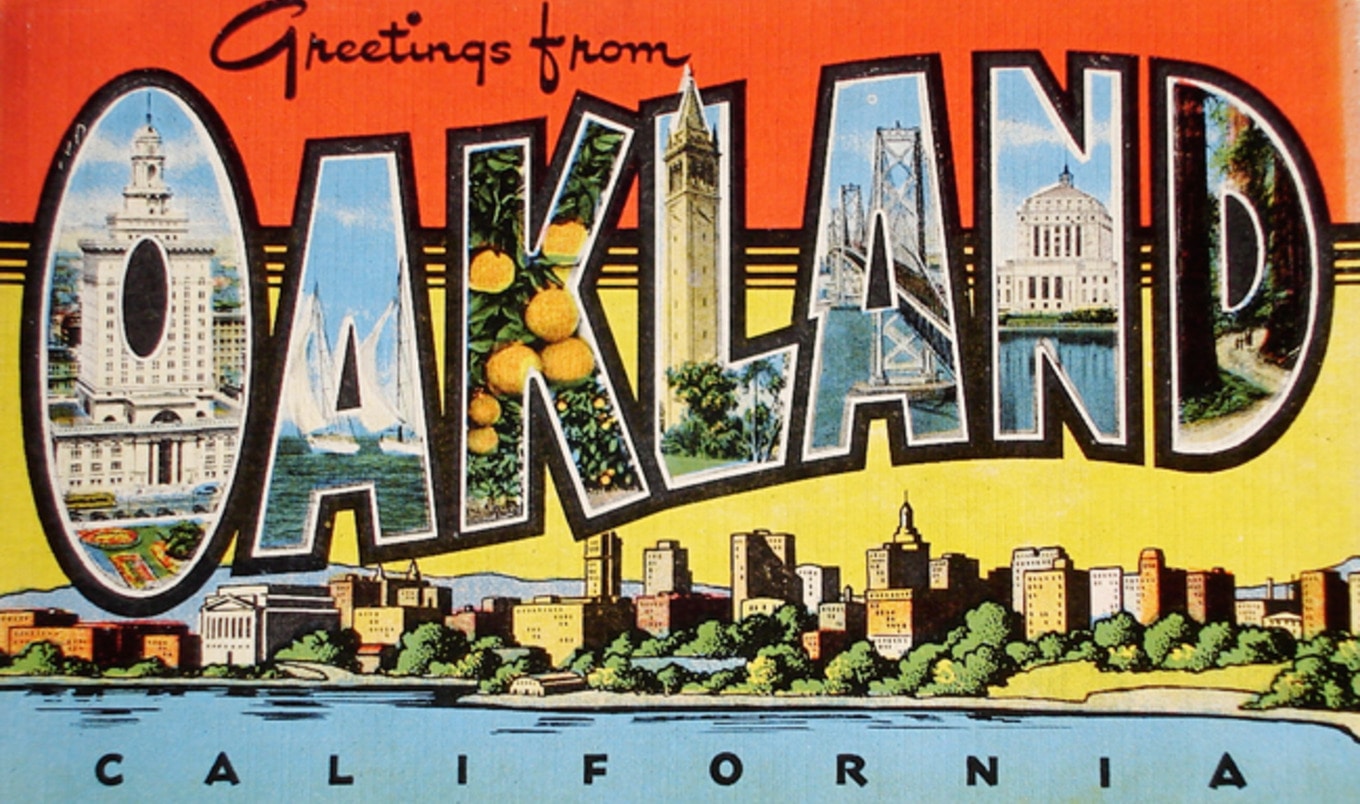 Vegan soul food, doughnuts, and pizza? You must be in Oakland.
May 31, 2017
---
To celebrate VegNews naming the Top 10 Best Vegan Cities in America (found in our May+June 2017 issue), we asked our favorite vegans to explain why their winning town should be atop every meat-free traveler's list.
Due to the array of people fleeing the expensive rents in San Francisco, the city of Oakland is booming. And so are the region's vegan options. There are many vegan-only locations from which to choose, but plant-based options are not hard to find in pretty much every restaurant, coffee shop, or bar in town. I've lived in Oakland for five years, and I still haven't been able to try all the vegan treasures within the city limits (I'm looking at you, Two Mammas' Vegan Kitchen). Luckily, these eateries aren't going anywhere, and I plan to hit them up ASAP. That said, I have tried a lot of food, and I have not been disappointed. So, if you're visiting the San Francisco Bay Area, don't forget to visit Oakland if you want to be a satisfied and satiated vegan.
Top 3 vegan eateries
1. Millennium Restaurant: This was my favorite restaurant in San Francisco, and now I live only about 10 minutes away from its latest location! My boyfriend and I love going on special occasions, especially when they have prix fixe dinners such as the Annual Southern Comfort Dinner or the recent four-course beer brunch featuring Cajun Spiced Cornmeal Crusted Cauliflower and a Dark Chocolate Pretzel Tartlet.
2. Souley Vegan: I also love Souley Vegan near Jack London Square because I'm a big sucker for comfort food. My favorites are the Creole Pop'ens (a veganized version of jalapeño poppers) and the Southern Fried Tofu Burger. If you're looking for a pint of craft beer to drink along with your delicious meal, Beer Revolution is next door (featuring 50 taps of rotating craft beer) and allows you to eat your vegan soul food on their outdoor patio.
3. Donut Farm: I am very fond of the brunch at Donut Farm, previously known as Pepples Donut Farm. The location is a bit of a tight space, but the Biscuits (or doughnuts) and Gravy Plate is worth the cramped area.
Top 3 non-vegan restaurants with vegan options
1. Analog: Located in downtown Oakland, Analog is 50-percent vegan and features sandwiches such as The Rachel (with homemade corned-beef seitan, citrus slaw, pickled onions, and chipotle and lime aioli) and a vegan twist on the Bánh mì called "Banh Mi? No, Banh You!" Don't forget to save some room for the sweet potato salad on the side.
2. Zachary's Pizza: This pizzeria is also great if you're looking for a filling Chicago-style pizza. They can make a pizza with vegan cheese and a wheat crust.
3. Homeroom: If you're craving vegan macaroni and cheese, look no further than Homeroom in Oakland's Piedmont neighborhood. The restaurant has a decadent Vegan Mac, which you can customize to your tastes with add-ons such as peas, spinach, vegan chorizo, or potato chips!
Favorite vegan item in Oakland
I'm not good at picking favorites, but the menu item I get the most is the Vegan Pilgrim sandwich from Ike's Place. The sandwich includes vegan turkey and cheese, cranberry sauce, and sriracha, treating your taste buds to sweet, savory, and spicy flavors.
Ultimate vegan meal
My dream Oakland vegan meal is the Coriander & Arborio Crusted King Trumpet mushrooms from Millennium as an appetizer, the Fiery Vegetables with Tofu from Burma Superstar as an entrée, and a vegan ice cream sandwich from Cream for dessert.
First-stop for a visiting vegan friend
Every vegan wants to hit up Hella Vegan Eats, which features an ever-changing menu. The eatery was recently serving a Chicken Parm Burger, which looked utterly mouthwatering.
Top three vegan desserts
1. Donut Farm: I absolutely love the salted caramel doughnut from Donut Farm.
2. Millennium: I'll take any of the assorted confections from Millennium, especially the truffled white chocolate-hazelnut and pecan mousse truffles.
3. Ben & Jerry's: There's nothing wrong with a bowl of vegan PB and Cookies ice cream from Ben & Jerry's, which, by the way, is not very far away from Souley Vegan.
Favorite non-food activity
I love watching movies at the historic Grand Lake Theater near Lake Merritt, which opened in 1926. Be sure to catch a matinée to save on dough.
Vegan king and/or queen of Oakland
I admire vegan chef Bryant Terry, who resides with his family in Oakland. His soul food-inspired vegan cookbooks are awesome, but he's also an amazing food-justice activist. He currently is the Chef-in-Residence at the Museum of the African Diaspora (MoAD) in San Francisco, bringing together food, farming, health, activism, art, culture, and the African Diaspora. He's truly an inspiration.
One amazing vegan thing in Oakland every city should have
I know many cities have a vegetarian festival, but the Oakland VegFest is one of the best! Admission is free, there's tons of free food, and the speakers are great.
Lyndsay Orwig is a full-time accountant and part-time vegan recipe tester living in Oakland, CA.
For more of VegNews' Top 10 Best Vegan Cities, check out what locals have to say about:
Chicago
Dallas
Detroit
Las Vegas
Los Angeles
Miami
New York City
Philadelphia
Portland