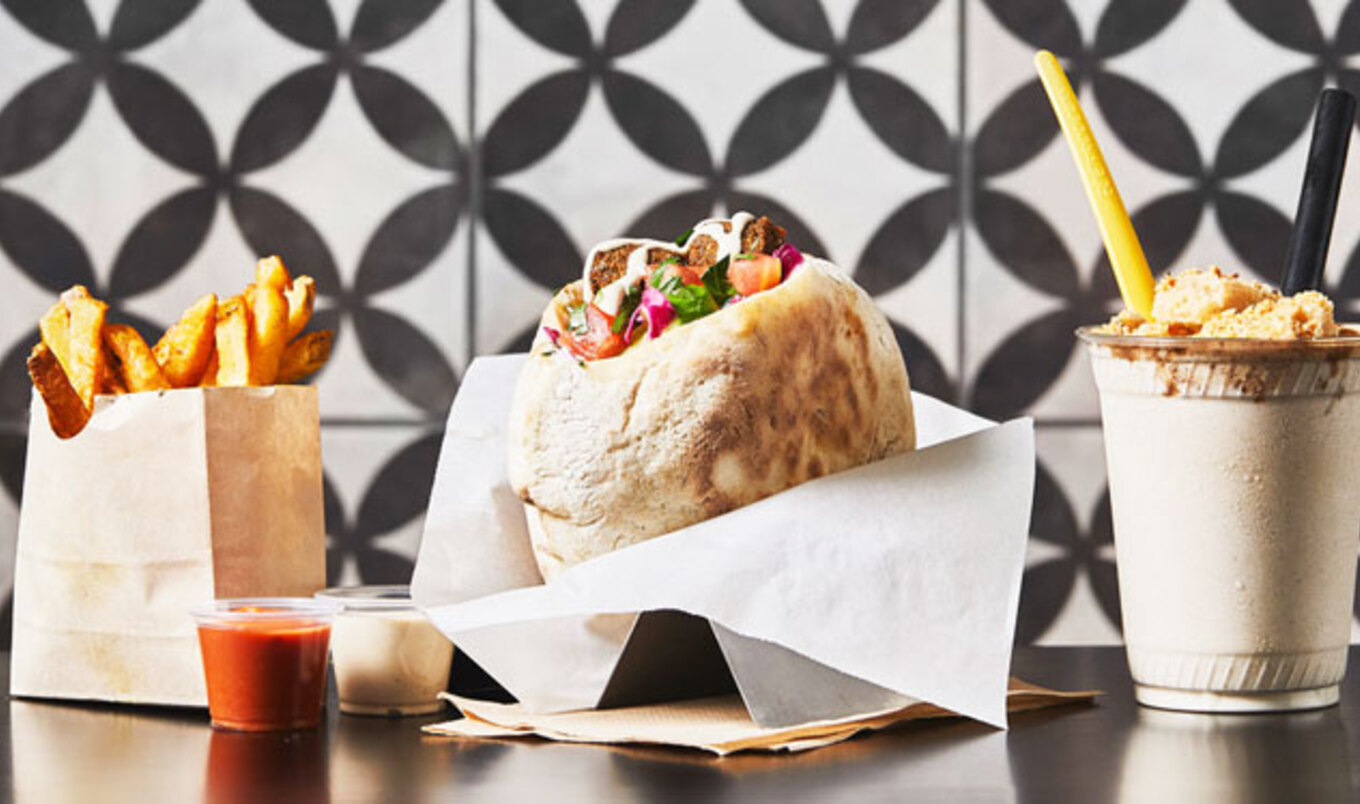 The City of Brotherly Love is home to a dedicated activist community and an array of delicious vegan food options.
June 14, 2017
---
To celebrate VegNews naming the Top 10 Best Vegan Cities in America (found in our May+June 2017 issue), we asked our favorite vegans to explain why their winning town should be atop every meat-free traveler's list.
 Philadelphia has a unique attitude, a focus on compassion for animals, and a fresh perspective on art, culture, and activism. The city has inventive art galleries, murals, theater and music events, amazing outdoor spaces, a community bike-share program, and parks and trails connecting all neighborhoods. Even better is the fact that the City of Brotherly Love is home to a comprehensive vegan mentoring program, pop-up vegan markets, and a feisty but overwhelmingly supportive vegan community. From falafel shops and veganized cheesesteaks to the 4-Bells -rated Vedge Restaurant, Philadelphia's vegan food options are well-executed, flavorful, affordable, and seemingly everywhere!
 
Top 3 vegan eateries …
1. Miss Rachel's Pantry: This charming spot is home to six-course farmhouse dinners, pop-ups, private events, and catering. Owner Rachel Klein goes out of her way to put together a truly unique dining experience, and her food is perfection. My favorite dish is the very cheesy vegan lasagna, comprised of layers of pasta with housemade melty mozzarella, San Marzano tomato marinara (or as they call it, "South Philly red gravy"), tofu-based ricotta, and fresh basil. I also love the vegan crabcakes, which often make their way to the dinner menu with horseradish sauce and pickled radish slaw. You can find me ordering the crabcakes over pasta with capers and lemon-garlic butter sauce via their Casserole Club, Klein's meal-delivery program.
2. The Plant Pure Café: This new spot boasts a menu that is not only all-vegan but also affiliated with the nutritional guidelines of T. Colin Campbell, PhD. You can find me fueling up here when I'm Ironman training because it's pretty much unbelievable that all of the eatery's delicious items are healthy and oil-free. My go-to order is the PlantPure Bowl, which allows diners to mix and match bases, proteins, and sauces. I usually choose the roasted potatoes, baked tofu, and the red coconut curry sauce before loading up with seven different kinds of roasted vegetables. The real gem of this fast-casual spot is the vegan soft serve—it's such a treat after a long run or bike ride.
3. V Street: V Street has a rotating seasonal menu that is always impressive, and to make their center city location even more amazing, they are opening a Wiz-Kid next door (that's their fast-casual sister restaurant, known for cheesesteaks and fries). My must-have V-Street item is the Dan Dan Noodles that come with 5-spice mushrooms, zucchini, and a homemade red chile-sesame sauce.
 
Top 3 non-vegan restaurants with vegan options …
1. Soy Café: When the weather is nice, order a Big Salad, a smoothie, or a wrap, and chat with friends on the backyard patio.
2. Front Street Cafe: Buffalo cauliflower and vegan fried mozzarella are the standout items that keep me coming back.
3. Tattooed Mom: Known for their drink specials, this South Street hot spot has great vegan options that are affordable and comforting. Meatless Mondays are half-price!
 
Favorite vegan item in Philadelphia …
The Rutabaga Fondue at Vedge is by far the standout Philly vegan item. It's a soft pretzel you dip in rutabaga cheese sauce. It's not just my favorite—it's everyone's favorite! Philadelphians, in general, love soft pretzels. This pretzel is especially delicious when paired with their own cheese sauce that is rich, decadent, and creative. Who would think to make fondue out of a rutabaga?
 
Ultimate vegan meal …
The best vegan meal in the city consists of Buffalo wingz from The Tasty, nachos from Bar Bombon, the salt baked beets and ssamjang glazed tofu from Vedge for dinner and the tahina milkshake from Goldie and a cupcake from crust vegan bakery that you can get at Hip City Veg for dessert. This sounds like a lot of food for one person, but that's only because I'm ordering for my partner Matt, too.
 
First-stop for a visiting vegan friend …
The first place I take all my friends to in Philadelphia is Blackbird Pizzeria because they have something for everyone, and the food is exceptional. You can get anything from a cheesesteak pizza to a Kale Salad, but my favorite item is the Tofu Cubano.
 
Top three vegan desserts …
1. Crust Vegan Bakery: You can get the chipwiches along with a variety of other desserts at the all-vegan coffeeshop Grindcore house.
2. Uncle Oogie's: I also love the vegan cannolis made by Batter and Crumbs that you can get at Uncle Oogie's.
3. Dottie's Donuts: You can get Dottie's Donuts at their storefront in West Philly or at coffeeshops across the city.
 
Favorite non-food activity …
My favorite vegan non-food activity is Team Humane League, a group of animal-loving athletes of all abilities that come together to reduce farmed-animal suffering. We do everything from bicycle rides and yoga to weight lifting and hiking, but mostly we run or walk 3-5 miles every Monday night, when we meet at a local veg-friendly restaurant, go for a run around the neighborhood, and then dinner together. Our choice of restaurant varies, but we are at Blackbird a lot.
 
Vegan king and/or queen of Philadelphia …
Philadelphia most definitely has a vegan King and Queen—it's the engaged duo of Erin Jaskiewicz and Vinny Sulak of @phillyvegans. Erin and Vinny blog and Instagram about all the Philly food happenings and post the best photographs of the city. Not only are they the cutest couple I have ever met, but they are the most discerning as well.
 
One amazing vegan thing in Philadelphia every city should have …
The most amazing vegan thing Philly has that should be in other cities is the Vegan Lady Gang. This girl gang has more than 500 members in a safe-space private Facebook group and hosts monthly group dinners, activist events, meet-ups and general support. The group has expanded to Albany, NY, and Washington, DC. Feel free to start your own gang in your city!
 
Lia Belardo is a vegan activist who has lived in Philadelphia for seven years.
For more of VegNews' Top 10 Best Vegan Cities list, check out what the locals have to say about:
Chicago
Dallas
Detroit
Las Vegas
Los Angeles
Miami
New York City
Oakland
Portland