You might know Chicago as home of the Cubs and the Bears. If you're a vegan, you might also know this city as the headquarters of the jackfruit and seitan meat maker Upton's Naturals. Equally enticing, Chicago has some of the best all-vegan eateries in the Midwest, a whopping amount of veg fests such as Veggie Fest Chicago and Vegandale Food Drink Festival, and the National Vegetarian Museum, which moves around the Chicago area. Today, the city is bursting with vegan goodness, and although one weekend will barely be enough to scratch the surface, here's how to make the most of 48 hours.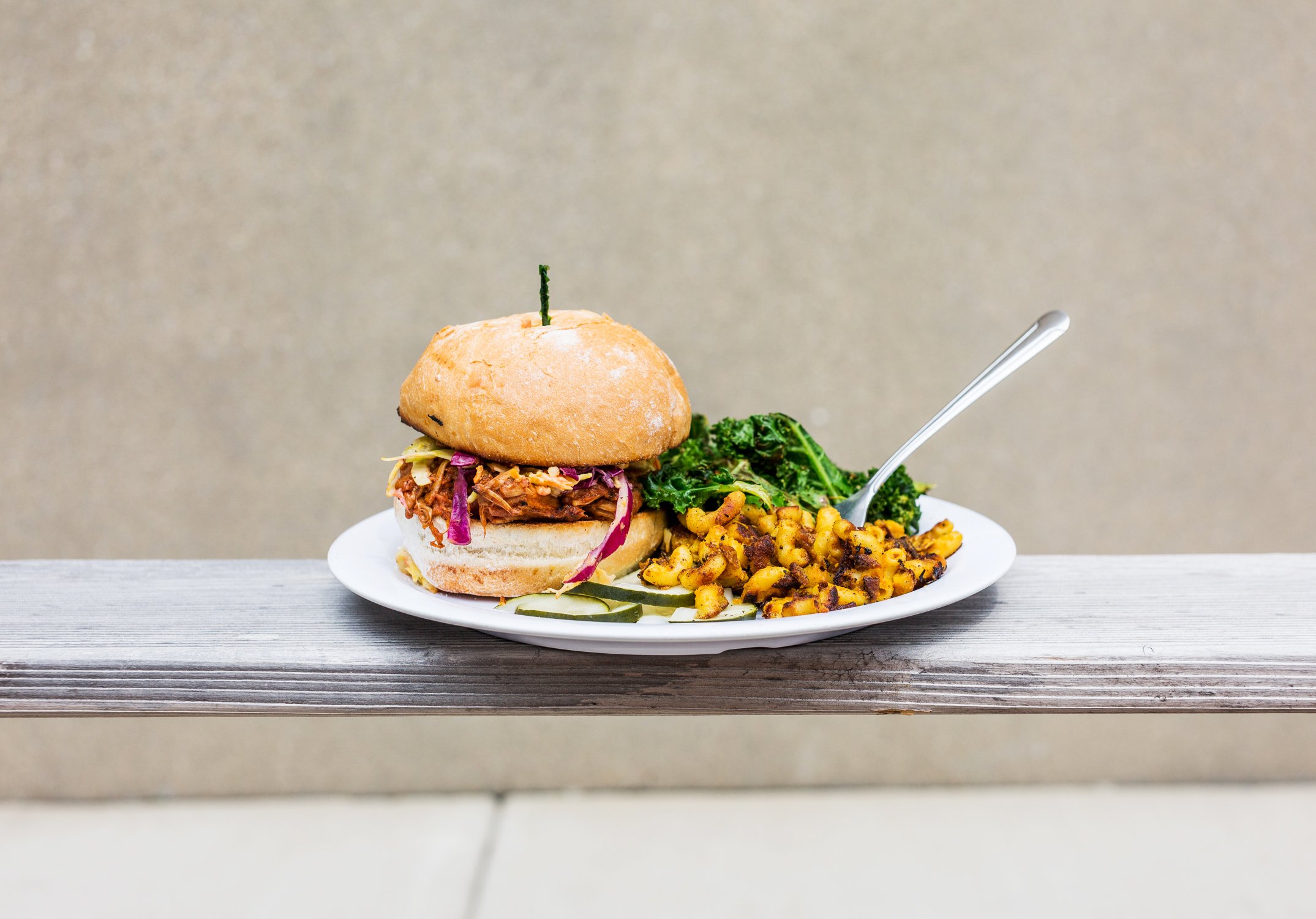 Day 1
Brunch it up
Check in at Claridge House, a pet-friendly boutique hotel in the Gold Coast neighborhood, and then head straight to Chicago Diner for brunch—a legendary spot that has been meat-free since 1983. Check the seasonal specials, but you can't go wrong with signature dishes such as the Breakfast Bowl. The vegan option of this dish features potato hash, scrambled tofu, and an herb biscuit topped with seitan sausage gravy. If you've got room, indulge in the eatery's classic vegan cinnamon roll or its famous shakes which come in 10 different flavors from Cookie Dough Peanut Butter to Carrot Cake.
Visit Upton's
When you're ready for your next meal, head to Upton Natural's Break Room. This is maybe a five-table joint at best so don't expect lots of elbow room, but do bring your appetite. Order the Bar-B-Que Plate which includes a barbecue jackfruit sandwich, a side of Upton's famous fried bacon mac and cheese, greens, and pickles. Top that off with some soft serve ice cream (flavors change regularly).
Walk it off
Walk off your meal by exploring Chicago's many attractions. If you're a museum buff, you'll find dozens including giants like the Art Institute of Chicago, the Field Museum of Natural History, and the Museum of Science and Industry. Craving more cardio? Rent a bike and cruise along the 18-mile Lakefront Trail that skirts Lake Michigan or sign up for a free tour via Free Tours by Foot.
Dinner and a show
With more than 250 theatres in and around the city, including an incredible comedy scene, you won't have any trouble finding something to catch your interest. Start with dinner at Sunda—a chic Asian fusion restaurant with a dedicated vegan menu. Try the Crispy Brussels Sprout Salad, Mushroom Adobo, and Veggie Fried Rice. From Sunda, you're an easy walk to the CIBC Theatre which dates back to 1906 when it opened as a vaudeville theatre in the Theatre District. Currently, the popular Hamilton musical is playing there every day but Mondays through January 5, 2020.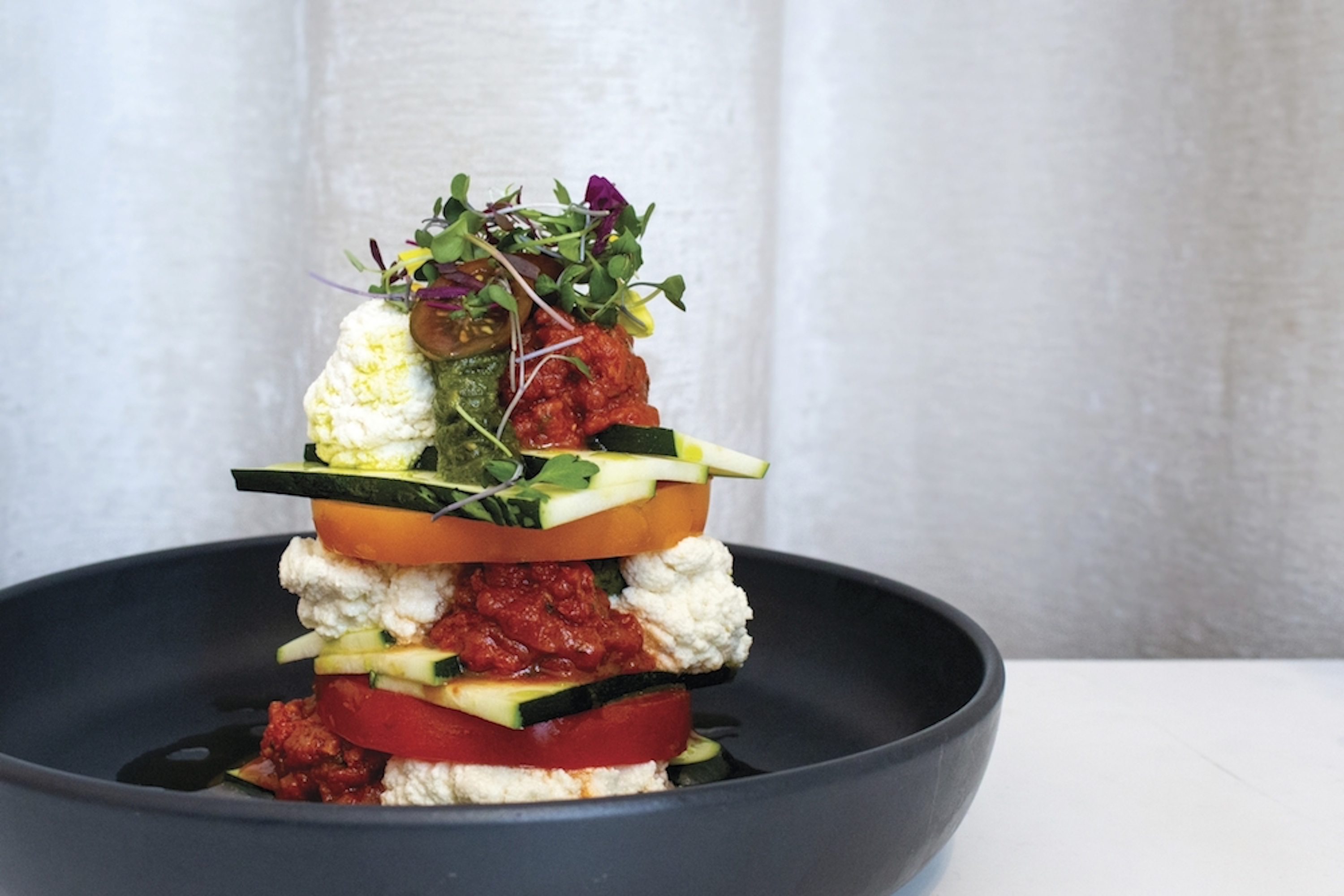 Day 2
Meander to the market
Begin your day with an uber-healthy, plant-based breakfast at LYFE Kitchen. The Chicago eatery has three locations including one in the Gold Coast close to your hotel. While not completely vegan, the menu is plainly marked. Choose the Vegan Burrito stuffed with local tofu, roasted mushrooms, arugula, tomatoes, quinoa, chipotle aioli, salsa fresca, and potatoes in a whole wheat tortilla. For something lighter, opt for the Cinnamon Bun Overnight Oats or Balance Bowl. From LYFE, you're an easy walk to the Division Street City Market, which runs May through the end of October and features an unbelievable amount of vegan vendors. Look for vendors such as Feed Your Head which sells vegan meats and cheeses; River Valley Kitchens which sells frozen vegan goodies like tamales, veggies patties, pasta sauces, and salsas; and Lemaster Family Kitchen for its unique spice blends.
Eat at Althea
Make your way to North Michigan Avenue—also known as the Magnificent Mile—where over 460 retailers await. One not-to-miss spot is Saks Fifth Avenue, where you'll find one of Matthew Kenney's newest restaurants, Althea. Although the ever-changing menu is a little pricey, the dishes truly reflect Kenney's plant-based prowess in the kitchen. Creations may include Kimchi Dumplings, Heirloom Tomato and Zucchini Lasagna, and Chickpea Frittata. You also pay for the atmosphere—the restaurant sits on the seventh floor and the views of the Magnificent Mile and beyond are stunning. Full and satisfied, jump on an architectural boat tour with the Chicago Architecture Foundation (which runs from May to October). Chicago is famous for its architecture, and the tour floats by icons such as the Wrigley Building, Willis Tower, and Tribune Tower. Alternatively, visit the Chicago Architectural Museum where you can see supersized scale models of the world's famous skyscrapers and another model with over 4,000 Chicago buildings that light up while a short film about the city's history plays in the background.
End with dinner and cake
Your destination tonight is a beloved neighborhood called Wicker Park where you'll be dining at the vegan-friendly Handlebar. Pray the weather is nice so you can enjoy your meal in the outdoor beer garden, decorated with eclectic bike paraphernalia and beer signs. The vegan comfort food options here have earned this place a solid reputation among vegheads with menu items such as the Nashville Hot Fried "Chicken" (made from hen of the woods mushrooms) and the Fried Avocado Tacos. Just don't leave without ordering a slice of cake from an all-vegan bakery called Pie, Pie My Darling. Each month, the bakery features a different cake and supplies it to a few area restaurants. The cake is so popular and only available in limited amounts so it's wise to order a slice even before placing your appetizer order. End your evening by exploring the bar scene in Wrigleyville, and if you're craving pizza, grab a vegan slice at Dimo's. If you're staying closer to the Lincoln Park area, Off Color Brewing and its taproom, Mousetrap, also offers a great late-night vibe. Most of Moustrap's beers, such as its signature Apex Predator Farmhouse Ale, are vegan. Think of it as your last cheers to an adventurous, food-filled getaway.

Karen Asp is the author of Anti-Aging Hacks and award-winning journalist, as well as a fitness pro certified in plant-based nutrition, world record-holding athlete (in Nordic walking), and a vegan mentor with PETA.