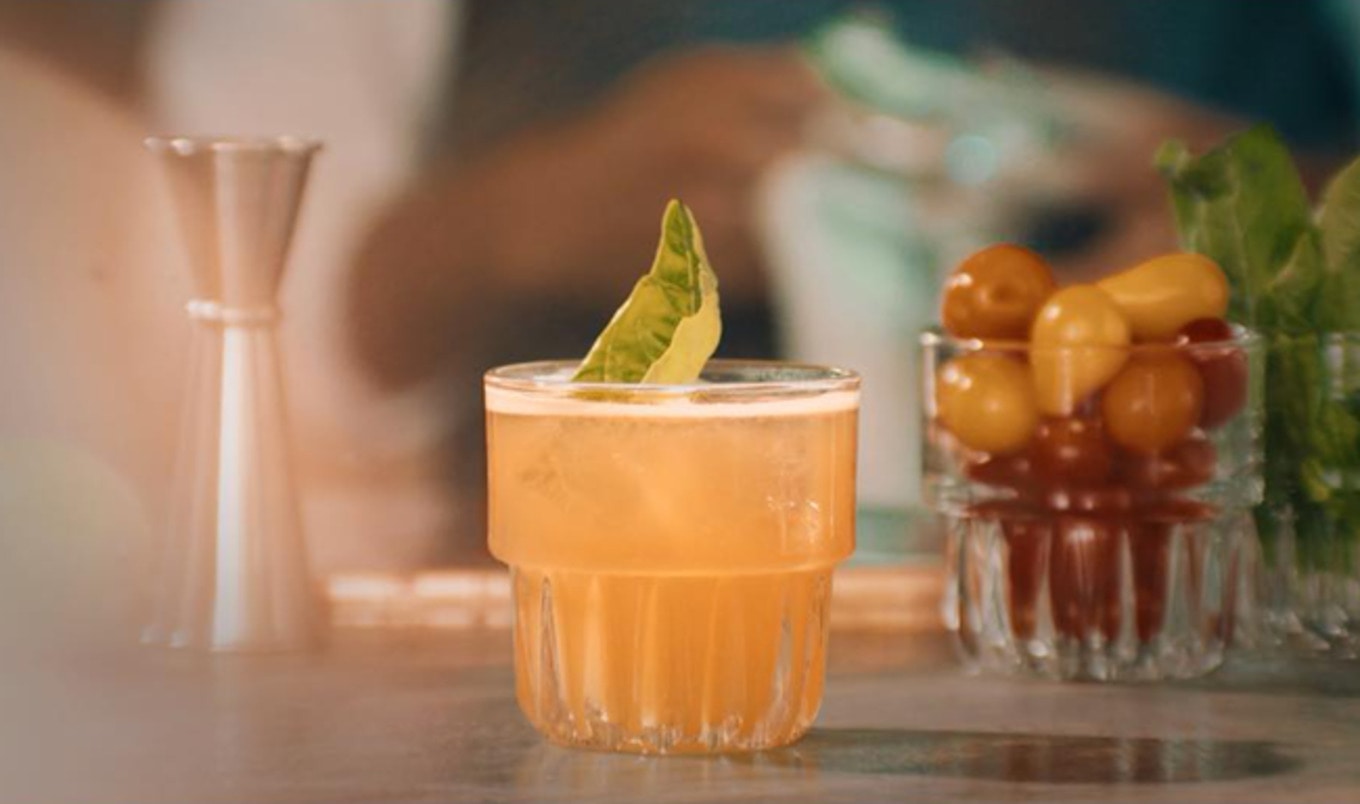 Sometimes finding good live music, a cool ambiance, and great vegan food is a hard trio to come by. Bar Velo has made the quest a lot easier.
May 14, 2018
---
In late 2016, Cafe Moto—a happening bistro located in South Williamsburg, New York—closed its doors after 14 years in an effort to reinvent itself. Owners and vegetarian power-couple John McCormick and Vanessa Shanks decided to go in a greener direction and reopened three months later as all-vegan jazz and cocktail bar, Bar Velo. In just a year, this hotspot has created a significant buzz in Brooklyn for its ambiance, live music, old-time vibes and, of course, delectable menu items. Here are four reasons why Bar Velo should be your next your next jazz-and-food destination.

1. The Venue
When stepping into the triangular building that is quietly tucked between a main strip and the M/J/Z subway lines, you may feel as if you have time-traveled back to the Prohibition era. From the outside, this building can be easily overlooked, but the inside is a whole other story entirely. This delightful old-world bar consists of rustic tables and simple wooden booths, a few spiral-shaped light fixtures hanging from the ivory ceiling boards, exposed brick walls, and a horseshoe-shaped bar, where a number of cocktail specials are prepared. On the wall hangs a few black-and-white photos, racing posters, and other vintage cycling memorabilia. "Velo" means "bicycle" in French, which makes sense, since much of the decor also consists of old bicycles and bicycle parts. Once the evening comes around, the lights are dimmed to a more intimate level and each table is lit with tea-light candles. This really sets the mood for the rest of the night ahead.

2. The Food
The food at Bar Velo matches the interior's style and sophistication—with tapas options including lentil-walnut pate with cornichon and truffle toast, shredded carnitas style sweet potato, refried beans tacos served in a crispy red cabbage shell, mac 'n' cheese, and even a vegan shepherds pie. Desserts range from classic as non-dairy ice cream to daring vegan panna cotta with aged balsamic. They also serve brunch on the weekends, with classic staples like tofu scramble, breakfast burritos, granola, and a mouthwatering portobello burger. The most interesting part about their menu is how the word "vegan" is virtually non-existent. Only when you peruse the items does it become apparent that everything offered in animal-product free. Bar Velo's mission is to present fantastic food that just happens to be meatless. The flavors of each entree are what catches customers, and the fact that everything is vegan is presented as an added bonus. Most items are also organic and can be made gluten-free and nut-free by request.

3. The Drinks
If cocktails are your thing, Bar Velo has you covered. Many of their cocktails use herbs and spices that hold medicinal properties, along with flavor to match. Drinks offered include sage, ginger, rosemary, and basil. Their bartenders pride themselves on creating each drink with care. They also offer awesome happy hours deals till 7pm, which is definitely an added bonus!

4. The Music
Each Tuesday through Saturday, starting at 8:30pm, an array of different musical performers come into the bar to play some tunes. While jazz seems to be their genre of choice, you can sometimes catch some cats playing blues, country, or even ragtime, depending on the night. The size of Bar Velo also gives way to a fantastic intimate setting with each musician. There is no real stage, which puts you directly at eye level to the upright bass or jazz guitar. The performance area is at the front of the restaurant seats fill up fast. Come early and grab a good seat for dinner, then stay for a drink and some soul-fulfilling music afterwards.

Overall, whether you're a Brooklyn local or just visiting, Bar Velo is the place to stop by if you're looking a chill vibe in a quintessential neighborhood spot. The space is perfect to stop by for some after-work R&R or for dipping your toes into the jazz universe. The staff is super accommodating and the overall atmosphere will have you feeling like you're in on a secret.

Emma DeBono is a freelance journalist and the founder of Veghead Vagabond, a creative media company with an emphasis on travel, story-telling, and living a plant-based lifestyle.