It was a smoggy Monday morning in Chiang Mai, Thailand when I boarded the minibus that would take me and other volunteers to Elephant Nature Park (ENP) for two weeks. ENP is an animal sanctuary founded by Lek Chailert, a woman originally from Chiang Mai's Baan Lao tribe village who has earned her stripes by tirelessly working to rescue, rehabilitate, and bring joy to animals in need. ENP rescues elephants from horrendous circumstances such as circuses, street begging, illegal logging, and riding camps. As proof of their true compassion, Chailert—named one of six Women Heroes of Global Conservation by Hillary Clinton in 2010—and her husband Darrick Thomson, who helps run ENP, are both longtime vegans.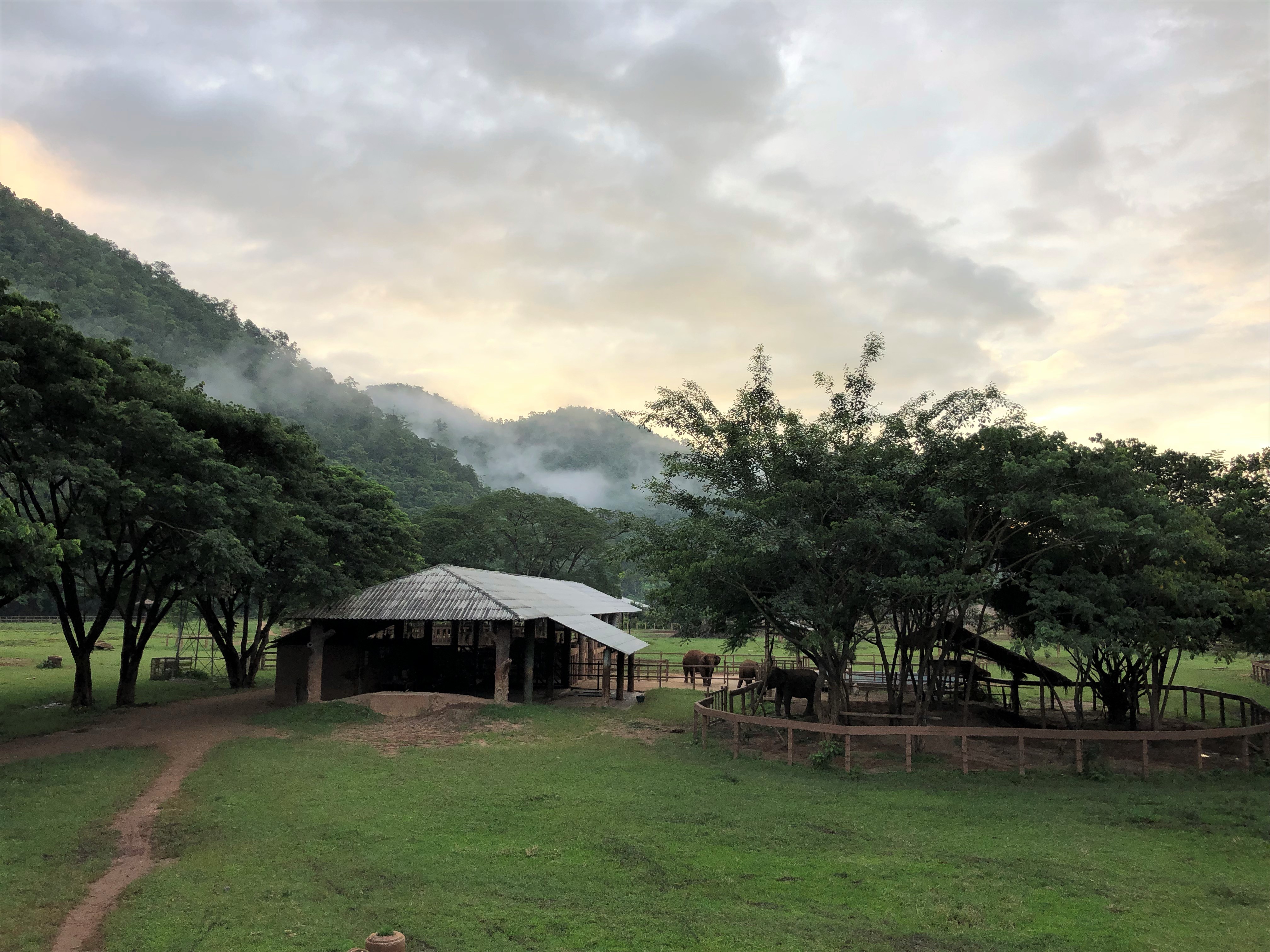 A day in the life
Working at an animal sanctuary is one of the best (albeit stinkiest and sweatiest) things you can do in this life. You scoop poop, probably get covered in mud or fur (or both), and end each day physically exhausted—yet immensely satisfied. At ENP, while you eat an early breakfast (all the food is plant-based), you can watch the elephants wander out into the fields for the day. Your morning activities consist of either scooping elephant poop or making elephant food, such as rice balls with banana. Then you have a few free hours to pet cats at the "Cat Kingdom"—basically a treehouse for kitty cuddling—before enjoying a home-cooked lunch buffet.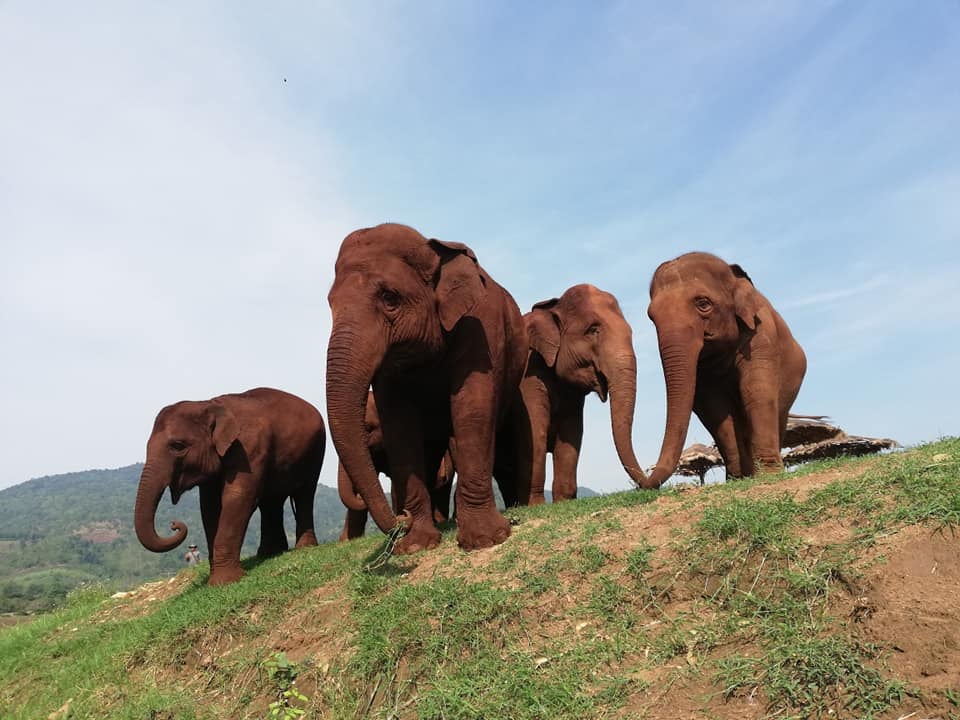 Learning the truth
When Thomson was near, elephants flocked from all corners of the park to say hello, sometimes taking his hand in their trunks. He told us about the abuse endangered Asian elephants face today, such as elephant riding, and the common practice of "breaking" them—which involves locking them in a pajan or "crush box" for days until their spirits are broken and they begin to fear and obey their trainers. Thomson also explained, in no uncertain terms, how veganism directly benefits the survival of animals facing habitat loss, because the food we eat requires dramatically less land to produce than a meat-heavy diet.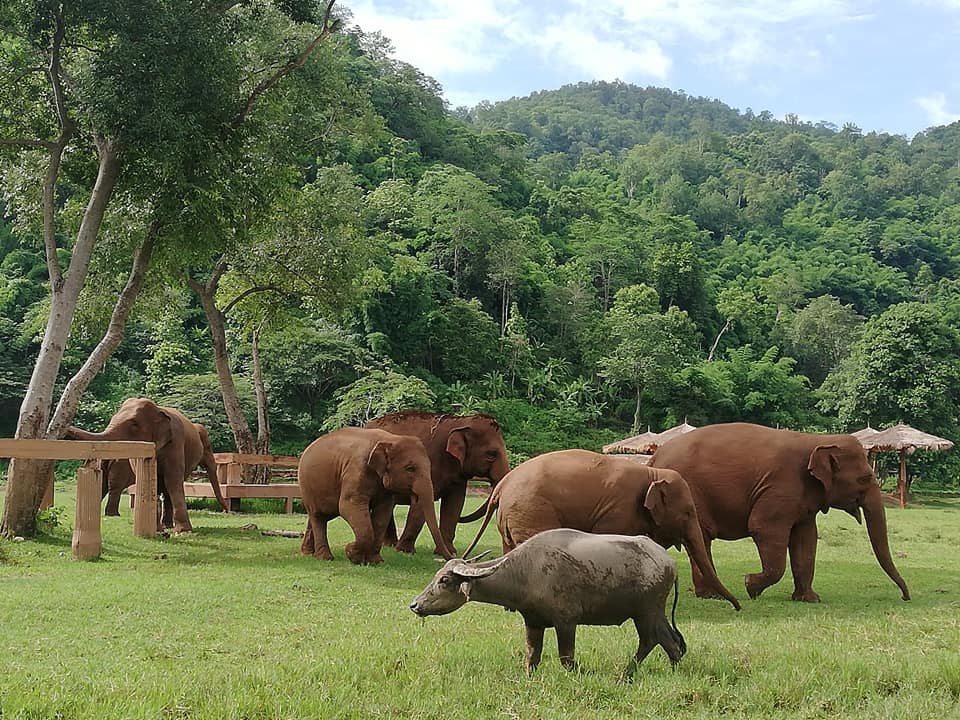 Savoring the food
At the end of a long day, as volunteers sipped on coconut milk curry soup and bit into fresh vegetable dumplings, there was entertainment. On one notable evening, local schoolchildren came and played native instruments like the khim—which vaguely resembled a harp that lays flat on the ground and is plucked using two flexible bamboo sticks—and the wot, a circular panpipe. We treated ourselves to a Thai massage while we listened; it was heavenly.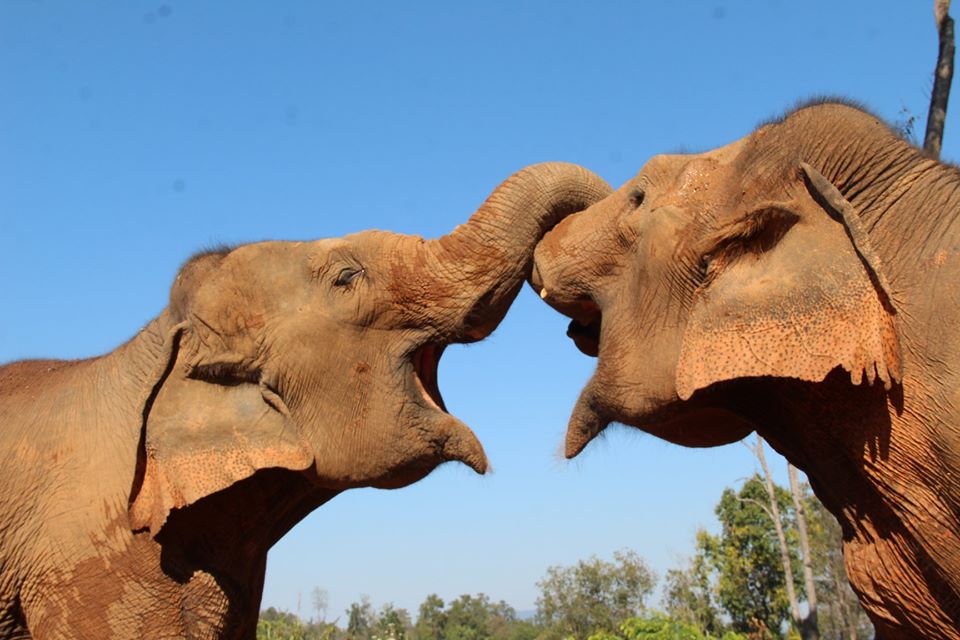 Meeting the herd
Jokia is a 60-year-old elephant who spent most of her life working in the logging industry and was blinded in both eyes by her owners as punishment. She now lives in peace, roaming ENP's vast fields with her best friend, Mae Perm, who helps her navigate her way. I met Jokia on a group walk around the park. She smelled us from afar and decided to approach, stopping a few feet from me to take me in. She had scars on her face and head from where she had been beaten, but despite her difficult life, her presence was calm and gentle. She started curiously moving her trunk over my face and body; I could feel the warm breath from her trunk and see the individual bristles of hair on her rough skin. After a couple of minutes of sniffing, she turned back around to join Mae Perm at the river. Just like that, she was gone; but that moment changed my life.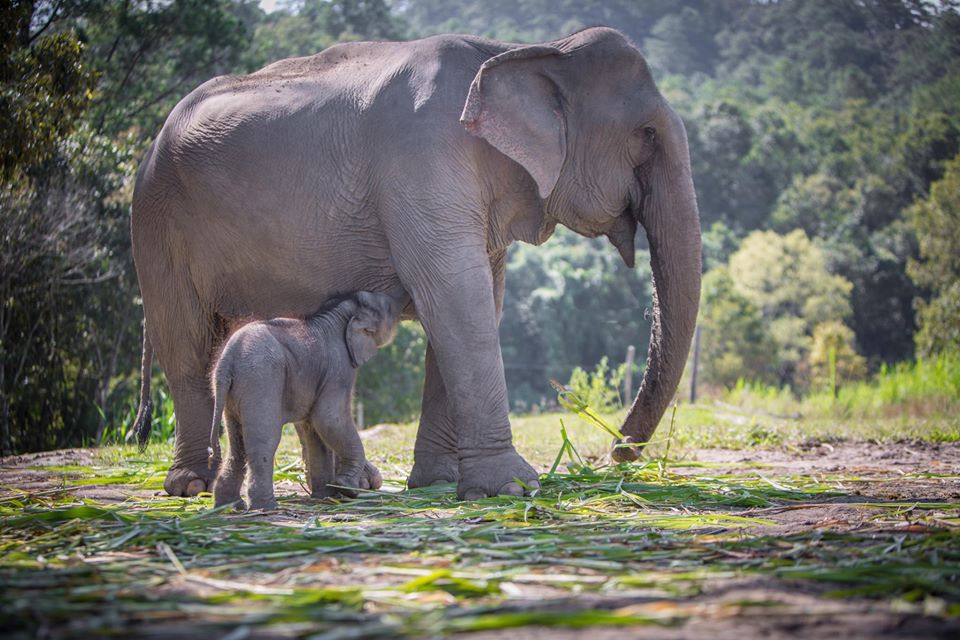 Setting a new course
My encounter with Jokia solidified my decision: I couldn't eat animals or their byproducts anymore. At the sanctuary, I witnessed both the suffering and the hope of these glorious, brave animal residents, and I realized that their emotional lives are no different than those we eat. Going vegan was the best decision I've ever made, and since that life-changing trip, my lifestyle change has rubbed off on my partner, my parents, and some friends (I'm still working on my sister). I saw firsthand what passionate, educational advocacy can do to change our shared world, and I intend to continue sharing that insight and compassion with others.
Emily McGill is based in Melbourne, Australia and is passionate about wildlife conservation, environmental education, and painting.
Photo credits: Emily McGill and Elephant Nature Park