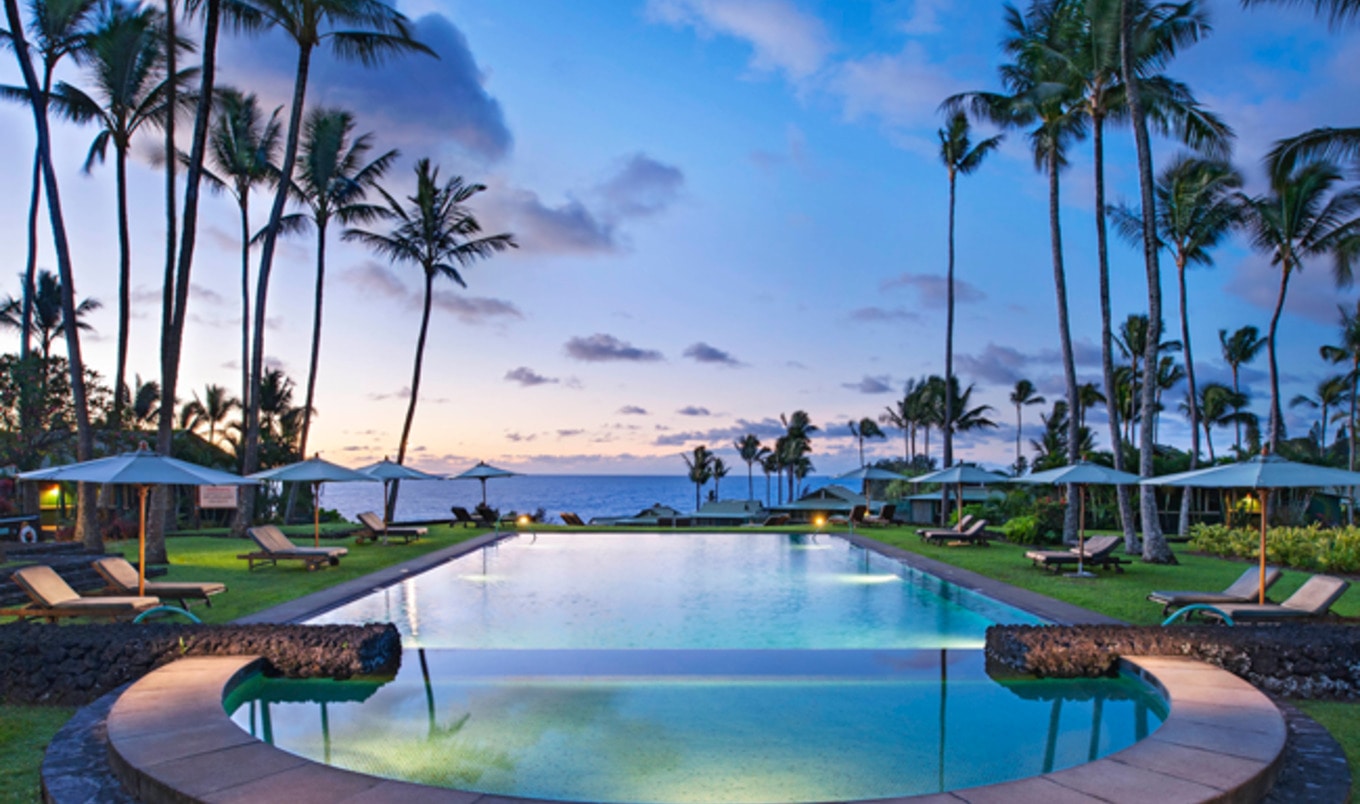 It's always summer in Maui, where a slew of upscale resorts and quaint inns are adding plant-based options to their menus.
June 25, 2017
---
If you're not yet ready for sweaters and cider, an extended summer is possible on the sunny Hawaiian island of Maui. While distant memories of the region might recall hotel breakfast buffets overflowing with charcuterie platters and Saturday night luaus featuring an entrée that gives even meat eaters pause, fear not! Lucky for vegans, more of Maui's hotels—from five-star oceanfront to up-country boutique—are evolving to include healthy, cruelty-free alternatives. With this guide to our favorite vegan-friendly Maui hotels, you'll be able to create a fall getaway that'll have you wishing for an endless summer. So pack your sunblock and hiking gear, and check out our top picks. Mahalo!

Wailea
Home to all of the major Maui hotels, Wailea beckons mainlanders seeking oceanfront luxury with any and every resort amenity, and the family friendly, 787-room Grand Wailea offers no shortage of activities and dining options. Breakfast includes an array of local produce, including a regular fruit of the month. Beachside Whale's Tale is a short walk down the beach for a more casual juice and coffee. Lunch options are also beach-hearty thanks to a Life Veggie Burger with mango barbecue sauce, roasted red pepper, grilled pineapple and sprouts on a gluten-free bun; a Grilled Local Veggie Wrap; or the lighter Edamame Hummus. Dinner at onsite Humuhumunukunukuapua's might very well be seafood focused, but secret, off-menu vegan entrées include a Tofu Stir-Fry and Tofu with Baby Bok Choy and Orange Lychee Sauce. Meanwhile, nearby LEED® Silver-certified Andaz Maui is a smaller, newer property featuring 300 rooms, and is the homebase of choice for those willing to part with a starting rate of $405 a night. Fifteen acres of paradise include the chicest pool scene in Wailea, a 14,000 square foot spa, and a well-considered vegan tasting menu at onsite Ka'ana Kitchen. The farm-to-table, six-course vegan tasting includes savory dishes such as a Waipoli greens with Poha mustard, cucumber and local radish, and a brownie served with coconut sorbet and macadamia nuts for dessert. At $150 per person for dinner, and $250 per person including wine pairings, the tasting menu is a worthy splurge for special occasions.

Paia
If Wailea is polished and visitor-focused, Paia is island-casual and a more diverse local favorite. Home to a number of vegan and vegan-friendly eateries and grocery shops (Maka by Mana Foods, The Flatbread Company, and Mana Foods), Paia is accessible to visitors on a budget and those wanting a rustic-luxe, up-country wellness retreat. The boutique Lumeria resort regularly hosts visiting superstar yoga and meditation instructors visiting from the mainland. The manicured grounds don't feel overly so, with a calm swimming pool, meditation labyrinth, and a culinary garden growing more than 200 species of plants. Rooms are posh-appointed Hawaiian luxury with fine linens and Aveda products. Breakfast, daily yoga, meditation, and wellness classes are all included in the daily resort fee of $50, while holistic spa treatments are provided for an additional charge in cabanas overlooking the island and surrounding water. Vegan items are offered at each meal, but the set dinner menu at onside Wooden Crate is served at just one seating per evening. Budget accommodations in Paia are also easy to find, from the charming Aloha Surf Hostel that offers complimentary tours daily, to the romantic Paia Inn located in town (and within easy walking distance both to the beach and to the glorious Mana Foods grocery).

Hana
At the end of the infamous, 52-mile "Road to," Hana (the island's eastern-most destination) is the Maui of your Lost fantasies. The one hotel on this part of the island, plantation-style Travaasa Hana, has just 70 rooms and is pure far-flung luxury. Opened originally in 1946 as the Ka-'uiki Inn, and just renovated in its newest incarnation as the Traavasa Hana, the property's isolated beauty has attracted historic figures (from Charles Lindburgh to Ernest Hemingway) looking for solitude with a view. Current offerings begin at $400 per night, and include access to daily experiences including stand-up paddleboarding, guided meditation, and ukulele lessons. Vegan dining includes a variety of local fruits and fruit smoothies at breakfast, a tofu tempura for lunch, and Macadamia Nut Roasted Hana Root Vegetables and Lentil Eggplant Bolognese for dinner. For those interested in learning more about Hana's native fruits, an ONO Organic Farms Fruit Tasting Tour includes a guided forest stroll through papaya, passion fruit, and others trees with nibbling encouraged along the way.

Margaux Lushing is the founder of healthy travel site Well + Away and makes pina colada protein shakes for breakfast to try to have a little piece of Hawaii in her San Francisco apartment.