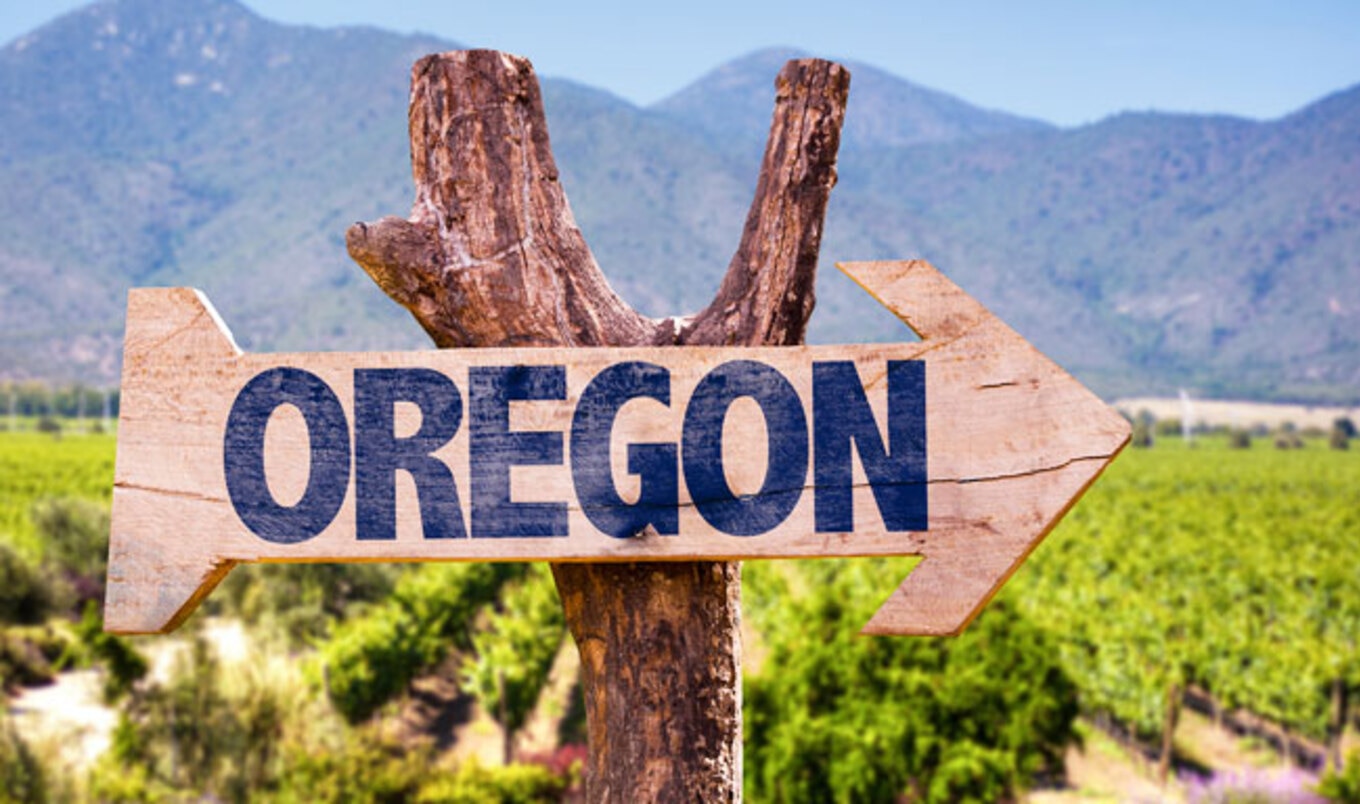 If you love plant-based food and vegan wine, it's time you visited the Beaver State.
August 6, 2017
---
If a leisurely road trip through the Pacific Northwest dotted with sustainable vegan wine and culinary landmarks along the way sounds like your idea of a great weekend escape, then it's time to book a trip to Oregon. Although not as well-known as Napa Valley, the Beaver State's lush Willamette Valley is home to a plethora of vineyards that produce amazing vegan wines. We recommend starting in Eugene and ending in Portland (one of our Top 10 Vegan Cities in America), as direct flights into Eugene allow for the perfect amount of time to explore the gorgeous scenery during the drive north to Rip City. Here's a quick look at our recent three-day trip and all the mind-blowing wines we sampled. One more bonus for oenophiles: Alaska Airlines offers one case of wine checked for free!
Day 1
We flew into Eugene to check out what we heard more than one local refer to as a "miniature Portland." Many breweries and vibrant cocktail bars are within walking distance from one another, and getting from one end of town to the other takes 10 minutes by car, max. Our first stop was a sugar top-off at Oregon's famous Voodoo Doughnut, home to decadent and colorful fried dough confections. The menu is split approximately 70/30 non-vegan to vegan and includes everything from plain cake to toasted coconut. If pairing doughnuts and coffee is as big a priority for you as it was for us, take your pink box to Provisions Market Hall for a cup of Wandering Goat coffee, the best in Eugene (according to the locals we asked). After breakfast and a short stroll, we checked into a charming B&B called The Oval Door, which serves a customizable vegan breakfast each morning that (for us, the following morning) included brûléed citrus, non-dairy yogurt, housemade granola, and tofu scrambles. After a restful afternoon, we started our night at Oregon Wine LAB for Pinot Bingo featuring trivia and vegan wines (the red ones are vegan). After getting a buzz, we walked 20 minutes (five minutes if you're in a cab) to Cornbread Cafe for vegan takes on comfort food classics such as chicken fried seitan and a French dip sandwich. After dinner, we tried some of Eugene's handcrafted cider at Wild Craft Cider Works, where flavors range from wild plum and elderberry to cherry and wild rose. All are vegan-friendly, and a late-night bar menu always includes a vegan option.
Day 2
We hit Oregon Route 99 for a day of wine tasting in scenic Corvallis, home to Oregon State University, and surrounding counties. The multi-generational, family-owned Tyee Wine Cellars serves sophisticated, Old World-style Pinots and Chardonnay. Our tasting began with a lovely Pinot Gris, followed by an unoaked Chardonnay whose minerality and notes of vanilla and tropical fruit will convert any Chardonnay nay-sayer. As much as we enjoyed the Chardonnay, the award-winning 2014 Estate Pinot Noir and its premium cousin Estate Barrel Select blew us away. We came to taste and take in the sprawling property (and get in a few snuggles with the resident winery dog) and ended up leaving with a case of wine, which was lucky for my driver-fiancé, who would have to taste most of his wine after he drove.
A stop in Salem for a hearty veggie burger at Venti's Cafe is an excellent place to fill up on the road. After lunch, we continued to Bethel Heights winery for vegan wines in posh digs (Flat Block Pino and rosé are our faves) and to Willamette Valley Vineyards for the most sweeping views of the valley floor … and more Pinot. We were on a Pinot mission, so we skipped the whites and went straight for the 2016 Whole Cluster and 2015 Estate Pinot Noirs. Both were textbook expressions of Willamette Pinot full of bing cherry and baking spice. We ended our day at vegan eatery/music venue The Space Concert Club to soak up all that wine with diner-style favorites such as a chili queso burrito, hearty bowls, hummus tacos, and tofu satay. At night, we crashed at Century House B&B, a bicycle-themed inn with a vegan-friendly breakfast spread featuring oatmeal with a fixin's buffet, quinoa, vegetables, and coffee.
Day 3
We headed north to Chehalem Valley to sample some award-winning wines that just so happen to be vegan. Domaine Serene offers tastings outdoors with nearly 360-degree views of nearly all of the Willamette appellations. From there, we visited Beaux Frères for a more delicate, famous Pinot from a winemaker who utilizes clean fermentation and indigenous yeast. Our last tasting was at Duck Pond Cellars, a winery previously known for more commercial styles, but new winemaker Trevor Chlanda is upending the brand's status quo by creating a new generation of wines focused on texture and great aromatics to best represent the vineyards from where they come. We needed some food after all that wine, which is why we stopped at The Allison Inn & Spa, Willamette Valley's best-known and longest-standing luxury hotel. The on-site fine-dining restaurant JORY serves produce-driven Pacific Northwest fare overlooking the area. Sadly, not many things on the menu are vegan, but the kitchen team is happy to whip up vegan scrambles, hashes, and other items upon request. We went for the heartiest items we could find, which included two takes on a veggie hash and included gorgeous mushrooms that were a perfect Pinot pairing. After lunch, we drove to Portland for more food (and more wine), stopping at vegan casual hotspot Harlow for the Hawthorne Mac—made with quinoa pasta—on our last night before heading to the airport. Instead of one last glass of vino, our taste buds were tapped, so we paired the Hawthorne Mac with local Soma kombucha.
Margaux Lushing is the founder of healthy travel advisory Well + Away and is counting the days until she can return to Willamette Valley to top up her stockpile of everything Tyee Wine Cellars.