London is an ideal December destination, with an abundance of holiday-centric festivities for visitors to partake in. Whether soaking up the magic at Hyde Park's Winter Wonderland, meandering along the illuminated trails at the Royal Botanical Gardens, or indulging in some serious retail therapy (surely there's no guilt when you're buying gifts for others, right?) at one of the many Christmas markets, visitors are sure to work up a healthy appetite. Lucky for revelers, there are plant-based options aplenty—from fast-food to fine dining—in just about every neighborhood of this vegan-friendly urban oasis.
View this post on Instagram
The Blacksmith and the Toffeemaker
The Blacksmith and the Toffeemaker is a 100-percent vegan pub that has a welcoming, laid-back vibe. Order at the bar—try the crunchy but marvelously melty goodness that are the mozzarella sticks, and the hearty and scrumptious chorizo, jalapeño, and refried bean grilled cheese sandwich. Then take a seat at an individual or community table, where you will likely encounter some four-legged friends who are served their very own plant-based dog treats. The General XO's Tofu with Cauliflower Rice, featuring fried tofu chunks baked in a sweet, spicy, and sticky sauce served with cauliflower rice, sesame seeds, and chili peanut oil is full of tangy flavor for a chilly day. For dessert, dive into the heavenly Banana, Cinnamon, and Date Bread and Butter Pudding.
View this post on Instagram
Purezza
If all of that holiday shopping leaves you with little time to eat, try Purezza—the UK's first all-vegan pizzeria—in Camden for a quick bite. The Italian owners make plant-based cheeses and innovative creations like the Fumosa, a sourdough-crusted pizza with smoked tofu pieces, oven-roasted mushrooms, smoked beetroot carpaccio, and a drizzle of barbecue sauce. The Couch Potato has a white base with smoked mozzarella (made in-house using a "delicately crafted fermentation" of organic Italian brown rice milk), roasted eggplant, oven-baked potatoes, basil leaves, and shaved seitan—topped with garlic mayo. Save room to indulge in the melt-in-your-mouth Oreo Pizza with creamy hazelnut chocolate, for dessert.
View this post on Instagram
Farmacy Kitchen
For an über-chic healthy vegan dining experience, try Farmacy Kitchen, an airy, plant-filled restaurant in West London that has an open bar in the center known for its unique alcoholic cocktails and juice concoctions including the Fire Starter "Syringe Shot" with turmeric and cayenne, and the Cool Beans smoothie with coffee and coconut oil. Try the millet, black bean, and mushroom Farmacy Burger, or the macadamia herb cheese-topped Artichoke Pizzetta with olives, capers, spinach, and cherry tomatoes. The Forager's Pie—a mushroom and Jerusalem artichoke filling topped with oven-baked sweet potato mash—is one of the restaurant's more popular menu items. To ward off the inevitable winter chill, try the Farmacy Hot Chocolate, made with cacao, coconut milk, cocoa butter, cinnamon, vanilla, and nutmeg topped with homemade whipped "cream." Farmacy Kitchen also offers a vegan afternoon tea with treats ranging from lemon meringue pie to scones with coconut clotted cream.
View this post on Instagram
Wulf & Lamb
Opened in Sloan Square just over a year ago, Wulf & Lamb has become one of London's go-to veg eateries, with its tantalizing menu items including Wulf Pie, which is a pulled jackfruit and lentil stew with mashed potatoes and baby carrots, and Chili `Non' Carne, a smoky chili made with spiced mushrooms, lentils, and kidney beans on basmati herb rice with cashew sour cream, lime, and coriander cress. You can't go wrong with any of the restaurant's dessert offerings, but the Mango & Passion Fruit Cheesecake, served on a macadamia, pistachio, and sesame seed base and topped with raspberry crumble and mint, is not to be missed.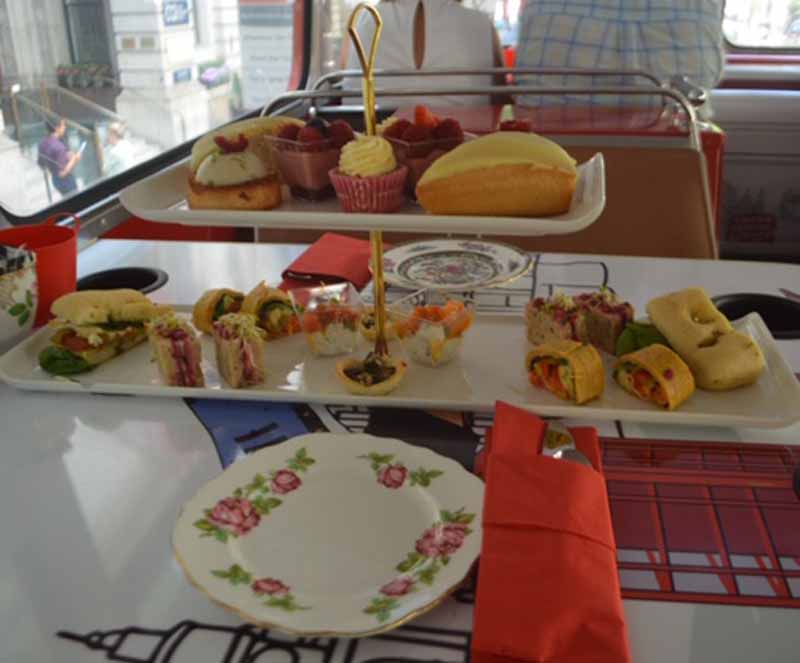 Afternoon Tea Bus London Tour
The mode of transportation is traditional—a red double-decker sightseeing bus—but the experience is entirely unique: a vegan high tea tour by B Bakery. Guests enjoy a sampling of sandwiches (the Avocado and Carrot Roll is particularly tasty, as is the Mixed Roasted Vegetables on Ciabatta) and sweet treats including Panna Cotta on Coconut Rocher, Lemon Drizzle Cake, Chocolate Mousse Cerrine, and a generous selection of seasonal scones and cupcakes. Passengers enjoy all this sweetness while taking in the sites of London during a 90-minute guided sightseeing tour that includes Big Ben, the Houses of Parliament, St. James's Park, Hyde Park, Westminster Abbey, the Royal Albert Hall, Downing Street, and more.
Juliet Pennington is a Boston-based journalist who focuses on travel, entertainment, and all-things vegan.
Photo credit: Juliet Pennington