Vancouver, British Columbia, is so much more than just the stunning background of your favorite films and television shows. It's a thriving, diverse city with views of the snow-capped mountains in the winter, cherry-blossom-covered streets in the spring, perfect beach days in the summer, and foliage for miles in the fall. In between the undeniable beauty of this Canadian city in the Pacific Northwest, you will also find a plant-based scene that is on par with Portland, Philadelphia, New York, and Austin. With a thoroughly-planned, three-day itinerary, you can hit many of the must-see sights and vegan restaurants—including Instagrammable brunches, buttery mochi cake desserts, and comforting bowls of vegan ramen—that make this city so amazing.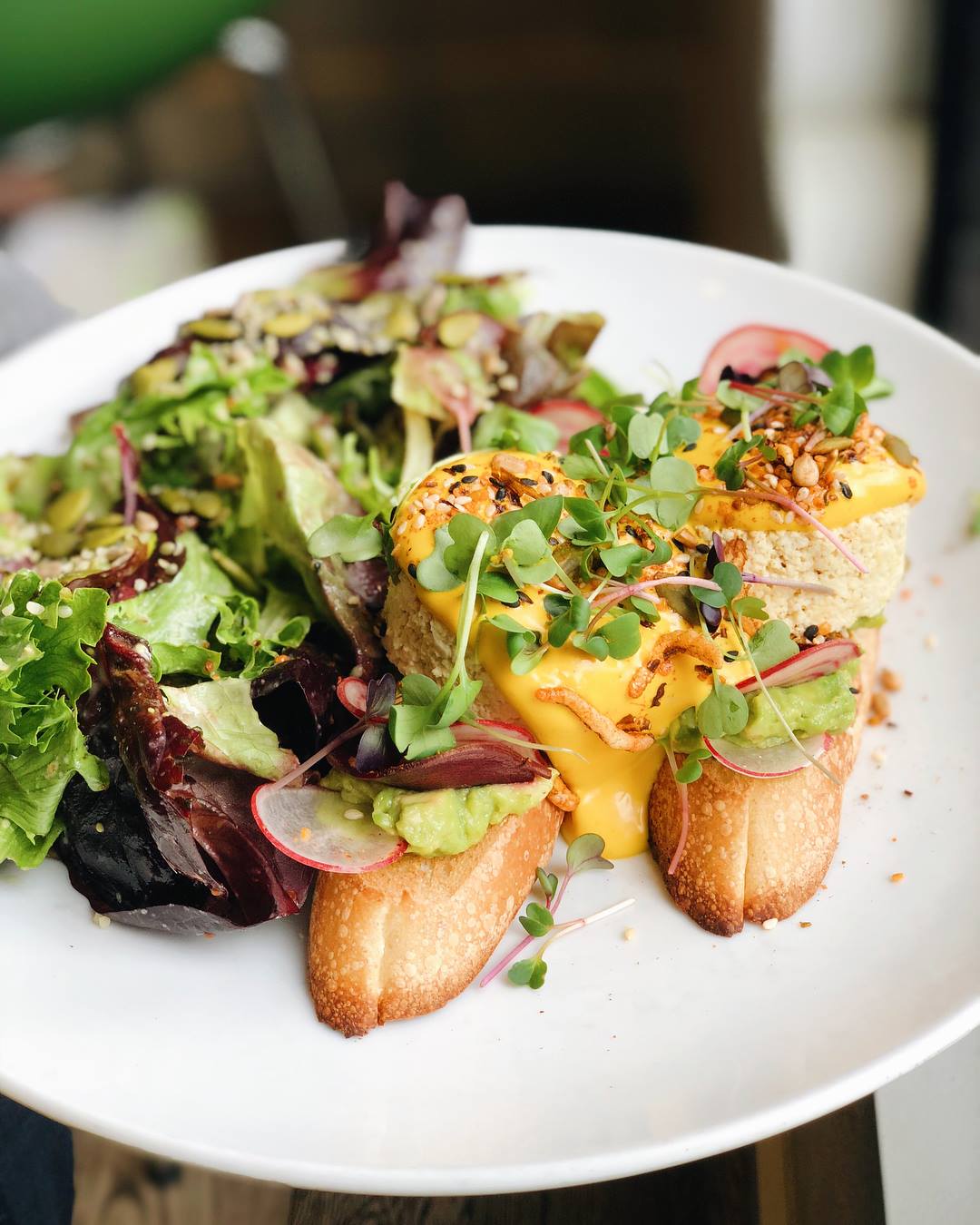 Day 1
Start with brunch
Start off your vacation on a high note with Heirloom Vegetarian Restaurant's all-day brunch. Natural light filters into the chic and spacious dining room, creating an easy-going atmosphere for your first meal. All dishes can be made vegan by subbing the eggs for turmeric tofu, including avocado-, mushroom-, or veggie-filled benedicts that are drizzled in vegan hollandaise. If you're looking for a carb load, you can indulge in vegan buttermilk pancakes or blueberry French toast. After finishing your breakfast, head over to Kitsilano, a nearby trendy and young neighborhood populated with cafes, boutiques, and Kitsilano Beach Park with its stunning views of English Bay, Downtown, and Stanley Park. If you'd prefer to spend time indoors, walk over to the Museum of Vancouver, where you can see a showcase of the city's history.
Dig into the Mighty Mac Burger
Lunch is a real treat as you'll be visiting Vancouver's first vegetarian restaurant. Open since 1968, The Naam is a favorite of Vancouverites due to its welcoming ambiance and large portions. Chow down on dishes such as the Naam Steak Platter, tempeh Reuben, and the Thai Dragon Bowl. Once you're done, venture southward to one of two gorgeous gardens in East Vancouver: Queen Elizabeth Quarry Gardens, with its ornate bridges and dynamic paths; or VanDusen Botanical Garden, where there are more than 7,500 plant species within the 55-acre area. Not too far from both gardens is the popular neighborhood of South Main⁠⁠—a shopping street with many secondhand and vintage boutiques, eco-friendly businesses, and vegan restaurants (such as Chickpea and The Acorn Restaurant). If you've arrived early enough in the day, explore shops such as Woo Vintage, Y's Books, and C'est La Vie Boutique. For dinner, enjoy a killer salad, burger, bowl, and more from the eclectic and thorough menu at MeeT on Main. Adventurous eaters might choose the Mighty Mac Burger (a burger topped with vegan mac and cheese and onion rings) or simply order a Canadian staple such as poutine.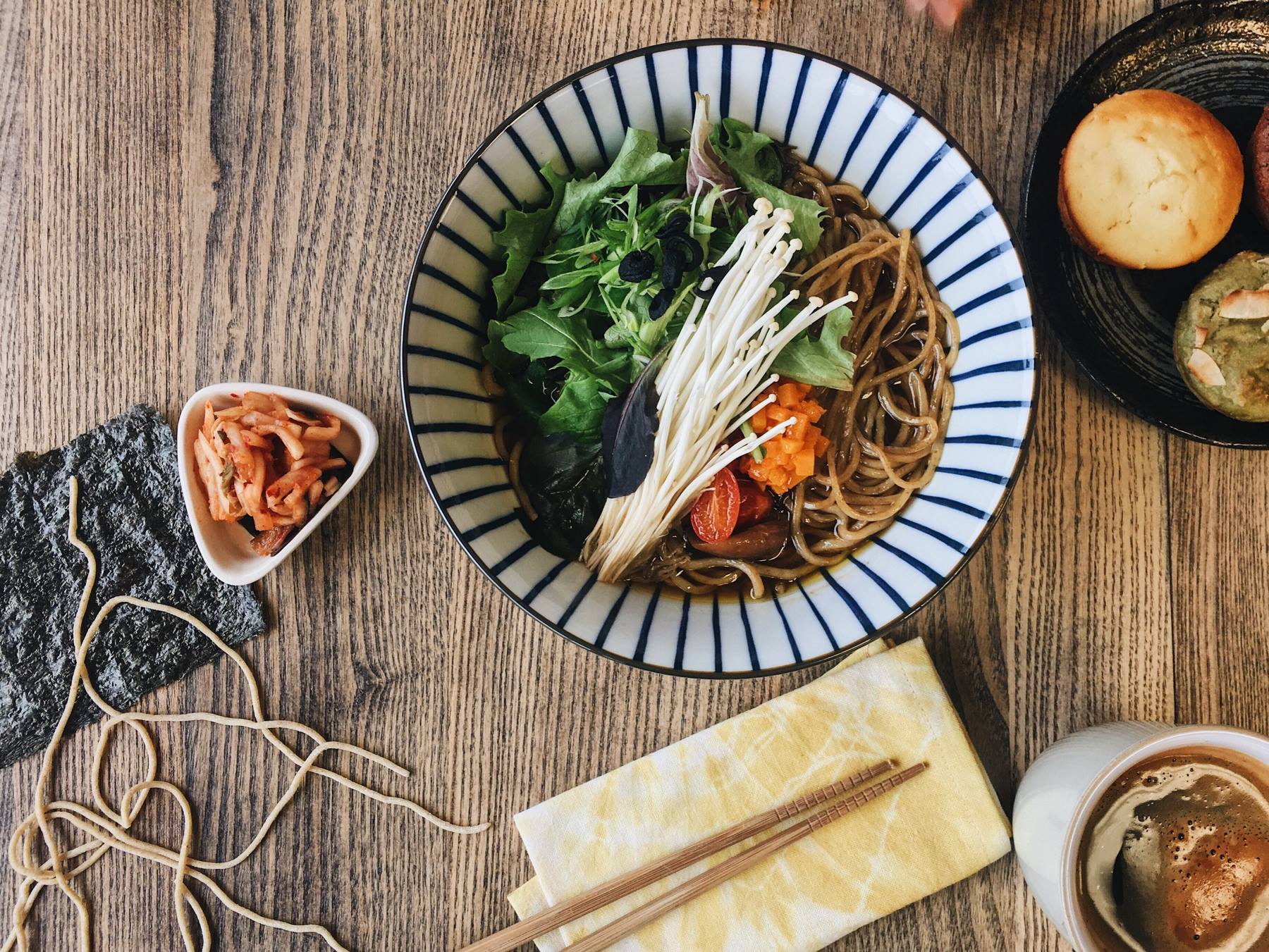 Day 2
Take in the views
Instead of starting your second day at one restaurant, walk around Granville Island Public Market and see where your nose takes you. You can find fresh bread at Terra Breads and buzz-worthy coffee at Petit Ami, among many other stalls where you can grab a wide array of local goods. Next, drive up to North Vancouver for your visit to the Capilano Suspension Bridge and the Cleveland Dam. The suspension bridge is one of the most-beloved attractions in the area, showing off the glorious forest views to tourists since its opening in 1889. The Cleveland Dam offers views of Capilano Lake, a 200-foot spillway, and many hiking trails. After a morning of exploring, it's time to treat yourself to some heavenly comfort food and baked goods. A few miles south, closer to the harbor, you will find The Workshop Vegetarian Cafe, where they make an intense vegan Spicy Tan Tan Ramen with a creamy butternut squash broth, as well as warm apple cider, house-made kombucha, and treats such as mochi cakes, croissants, and baked doughnuts.
Go raw
Following your lunch break, head over to Lonsdale Quay Market to explore dozens of speciality shops selling locally made goods including tea, beauty products, clothing, and food items. Don't forget to head outside to admire a beautiful view of Vancouver Harbor. While there are plenty of stalls that have vegan options in the market, you will want to save room for your dinner at Café by Tao. This cafe serves incredible raw vegan dishes and desserts that will thrill your palette as well as your Instagram feed. Dig into the vegan cheese plate featuring cultured cheeses from local creameries; raw Pad Thai with kelp noodles; or the Rawkin' Pizza with a sprouted buckwheat crust and dill cashew cheese.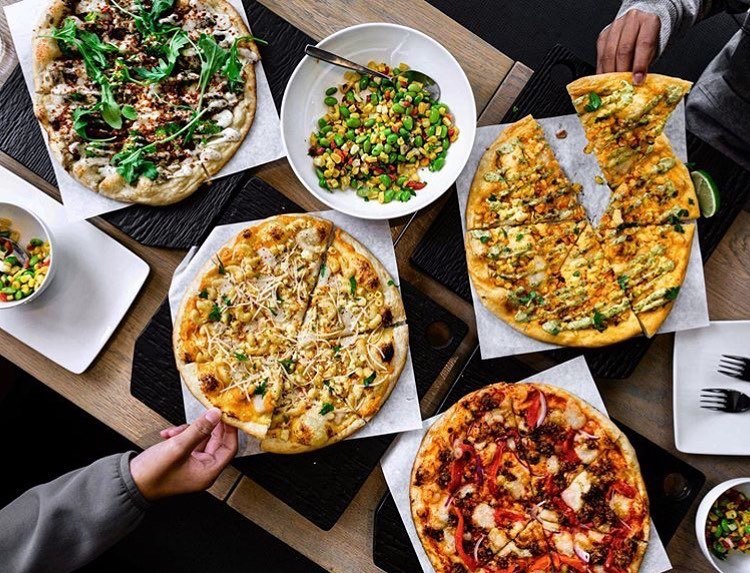 Day 3
Stop by for pizza pies
On your final day in Vancouver, make your way over to Commercial Drive to enjoy a delicious breakfast at Eternal Abundance, a vegan cafe and grocer. This unpretentious environment is an ideal setting for the nourishing items they offer, which include smoothies, juices, baked goods, and quinoa waffles (a local favorite). To take in the city from a different angle, the next activity takes you to Stanley Park where you can choose from a variety of hikes inside the park, as well as around the park along the Seawall. If you choose the Seawall, you will walk along beaches, see totem poles of the First Nations, and admire views of North and Downtown Vancouver. After a long hike, you will surely need to refuel. There's no better place to do so than at Virtuous Pie. Cover your table with platters of all-vegan pizzas Stranger Wings, Superfunghi, and Curry Mile with unique toppings such as spicy buffalo cauliflower, cashew mozzarella, and butter chickpea curry.
End in style
Next, visit some of the hippest neighborhoods in the area: Yaletown, Gastown, and Chinatown. Take a few hours to admire some of the mixed architecture, the famous Steam Clock, street art, and many local breweries. If you're itching for a sweet treat before dinner, you will not regret visiting Vegan Pudding & Co. for plant-based pudding made with kabocha squash. Then direct your energy towards The Union for some incredible vegan pub cuisine. While they are not a 100-percent vegan bistro, they have some memorable vegan dishes, including veggie kimchi fries, sweet and sour fried tofu banh mi, and veggie pho. Alternatively, if you prefer a more upscale meal, The Acorn back on Main Street offers a creative, seasonal menu that makes it the perfect place to end your trip.


Brianne Nemiroff is the co-founder of a travel blog, It's Bree and Ben, as well as the Beauty Box Manager for Vegancuts.