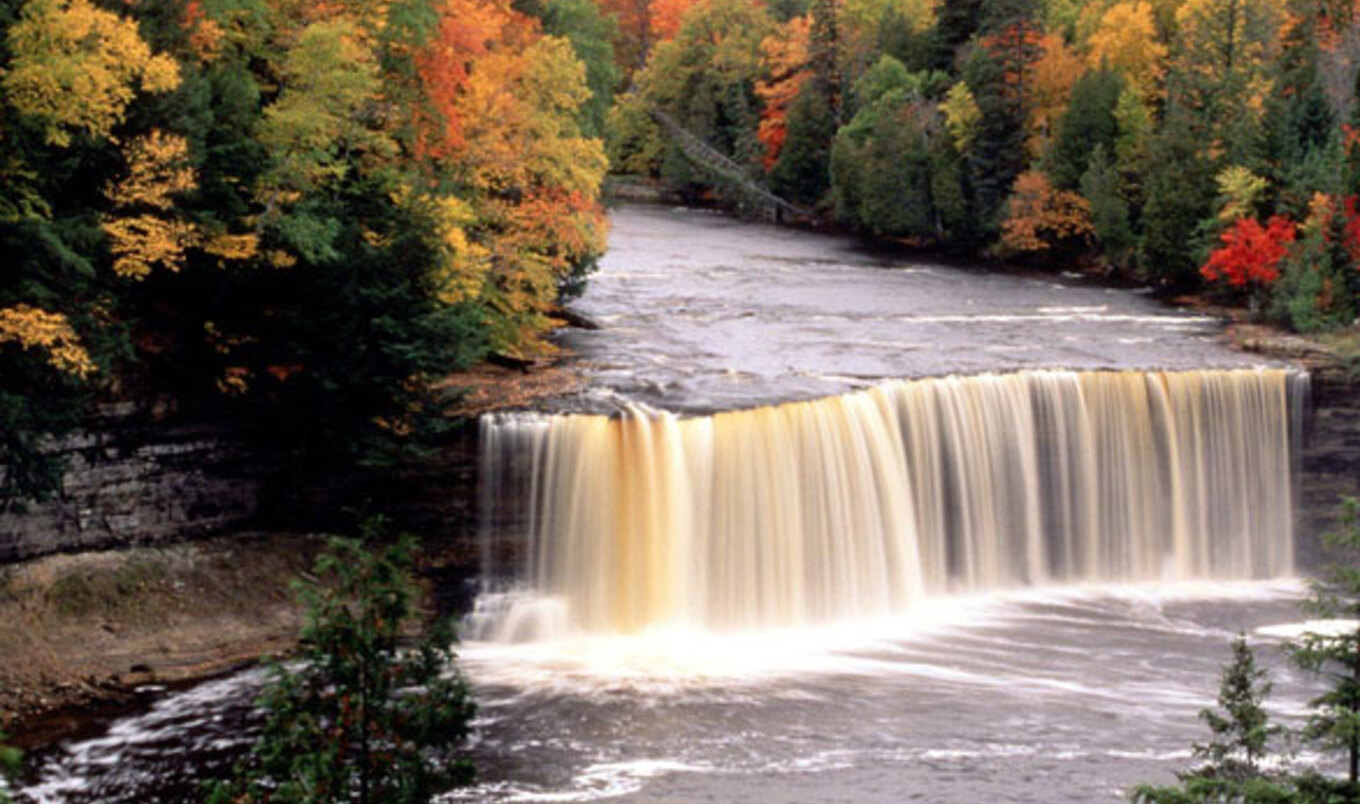 Across the Great Lake State, veg eateries are not hard to find.
October 10, 2010
---
Michigan touches four of the five Great Lakes and has more than 11,000 inland lakes. Michigan is known for its diverse landscape, its breathtaking natural beauty, and its vibrancy—both in its metropolises and countryside of year-round peaceful escape. However, as a part of the heartland and far up north, Michigan does not have a reputation for great veg eateries. But that should not deter vegans from visiting the Great Lake state, whether it be to the lakes that are the essence of relaxation or to the cities full of culture and personality. As abundant as the pine trees and fruit orchards in Michigan are the adventures for vegans.
Southwest Michigan
Mere hours from Chicagoland and Indiana, Southwest Michigan is a popular weekend get-away for suburbanites and Chicagoans. While many beach towns will have small markets for vegan cooking at home, the bigger cities, such as Kalamazoo and Grand Rapids, are home to some fantastic veg eateries. Whether you're headed to Grand Rapids for a stay or simply on your way Up North, stop at Teshlou's Little Africa for some vegan Ethiopian, or Gaia Café, which has various vegan options, including a delicious burrito. South to Kalamazoo, the historic Stuart Avenue Inn, built in 1886, is right across from Kalamazoo College and offers a seasonal breakfast menu with vegan options available. Michigan is brimming with authentic Middle Eastern restaurants, especially in the Southeast, but Kalamazoo is home to Zooroona, with a variety of cultural dishes and vegan options. And if you're hankering for something sweet, Ope's has amazing vegan cookies, among other fresh veg dishes.
Southeast
If you're a Blue fan and find yourself traveling to Ann Arbor during football season, stay at the castle-like Vitosha Guest Haus and sample its vegan breakfasts. The college town has a wide variety of veg restaurants, including Earthen Jar, which offers more than 30 vegan dishes, Seva, and the soon-to-open Jazzy Veggie. Closer to Detroit-area is Inn Season Café in Royal Oak—winner of Hour Detroit Magazine's Best Vegetarian Restaurant in 2007. Downtown Detroit, check out Golden Gate Café, where Monday night is Vegan Pizza Night. Go a little north to Grosse Pointe Park and indulge in Sprout House Natural Foods, where vegan soups, sandwiches, and entrees are plenty; or check out the all-veg menu at Atoms Java and Juice Bar. In the mood to reconnect with veganism, or simply hang out with farm animals? Head over to the largest farm-animal sanctuary in the Midwest—Sasha Farm in Manchester, and count their adorable sheep.
Up North
Known to locals as Up North, northern Michigan is arguably one of the most magical places in the state. Up North is where time stops and locals and visitors alike can breathe in the fresh pine air. Thanks to hub Traverse City, there are plenty of vegan options available. The town is home to The Dish Café, where the wide variety of vegan breakfast and lunch options can be enjoyed at the sidewalk tables. Poppycock's offers a trendy atmosphere, with hearty seasonal salads. And if you need to stock your cabin's fridge or are simply in the mood for a quick sandwich, try Oryana Natural Market Co-Op, where you can find all the natural products you need and be satisfied at the sit-in deli. If you're staying in Traverse during the summer, take a long bike ride along Lake Michigan to Suttons Bay, where you can reward yourself with a delicious meal at Café Bliss, featured in Bon Appetit magazine. Further north on the peninsula in Leelanau County is Good Neighbor Organic Vineyard and Winery, near Northport. Here, you can enjoy some organic vino and soak up the amazing scenery that is Northern Michigan. If you find yourself further Northeast from TC, stop in the charming town of Petoskey, where not only will you find an abundance of the famed Petoskey stone, recognizable by its speckled surface, but also Grain Train Natural Food Market. Here you can stock up on vegan groceries for a picnic at nearby Young State Park, or pick up their delicious Vegan Patty Melt.
The Upper Peninsula
"Say ya to da UP, eh?" in true local form with the wide range of veg options the far north has to offer. In Marquette, home to Northern Michigan University, Sweet Water Café on the shores of Lake Superior offers an abundance of veg options. Also in Marquette is the Marquette Food Co-Op, which has its own wellness manager to promote healthful eating. Or drive less than 25 miles southeast to Dancing Crane Farm, where plant-based, vegan diets are promoted with their organic produce and farming practices. Go way north to Hancock, and try the vegan pizza at Studio Pizza. Once there, head north across the river from Hancock to Houghton, where you can enjoy the vegan baked goods at Victoria's Kitchen.
From the Indiana border to the tip-top of the UP, Michigan can be the ultimate destination for relaxation and revitalization for vegans.