Known for its cross-cultural blend of Mexican street foods and American fast food, Texas' Rio Grande Valley may be the last place you think of as a vegan food destination. Located on the southernmost tip of Texas on the northern bank of the Rio Grande River, which separates the US and Mexico, the Rio Grande Valley is the birthplace of meat-centric Tex-Mex cuisine. But over the last few years, a local health revolution has sparked a burgeoning vegan food scene. So whether you're a 956 native, a seasonal snowbird, or a SpaceX transplant, here are the seven best vegan spots you have to try in the Rio Grande Valley (or what locals call the RGV).
What is Tex-Mex?
Tex-Mex is a regional American cuisine with a controversial history over whether it can be called "Mexican." While menu offerings like sizzling fajita plates and melty cheese-stuffed enchiladas have become commonplace all over the US, the birthplace of these homey, comforting dishes resides not in Mexico but the Rio Grande Valley, among other border regions in Arizona, New Mexico, and even California.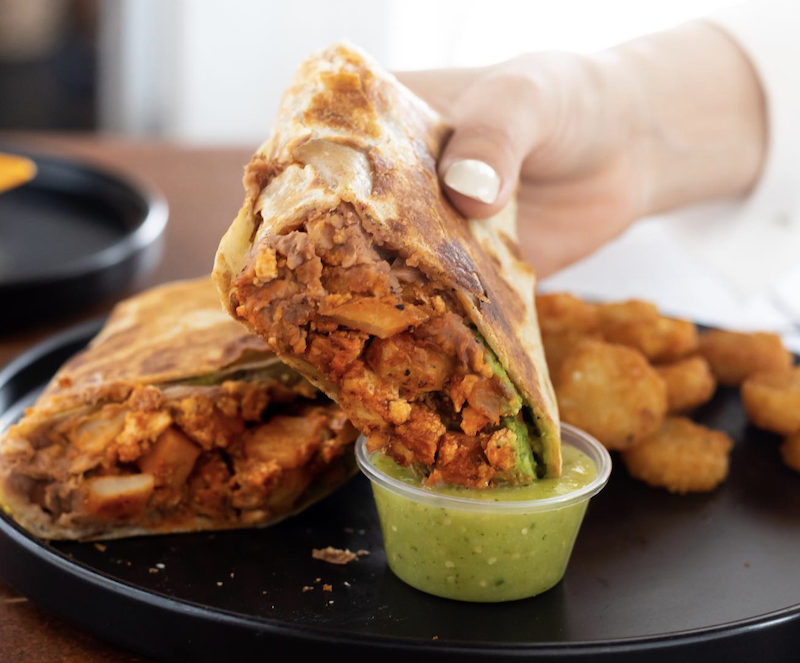 Maria Cruz Cuisine
According to Robb Walsh, a food academic specializing in Texan cuisine, Tex-Mex originated as early as the late 1700s when Spanish-speaking Native Americans were left behind after Spanish missionaries abandoned the region now known as Texas. These individuals were called Tejanos, and Tex-Mex culture evolved from their culinary traditions. The food is also inspired by immigrants from Northern Mexico.
Beginning in the 1950s, Tex-Mex foods—which were already classified as food for the working people—became increasingly commercialized and cheapened. Fast-food chains swept it up, infusing almost every item with highly processed yellow cheeses, sour cream, and factory-made hard taco shells. This version of Tex-Mex is still rampant across the country, but it does not represent the entirety of Tex-Mex cuisine. To residents of the Rio Grande Valley and the bordering regions of America's Southwestern states, it is an authentic cuisine that reminds them of home. Items like puffy tacos, chili con carne, and combination plates have their place and should be celebrated.
Vegan Mexican food
The restaurants on this list don't all lean Tex-Mex; some are fully Mexican, or a combination of the two. With the exception of the occasional use of lard and cheese, Mexican food is vegan-friendly when it comes to the staples. Rice and beans will satisfy more than a sad salad or limp French fries on any given day. Flour and corn tortillas, fajita vegetables, guacamole, salsas, fruit paletas, and jamaica (hibiscus) are also fair game.
7 vegan restaurants to try in the Rio Grande Valley
Dive into these delicious vegan eats the next time you're in the Rio Grande Valley. To ensure you don't accidentally consume any animal products, confirm with your server or cashier that the items you're ordering aren't made with lard, dairy, or other animal products, and you're set.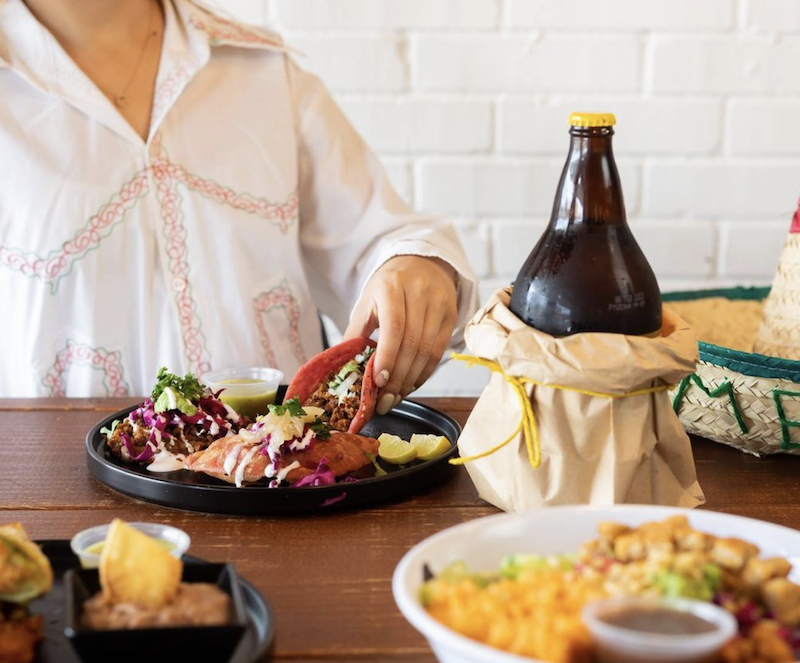 Maria Cruz Cuisine
1 Maria Cruz Cuisine
Named after chef and owner Ingrid Monserrat's grandmother, Maria Cruz Cuisine brings a vegan taste of Tabasco, Mexico to the heart of Downtown McAllen. Brunch is served seven days a week, where you'll find favorites like chilaquiles, tortas, burritos, molletes (a type of open-faced sandwich of beans and cheese), and a Northern Mexican specialty called a taco pirata, a vegan butter-brushed flour tortilla taco packed with refried beans, vegan bistec (steak), non-dairy cheese, grilled onions, and avocado, then griddled to a crisp. Dinner service offers colorful salads, sopes, and vegan beef-filled enchiladas suizas and entomatadas (red sauce-smothered corn tortillas). We recommend washing it all down with Maria Cruz's housemade agua frescas or a Sake Tequila Paloma.
Find out more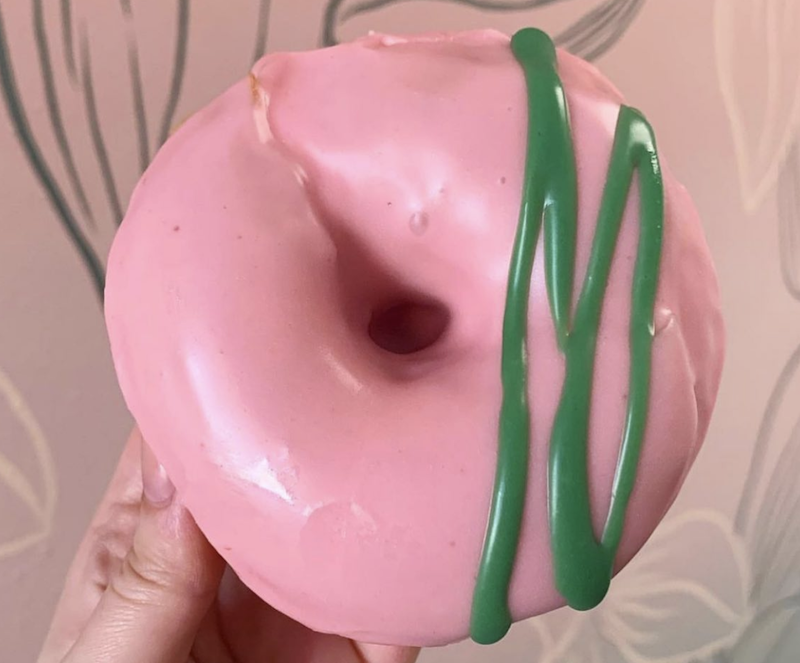 Sweet Craft Vegan Bakery
2 Sweet Craft Vegan Bakery
Conchas, roscas, empanadas, oh my! Sweet Craft Vegan Bakery's Amanda Nolan takes us on a time warp back to childhood, baking up vegan versions of all our favorite Mexican sweet bread like cream-filled Pingüinos, pan de muertos, and strawberry jam-filled Gansitos. To boot, you'll find an assortment of unique doughnuts, coffee cakes, fritters, and seasonal offerings at this Brownsville bakery such as pumpkin spice empanadas for fall and rainbow-colored conchas for Pride.
Find out more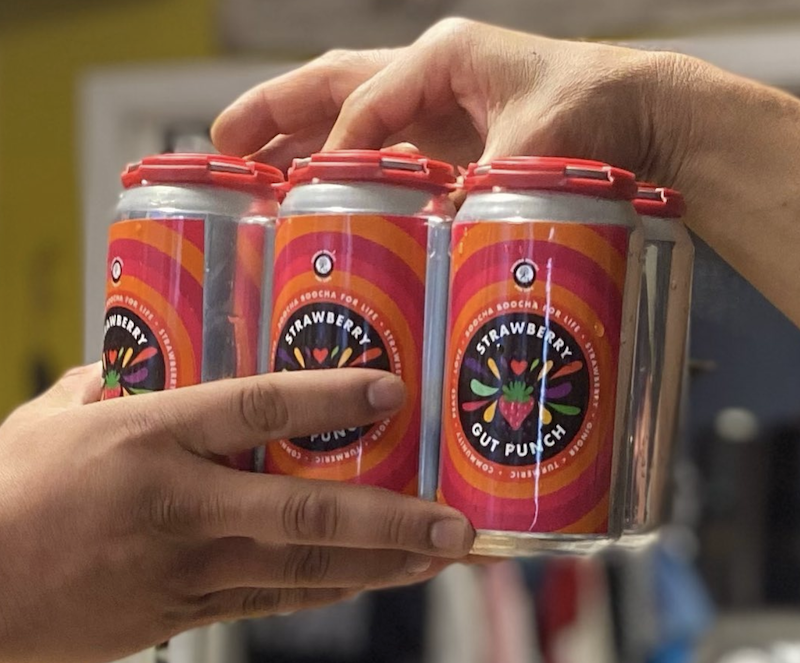 The Boocha Bar
3 The Boocha Bar and Taproom
A haven for health and wellness fans in the Mid-Valley, The Boocha Bar and Taproom is a yoga studio, kombucha bar, and plant-based kitchen in Downtown Weslaco. Get your sweat on, then rehydrate with a house-brewed kombucha and chow down on a slice of vegan street taco pizza. Other items include gluten-free zucchini boats and bell peppers stuffed with all the classic pizza fixin's and locally crafted vegan ice cream from Hoja Nueva Plant-Based Creamery. Keep an eye out for chef Noe Acevedo's seasonal specialties like his "Meatloaf" Sandwich—a handhold piled high with mashed potatoes, sautéed bell peppers, and meaty mushrooms on a house-made bun.
Find out more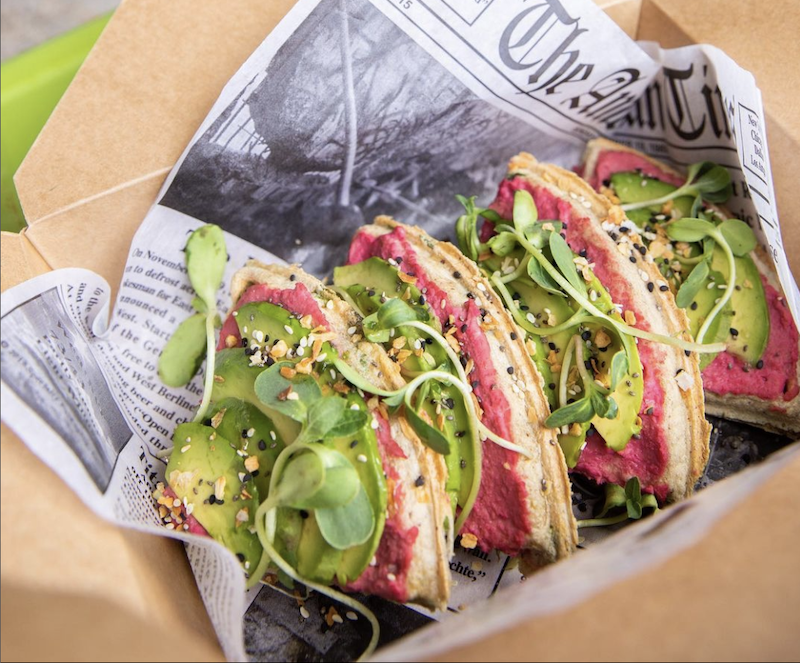 IQ's Juice Bar
4 IQ's Juice Bar
You'll find more than just juices at IQ's Juice Bar in Brownsville. It's a vegan paradise for gut health fanatics, gluten-free eaters, and soft-serve connoisseurs. Menu items include superfood bowls, smoothies, and coffee and tea drinks made with housemade almond milk. For heartier options, owner Ingrid Quijano recommends IQ's sweet or savory waffles, which are made-to-order and topped with only the freshest ingredients. Don't miss out on IQ's vegan fro-yo's which come in a variety of flavors including matcha, golden milk, black charcoal, and "Blue Majik," made with blue spirulina.
Find out more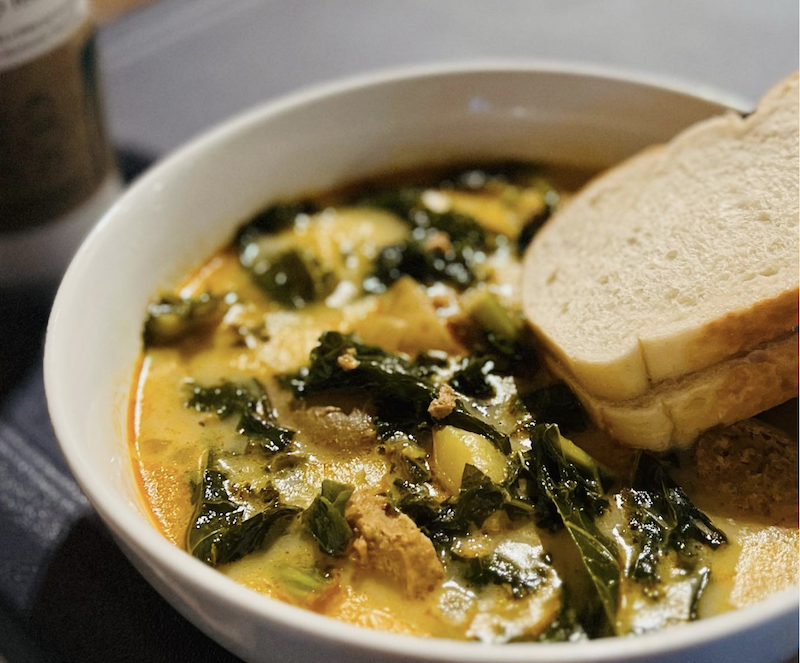 Pasta La Madre
5 Pasta La Madre
A newcomer in the Rio Grande Valley's vegan food scene, Harlingen's Pasta La Madre serves up classic pasta dishes and soups spun the South Texas way. You'll find sopa de conchitas (Mexican shell pasta soup), mushroom and vegan chicken pozole, zuppa Toscana with Mexican chorizo, and more. Take home a tub of housemade almond parmesan or a jar of one of many sauces, including Alfredo, Cajun Cream, and Cilantro Cream.
Find out more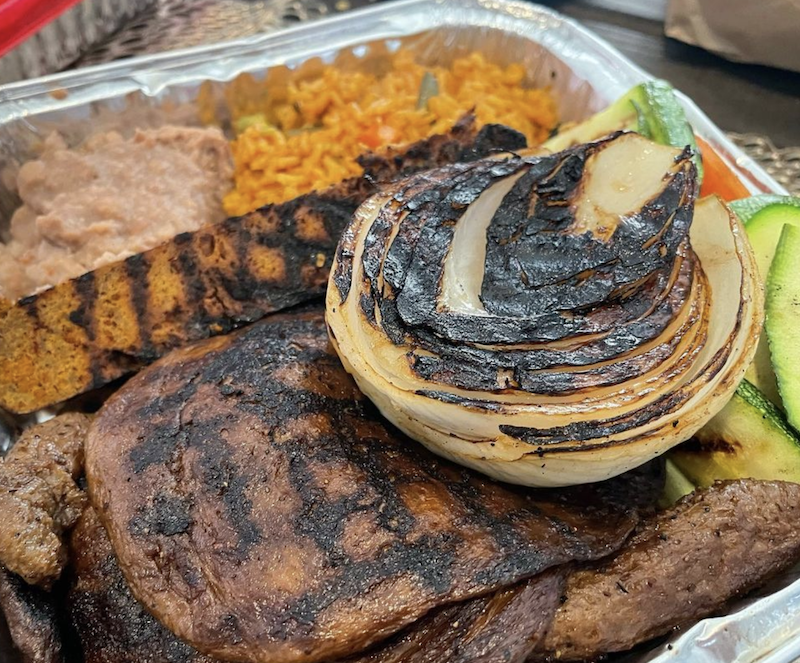 Pitbosses Barbecue
6 Pitbosses Barbeque
If you're jonesing for smoky meats or Mexican barbacoa, look no further than Pitbosses Barbeque. This pick-up-only spot in Brownsville grills up some soul-satisfying vegan meats. We're big fans of Pitbosses' Seitan Steaks Parrillada—a heaping platter of smoked seitan steaks and sausages served with Mexican red rice, refried pintos, pico de gallo, and agua frescas. Other items include tofu ribs, vegan pollo asado (grilled chicken), and Northern Mexican-style vegan barbacoa by-the-pound, made with shredded eggplant.
Find out more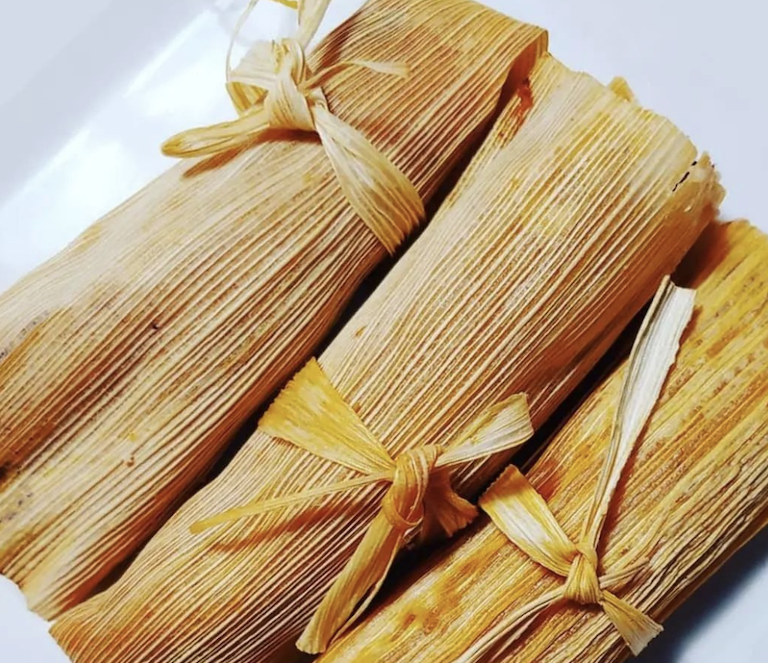 Veggie Del Sol
7 Veggie Del Sol
A pioneer in the Rio Grande Valley's vegan food scene, Veggie Del Sol's offerings range from classic Mexican to American favorites such as vegan tacos, crispy flautas, Philly cheesesteaks, burgers, and buffalo cauliflower wings. Portion sizes here are huge! We love Veggie Del Sol's loaded nachos, which are only $5 on Wednesdays, and we recommend chasing them down with a vegan Clamato-free michelada.
Find out more
For more vegan food in Texas, read: