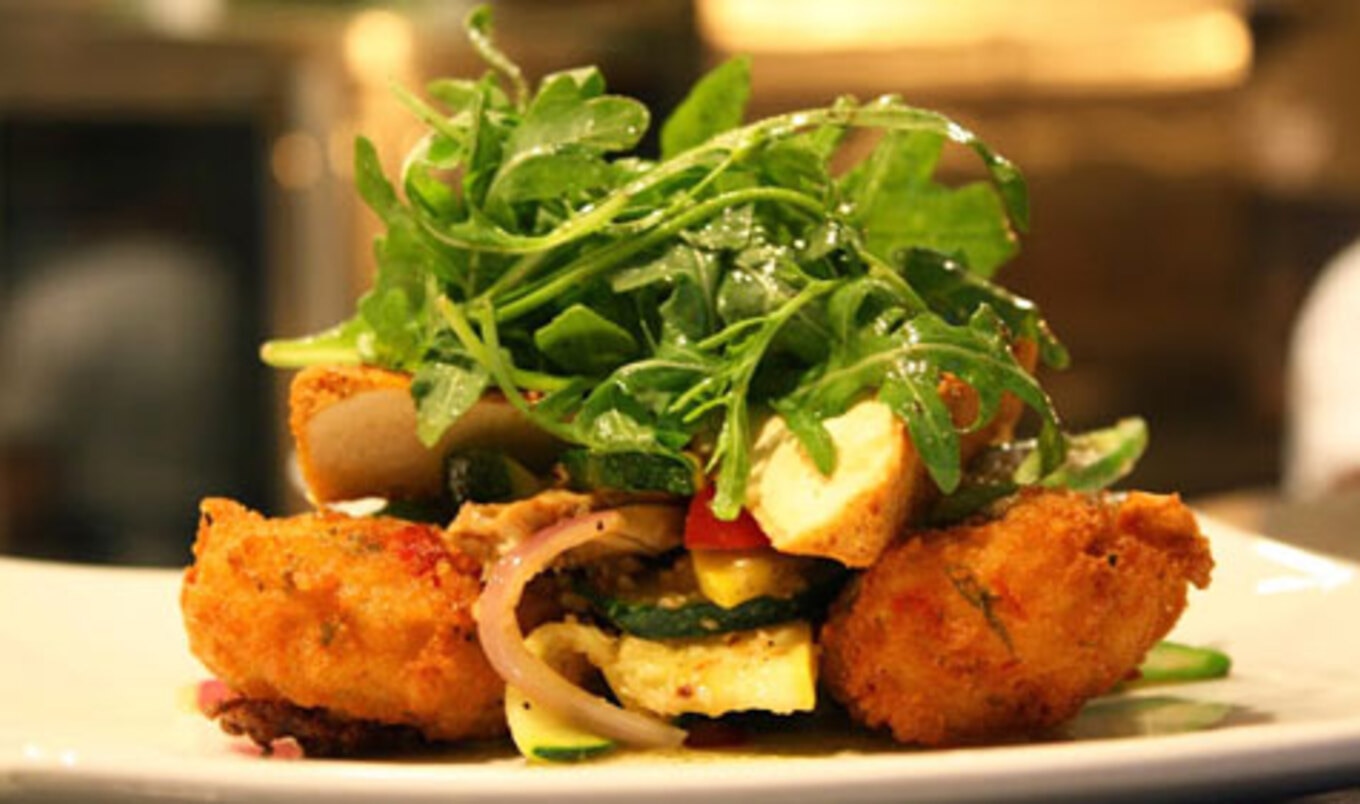 With a wealth of vegan-friendly restaurants and a mayor-proclaimed Vegan Awareness Week, Asheville might be the new vegan capital of the South.
August 23, 2017
---
As veganism's popularity grows exponentially, more American cities are emerging as vegan havens. One such city is Asheville, NC, which has become so supportive of a cruelty-free lifestyle that it is one of the most up and coming vegan regions in the United States. Need proof? This progressive, artsy, and cozy Southern city is home to two veg fests, an inviting selection of vegan-friendly restaurants, Farm Sanctuary's "Meet Your Neighbors" campaign, and a Vegan Awareness Week. Here are some highlights—and reasons why you should visit—from this vegan-friendly city in the South.
Vegan Awareness Week
Asheville is so vegan-friendly that it has a whole week devoted to plant-based living. How many cities can claim that? In May, Mayor Esther E. Manheimer signed a proclamation deeming August 28–September 3 "Vegan Awareness Week." The proclamation cites both the Academy of Nutrition and Dietetics position that "well planned vegan diets are appropriate and healthful during all stages of the life cycle," and a National Institute of Health (NIH) study that concludes "vegans live longer lives with fewer incidences of heart disease, type 2 diabetes, and certain forms of cancer than their non-vegan counterparts." The proclamation also makes clear the negative environmental impact of animal agriculture versus a vegan lifestyle, while boasting the abundance of vegan options offered by the city's restaurants, bakeries, food trucks, ice cream shops, farmers' markets, health-food stores, food co-ops, and food-delivery businesses.
Vegan-friendly restaurants
With more than 80 food establishments serving vegan options, you can easily eat your way across Asheville. Herbivore-friendly eateries include the all-vegan restaurant Plant. You'll also want to stop by local favorite vegetarian eatery Laughing Seed, which offers an awesome vegan Reuben sandwich. Furthermore, The Block off Biltmore is a fun, hip, "eco vegan" bar that offers sustainable wine, cocktails, craft beer, Fair Trade coffee, and light eats. Newly discovered by Asheville vegan scenesters is Mojo Kitchen & Lounge, which offers delicious plant-based dishes, including a sweet plantain bowl and a tempeh, avocado, and tomato sandwich. Take note of this new addition, as you will discover that Asheville restaurants serving weekend brunch often have more than an hour-long wait for a table.
"Meet Your Neighbors"
With shelters in New York and California (and one on the way in partnership with Tracey and Jon Stewart in New Jersey), national animal advocacy, rescue, and education organization Farm Sanctuary recently launched the "Meet Your Neighbors" campaign in North Carolina, shining a spotlight on the 9 million pigs held in the state's industrial-farm facilities. With almost as many pigs as people living in the state, Farm Sanctuary set out to familiarize human residents with their four-legged neighbors being held in cruel conditions. As part of the campaign, Asheville artists are painting fiberglass pig statues with vibrant designs to share the colorful personalities of individual pigs. These symbolic ambassadors are being positioned around the city for the public to see. Often kept hidden from view, the millions of pigs held in North Carolina facilities now have compelling sculptural representatives to remind Asheville residents of their presence.
Asheville VegFest
Asheville is so vegan-friendly that there are two vegfests, both promoting veganism. One is called Asheville VegFest and is organized by The Asheville Vegan Society. This year's fest take place on September 3 in Asheville's Pack Square Park and will feature live music, speakers, local beers, cooking demonstrations, children's activities, and plenty of vegan food. A bonus: admission is free! As If one vegfest isn't enough, Asheville VeganFest also celebrates plant-based living. Organized by Brother Wolf Animal Rescue, the fourth annual Asheville VeganFest will be held June 2–3, 2018. Brother Wolf is North Carolina's largest no-kill animal rescue organization, so it's fitting that they are helping to usher compassionate plant-based living into the state. In past years, the event has included a variety of vegan vendors such as cruelty-free fashion shop Grape Cat, nonprofit The Humane League, and North Carolina craft beer company Sanctuary Brewing, which actively advocates for animals.
Maya Gottfried is the author of Vegan Love: Dating and Partnering for the Cruelty-Free Gal and Our Farm: By the Animals of Farm Sanctuary.