For their sunny Anaheim wedding, Alex Owens and Amber St. Peter revelled in lush greenery at an aquaponic farm. Their relaxed-yet-stylish nuptials saw the bride in a full-length, bell-sleeved dress, with a meal of creative street cuisine served straight from a food truck. Preferring marijuana to alcohol, they skipped the full bar, offering a medicated cake instead, and guests "sparked up" at the end of the reception—sending the newlyweds off with glittering sparklers that illuminated the night.
RSVPs: 90
The budget: $10,000
Where they met: St. Peter and Owens had instant chemistry upon their first meeting at an airport in Los Angeles, where Owens had driven a friend to pick St. Peter up for a visit from her home state of Maine.
Love story: From the moment they laid eyes on each other, "city boy" Owens was taken by St. Peter and her country roots. Once getting to know each other, she never looked back, saying "I really fell in love with Alex's humor … he's very witty, and he's very funny."
The proposal: Owens proposed as the couple paused during a snowshoeing excursion at majestic Mammoth Mountain in California—the immaculate, snowy landscape serving as a perfect precursor to the couples' white wedding.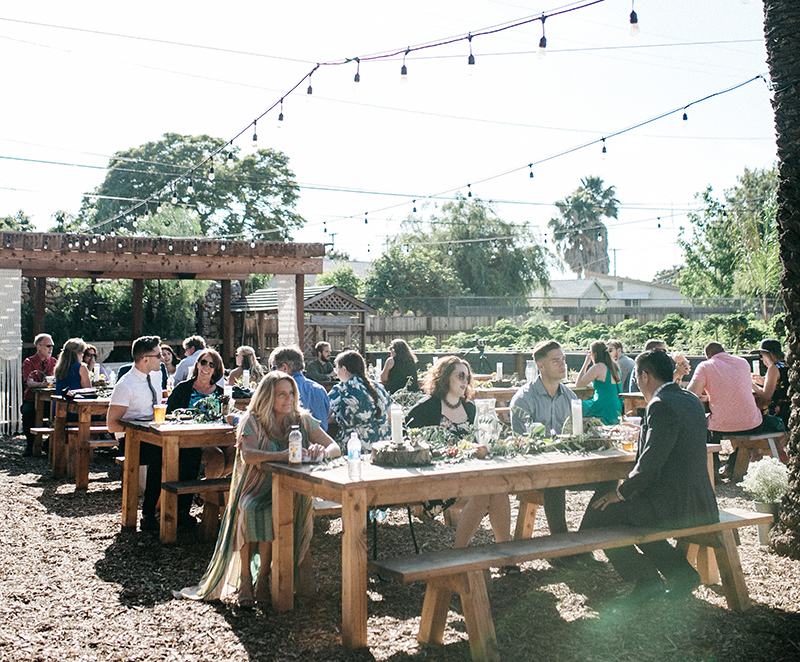 Where they tied the knot: The Riverbed Farm in Anaheim, CA, a small, sweet, community-run aquaponic operation teeming with greenery and flowers.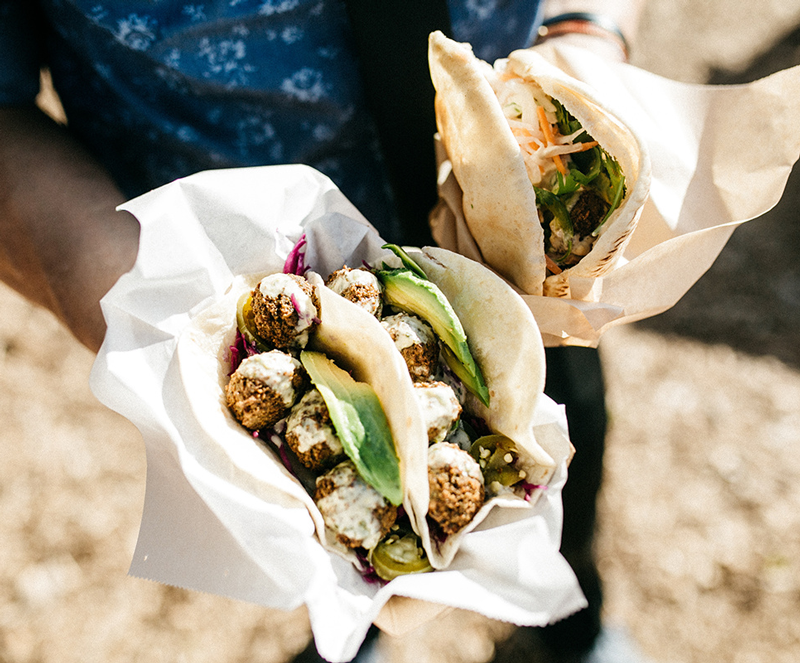 Menu highlights:
Spicy falafel tacos with cilantro-garlic sauce, avocado, and pineapple-pickled jalapeños
Vietnamese-inspired bánh mì pita with pickled carrots, daikon, and fresh cilantro
Churro, blood orange, and cookies-and-cream doughnuts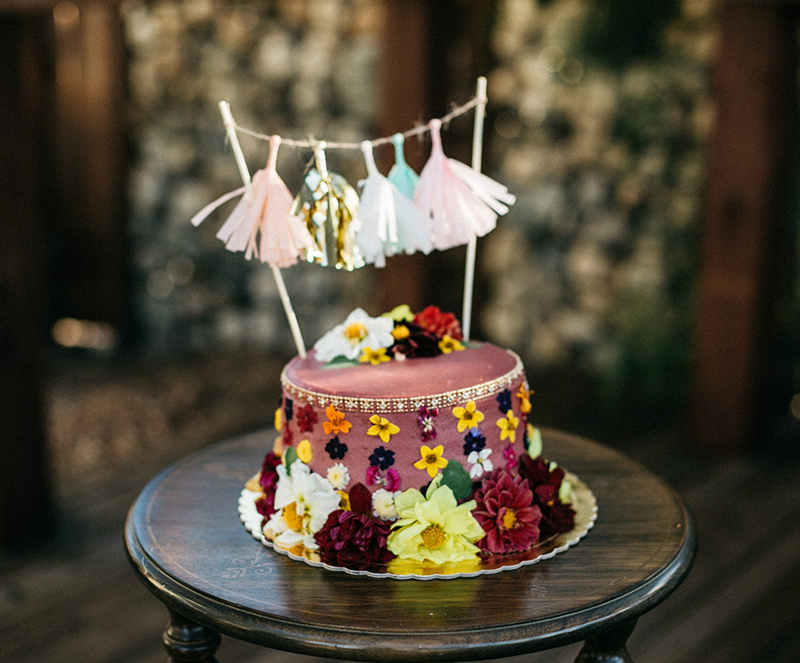 The cake: Marijuana-infused white cake with strawberry frosting and red, yellow, and white edible flowers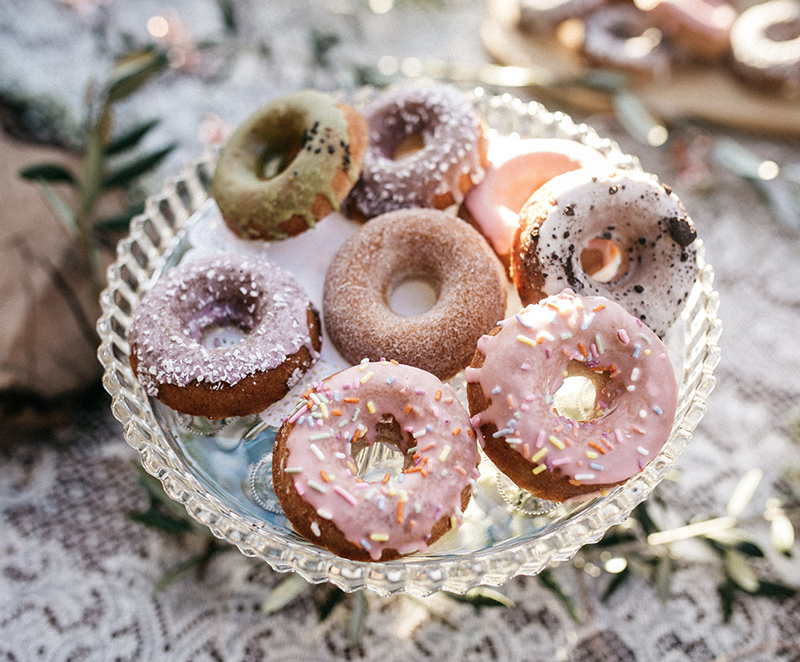 Décor inspo: Reflecting the couple's carefree lifestyle and the sun-drenched setting, the look of the wedding was effortless '70s California with a touch of romance.
The wedding song: "Breathless" by Nick Cave & the Bad Seeds
Personal touch: A hammock was hung where guests could relax, encouraging a laidback day.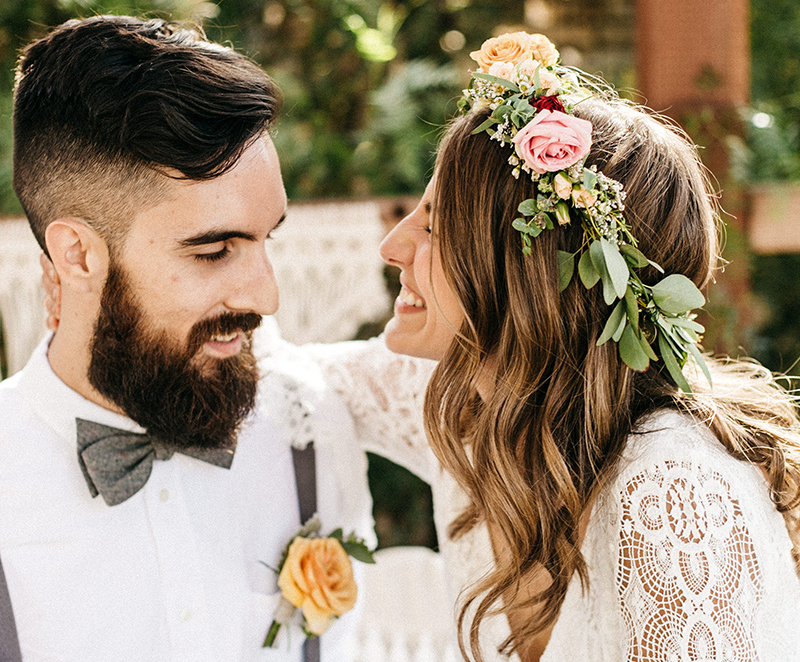 Best wedding gift: With no budget left for a videographer, St. Peter and Owens hadn't anticipated having a wedding video, but as a surprise, the groom's brother arranged for one to capture their special day.
The next day: True to their relaxed lifestyle, the couple spent their first married day eating leftover cake and going for a swim.
The honeymoon: The newlyweds headed to Europe for their honeymoon, touring famous sites and eating their way through Amsterdam, Brussels, London, and Paris.
Want more vegan weddings? Purchase our special wedding issue featuring Amber and Alex's vegan wedding! Check out all of our 2018 vegan wedding couples here, 2017 couples here, our 2016 couples here, and our 2014 couples here!
Maya Gottfried is the author of Vegan Love: Dating and Partnering for the Cruelty-Free Gal, with Fashion, Makeup & Wedding Tips.