What do you get when you combine two creative sisters, two dashing grooms, and two different but equally vegan weddings?
September 9, 2016
---
Emily Hunt & Matt Kivel

The place: Napa Valley, CA
RSVPs: 140
Honeymoon: Road trip along the California coast
The cake: Chocolate with cream cheese buttercream; vanilla-rum with vanilla buttercream; coconut with strawberry buttercream
Menu standouts: Southern-fried tofu; mac 'n' cheese; okra gumbo
Guest swag: Elegant brass key-ring bottle openers

Their story: Emily, a writer and vegan since 2011, and Matt, a musician and speechwriter, kicked off the wedding season with their August nuptials. The pair met on an airplane four years earlier, then settled in for love's long haul.
The wedding: Emily and Matt chose the Hunt family home in Napa Valley as their celebration destination and had Oakland, CA's Souley Vegan cater a soul-food feast. "Right after we got married," Matt says, "Emily and I went into the house, toasted each other, and talked, just the two of us, for 15 minutes. Getting married is really about two people, and I liked being reminded of that."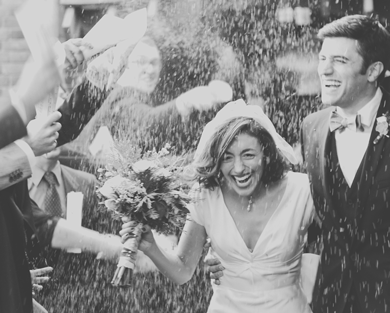 Jena Hunt & Nick Abraham

The place: San Francisco, CA
RSVPs: 180
Honeymoon: Island getaway to Jamaica
The cake: Lemon-vanilla with Meyer lemon-lavender buttercream
Menu standouts: Crostini with Italian butter bean purée and artichoke relish; wild mushroom filo purse with spinach and pine nuts; butternut squash-sweet potato gratin
Guest swag: Vegan lollipops from The Groovy Baker

Their story: Like her sister Emily, writer/editor Jena Hunt grew up vegetarian in Petaluma, CA, the "Egg Capital of the World." She and Eugene, OR-raised Nick—an emergency room doctor—fell in love in 2014 at a Mexican restaurant on Cinco de Mayo, exchanging amorous looks across the bar. "Nick claims he wanted to marry me from that evening on," Jena says. One year to the day later, Nick proposed.
The wedding: After a poetry-infused ceremony at San Francisco's Swedenborgian Church—where Jena and Emily's grandparents were married in the 1950s—Jena and Nick's party moved to landmark dining spot Greens, where Jena's parents held their post-nuptial celebration three decades earlier. "We knew we'd have many guests for whom this would be a first introduction to vegan food," Jena says, "so it had to be impressive. With its high-beamed ceilings, simple driftwood décor, and views of the marina, Golden Gate Bridge, and Alcatraz Island, Greens was the perfect choice.
Want more vegan weddings? Purchase our special wedding issue featuring these vegan weddings! Check out all of our 2016 vegan wedding couples our 2016 couples here and our 2014 couples here!