Random tweets lead this couple to romance, a cross-country move, and founding a vegan business.
August 21, 2016
---
Andrea Dermos & Kyle Domer

The place: Laguna Beach, CA
RSVPs: 50
Honeymoon: Southern states road trip
The cake: Red velvet with whipped cream filling and frosting
Menu standouts: Fried pickles and okra with Cajun mayo; seitan with jezebel sauce, braised collards, and mac 'n' cheese; mini doughnuts with vintage-style bottles of chocolate and vanilla cashew milk
Guest swag: Vegan chocolates from Sjaak's and cruelty-free grooming goodies from Fanciful Fox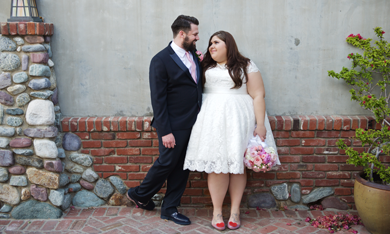 Their story: Southern California native Kyle Domer and Chicago-born Andrea Dermos launched their courtship in a thoroughly modern manner: on Twitter. When cross-country tweets turned into direct messages, the longtime vegans didn't waste time before swapping virtual romance for the real deal, merging their personal and professional lives. In 2012, Andrea and Kyle launched Phoney Baloney's Coconut Bacon based on Kyle's secret recipe. On a Valentine's trip to San Francisco in 2014, Kyle proposed to Andrea with a conflict-free diamond ring in front of "Cupid's Span," a pop art bow-and-arrow sculpture on the scenic Embarcadero waterfront. Kyle hadn't taken into consideration the rush-hour traffic and the commotion they would cause. "People were slowing down in their cars, hooting, honking, and cheering us on," Andrea says. "It was great!"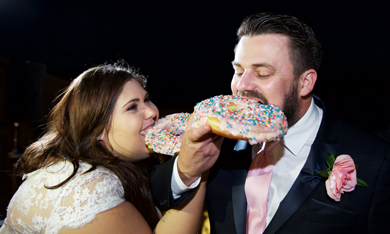 The wedding: Photo-sharing app Pinterest played a large role in the wedding planning, giving Kyle and Andrea ideas for venues, outfits, and party favors. The couple then chose a theme ("SoCal Soul") to match their menu, secured their attire, and decided on a color palette (blue and pink) that found its way down to their toes: Kyle sported limited-edition Gucci rubber loafers in a deep midnight, while Andrea wore cotton candy-colored Vivienne Westwood pumps. The duo decided on a long wedding weekend, renting a boutique seaside hotel in swanky Laguna Beach, CA. To make it easier for the hotel chef to create the Southern-inspired vegan menu, Kyle and Andrea met him in advance to provide ideas for sourcing vegan meats and cheeses, but he surprised them by making everything—from the barbecue jackfruit sliders to the chicken-fried seitan— from scratch. Family also played a prominent role during the day's festivities. Kyle and Andrea's oldest canine companion, Oscar the wiener dog, walked the ring-bearer down the aisle, and at the reception, Kyle surprised Andrea by dispensing shots of ouzo, a nod to Andrea's Greek Cypriot heritage, while music from the old country played in the background.
Want more vegan weddings? Purchase our special wedding issue featuring Andrea and Kyle's vegan wedding! Check out all of our 2016 vegan wedding couples our 2016 couples here and our 2014 couples here!