Dating site OKCupid is to thank for this Latin-inspired wedding.
August 25, 2016
---
Jac Reasor & Jae Russell

The place: Cleveland, OH
RSVPs: 150
Honeymoon: A tropical escape to Costa Rica
The cake: Orange-zest cupcakes with orange-creamsicle frosting, classic vanilla cupcakes with vanilla bean frosting, and chocolate cupcakes with Oreo frosting
Menu standouts: Build-your-own-taco bar with beans, guacamole, salsas, and cashew nacho-cheese sauce; Spanish rice with lime, tomato, and cilantro; Mexican slaw with vegan mayonnaise
Guest swag: One-of-a-kind temporary tattoos and living centerpieces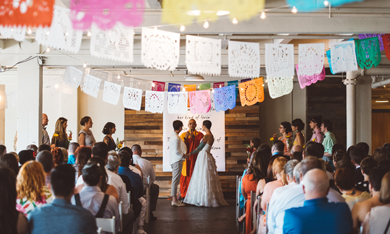 Their story: Jac Reasor was just about to delete her OKCupid account when she decided to check her messages one last time. If the school psychologist hadn't followed that impulse, she would have missed the note from her future wife, a fellow animal-loving vegan named Jae Russell. Jae—an Arizona-based occupational therapist—registered with the online dating site at the urging of friends, who convinced her that having connections within Cleveland's LGBTQ community would help with her planned move there. Ten months later, she and Jac had created a life together in The City of Progress and Prosperity with a menagerie of beloved rescue pets.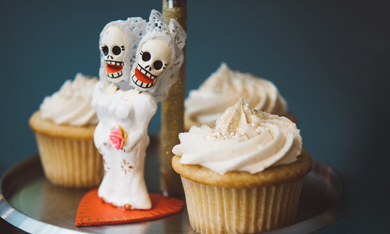 The wedding: Jac and Jae dreamed of a destination wedding, but decided to tie the knot at an art gallery in Cleveland so everyone they loved could attend. Jac took the lead on planning, weaving their love of Day of the Dead iconography, art, and Mexican culture into the details. Friends visiting Oaxaca sent cutout paper decorations and candy for the piñata, and a friend of Jae's father created artisanal candles poured in colorful jalapeño cans. The south-of-the-border theme extended to the wedding menu, which celebrated the plant-based bounty and bright flavors of Latin America. "Some people said, 'You gotta have chicken,'" recalls Jae, "but we weren't ready to compromise. We knew that a vegan menu meant everyone could eat. And who doesn't love Mexican food?" Emotions skyrocketed when Jac and Jae walked themselves down the aisle and peaked when the Buddhist monk blessed their union. At the cocktail hour between the ceremony and reception, guests noshed on peach bruschetta and sipped sangria while a mariachi band played. For the reception, Jac swapped white for red vintage lace and sneakers, while Jae wore her "Gangsta Bride" outfit, launching into a personalized rendition of a Dr. Dre classic with "Nuthin' But a 'J' Thang."
Want more vegan weddings? Purchase our special wedding issue featuring Jac and Jae's vegan wedding! Check out all of our 2016 vegan wedding couples our 2016 couples here and our 2014 couples here!