Work brought Malissa Schwartz and Chad Sarno together, but it was their love of healthy living that makes them inseparable.
August 16, 2016
---
Malissa Schwartz & Chad Sarno
The place: Huntsville, UT
RSVPs: 80
Honeymoon: Spa-and-hiking excursion across the Southwest
The cake: Vanilla and chocolate with lemon curd and raspberry jam fillings, and vanilla buttercream frosting
Menu standouts: Fresh manicotti with Nana's red sauce; hearts of palm crabcakes; stuffed zucchini blossoms
Guest swag: Organic tomato and basil seed packets with Nana's marinara recipe, chocolates, and popcorn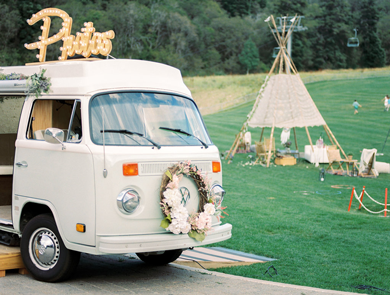 Their story: East Coast Italian boy meets Mormon-raised Utah girl and love ensues—not the most obvious plotline for a contemporary love story, but with plant-based living as a binding force, romantic success is bound to follow. Austin-based Chad Sarno and Big Apple-living Malissa Schwartz crossed paths through work (he as a chef and healthy-eating consultant, she as a plant-based health and nutrition coach) and became "instant friends." When their friendship blossomed into something more, Malissa's mobile lifestyle and sense of adventure prompted a move to the Lone Star State. Together, she, Chad, and Amaya, Chad's 10-year-old daughter, formed a tight trio.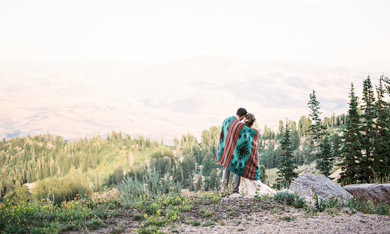 The wedding: "We're mountain and tree people," Chad says. "Nature is our temple." The duo lets these values guide their planning, choosing a wedding destination that was literally breathtaking. Atop a 9,000-foot peak in northern Utah, the couple and their guests were treated to views across a majestic valley dotted with lakes and wildflowers. The ceremony—held on the auspicious new moon—was infused with family heritage, including a Native American blessing and blanket-wrapping ceremony officiated by Malissa's 90-year-old grandmother. "There was a lot of laughter and a lot of tears," the bride says. When your plant-based posse includes acclaimed chefs such as Tal Ronnen and Derek Sarno (who moonlights as Chad's brother), you know you're in for a gustatory extravaganza. Chad's close friends at Kite Hill Cheese, Field Roast, Follow Your Heart, Gardein, and Miyoko's Kitchen were just a few who showed their support with generous edible gifts, which converged into an Italian-inspired menu (a nod to Chad's Nana) to form a vegan epicure's fantasy feast. At the reception, Malissa morphed into a glamorous bohemian rock star, belting out a rousing rendition of Cheap Trick's "I Want You To Want Me" with her band The Molly Shannons. Amaya performed a song she wrote especially for the occasion, while papa beamed from the sidelines in his stylish suit with "wicked healthy" and "plant pusher" stitched into the pocket and lapel. The wedding party—nearly a dozen children strong—tore up the dance floor, and the big kids at heart joined them, dancing into the night.
Want more vegan weddings? Purchase our special wedding issue featuring Malissa and Chad's vegan wedding! Check out all of our 2016 vegan wedding couples our 2016 couples here and our 2014 couples here!