A trip to Disneyland turned into a lifetime of happiness for this Portland-based couple.
August 22, 2016
---
Nicole Brodeur & Alex Payne

The place: Woodstock, NY
RSVPs: 65
Honeymoon: A pre-wedding jaunt across the US, Mexico, and France
The cake: Pistachio-rose with a rose jelly filling and rosewater buttercream frosting
Menu standouts: Crostini with figs and ricotta; rosemary-pecan-crusted seitan skewers with watermelon-tuna sashimi; sweet-potato gnocchi with sage butter
Guest swag: Dark chocolate truffles from Lagusta's Luscious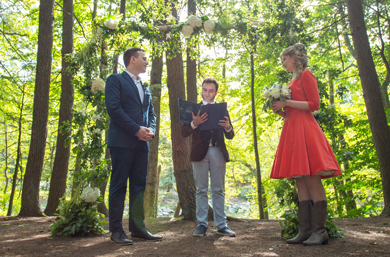 Their story: Disneyland might seem an unlikely destination for two strangers to meet and fall in love—and quirkier still when you consider the seeds of seduction were planted in the Haunted Mansion—but for LA-based Alex Payne and NYC-dwelling Nicole Brodeur, it was spooky serendipity. Two months after that fateful first meeting (and a few dates in California), the duo reunited in the Big Apple to embark on a love-fueled adventure with a life-altering detour into the magical world of veganism. A weekend getaway to upstate New York early in their courtship culminated with an impromptu pit stop at Woodstock Farm Sanctuary. Alex had taken the vegan plunge a month earlier, but Nicole was still eating eggs and dairy when Woodstock founder Jenny Brown gave them the tour and explained the realities of factory farming. "I went vegan cold 'tofurky' right then and there," recalls Nicole.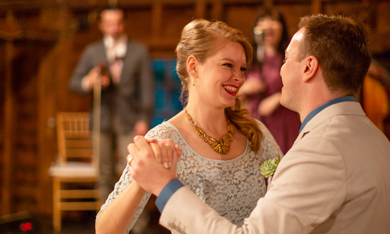 The wedding: Though they relocated to Portland, OR, Alex and Nicole brought their love story full-circle, marrying in a lush outdoor spot at Woodstock Farm Sanctuary. "Considering the country setting," Nicole says, "we asked our guests to dress casually." To accomplish this look, Nicole paired a red vintage dress she first found on Instagram with a pair of faux leather cowboy boots. "Folks didn't believe they could actually wear jeans to a wedding!" As they each made their way through a cathedral of trees, Nicole and Alex were serenaded by a violinist playing The Cure's "Just Like Heaven." Before the I-dos, friends and family served as wedding orators, reciting Shakespeare, Rilke, and Calvin and Hobbes. Alex and Nicole read the vows they wrote to one another, and laughed that each referenced Alex's talent for bad puns. After the ceremony, the couple and their guests feasted on hearty picnic fare prepared by Manhattan-based Beyond Sushi and sipped English cucumber mint lemonade. A post-lunch tour of the farm allowed guests to get acquainted with resident animals and hear their rescue stories. Following a relaxed interlude, guests reconvened for another celebratory event: the dinner reception. Passed hors d'oeuvres and a dreamy vegan cheese table was followed by an extravagant three-course dinner created by award-winning vegan chef Jay Astafa and his team. "Nicole's grandmother said the eggplant parmesan was the best thing she's ever eaten," Alex says.
Want more vegan weddings? Purchase our special wedding issue featuring Nicole and Alex's vegan wedding! Check out all of our 2016 vegan wedding couples our 2016 couples here and our 2014 couples here!