A chance encounter at a vegan meetup led to this 800-guest eco-friendly Hindu celebration.
July 20, 2017
---
The place: Chennai, India
RSVPs: 800
Honeymoon: Kerala and Tamil Nadu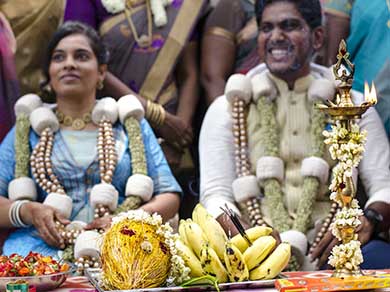 The cake: Traditional Indian dessert of coconut milk, lentils, jaggery, cashew nuts, and cardamom
Menu standouts: Spiced chickpeas and potatoes, vegetable rice biryani, and mushroom korma
Guest swag: Handmade organic cotton bags from The Yellow Bag company filled with peanut candy, coconut, beetle leaves, and a guide to veganism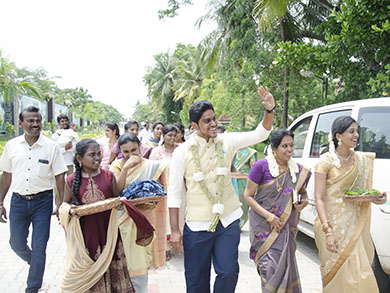 Monica and Praveen's Story: After exchanging hellos at a vegan meetup in Chennai, India, sparks flew between Pandian and Raj—then became more electric during their shared volunteer work with a local animal shelter.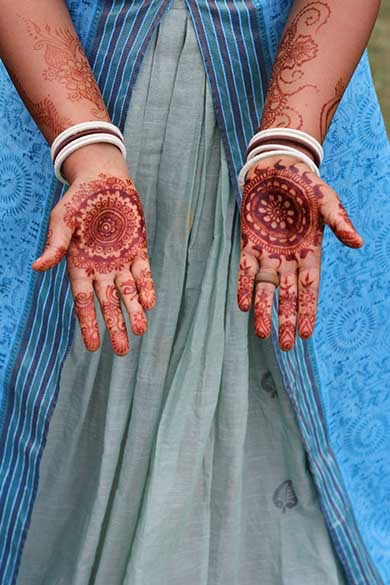 The wedding day: Their traditional, 800-guest Hindu celebration was Chennai's first vegan, eco-friendly wedding. No detail escaped the sustainability theme: invites were handmade, décor was compostable, formal wear was handloomed and organically dyed, and even the garlands worn during the ceremony were made of dried cardamom and almonds. Pandian and Raj planned the entire fête themselves, and opted out of supporting the problematic practices of the gold and diamond industries by sourcing bamboo engagement rings.
Want more vegan weddings? Purchase our special wedding issue featuring Monica and Praveen's vegan wedding! Check out all of our 2017 vegan wedding couples here, our 2016 couples here, and our 2014 couples here!