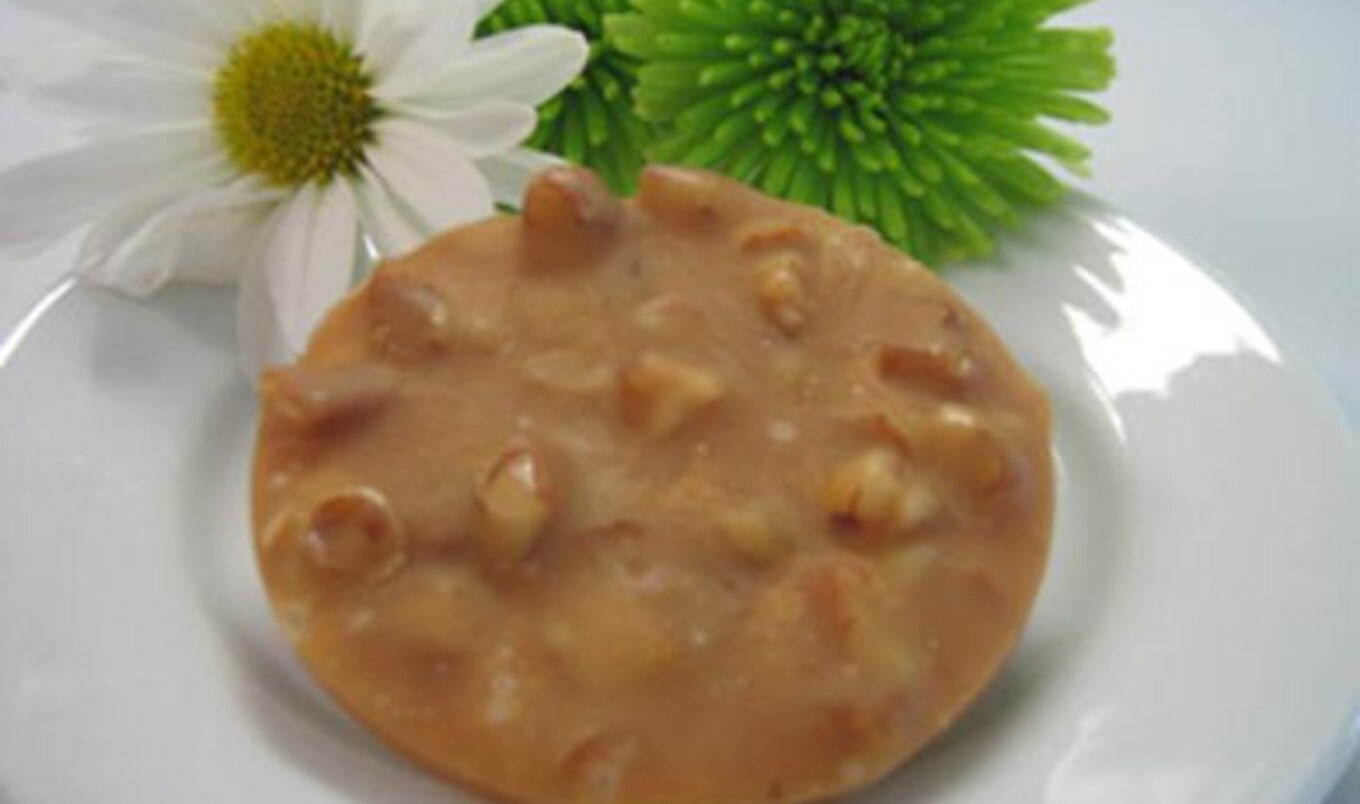 Rich, toothsome, and sweet, these NoLa standards taste shockingly just like their non-vegan counterparts.
October 23, 2009
Don't double this recipe, as the pralines will set up too fast for you to spoon them all out. Please use a heavy pot with a thick bottom to prevent hot spots. Pralines will not work in a non-stick saucepan, as the sugar will crystallize on the sides and bottom and burn, ruining the pralines (and possibly your pan too!). If your pralines set up before you can pour them into pretty patties, just crush them up and eat them with your favorite ice cream, or eat them as is. They'll still taste great.
Makes about 20 pralines
What You Need for the Pralines:
1 cup light brown sugar, lightly packed
1 cup sugar
2 tablespoons non-hydrogenated margarine
1/2 cup Nut Crème (see below)
1 teaspoon vanilla
1 cup pecan halves, lightly toasted 
What You Do for the Pralines:
On a flat surface close to your stove, lay out three pieces of newspaper on top of each other. Cover with a couple of pieces of parchment.
In a medium saucepan over low heat, place brown sugar, sugar, nut créme, and margarine, stir well and attach candy thermometer.
Bring the heat up to medium and stir continuously until the sugars dissolve. Once the mixture is boiling, do not stop whisking! Whisk until the caramel reaches just under the soft ball stage 237 to 238 degrees, about 4 to 6 minutes.
Immediately remove from heat, take out the thermometer, and quickly whisk in vanilla and pecans. Working quickly, pour spoonfuls of the mixture into small puddles on top of the parchment. Leave a few inches in between for the pralines to spread.
Once set, the pralines should peel easily off the parchment, this only takes a few minutes.
Store in an airtight container, or wrap individually in waxed paper.
What You Need for the Nut Crème :
Makes 1 cup 
3/4 cup whole fat non-dairy milk (almond is nice)
1/2 cup raw cashew pieces
What You Do for the Nut Crème:
In a blender, place cashews and non-dairy milk and allow to soak for an hour. Process on high speed for 2 to 3 minutes, until completely smooth.
Strain if necessary and use within 1 to 2 days.