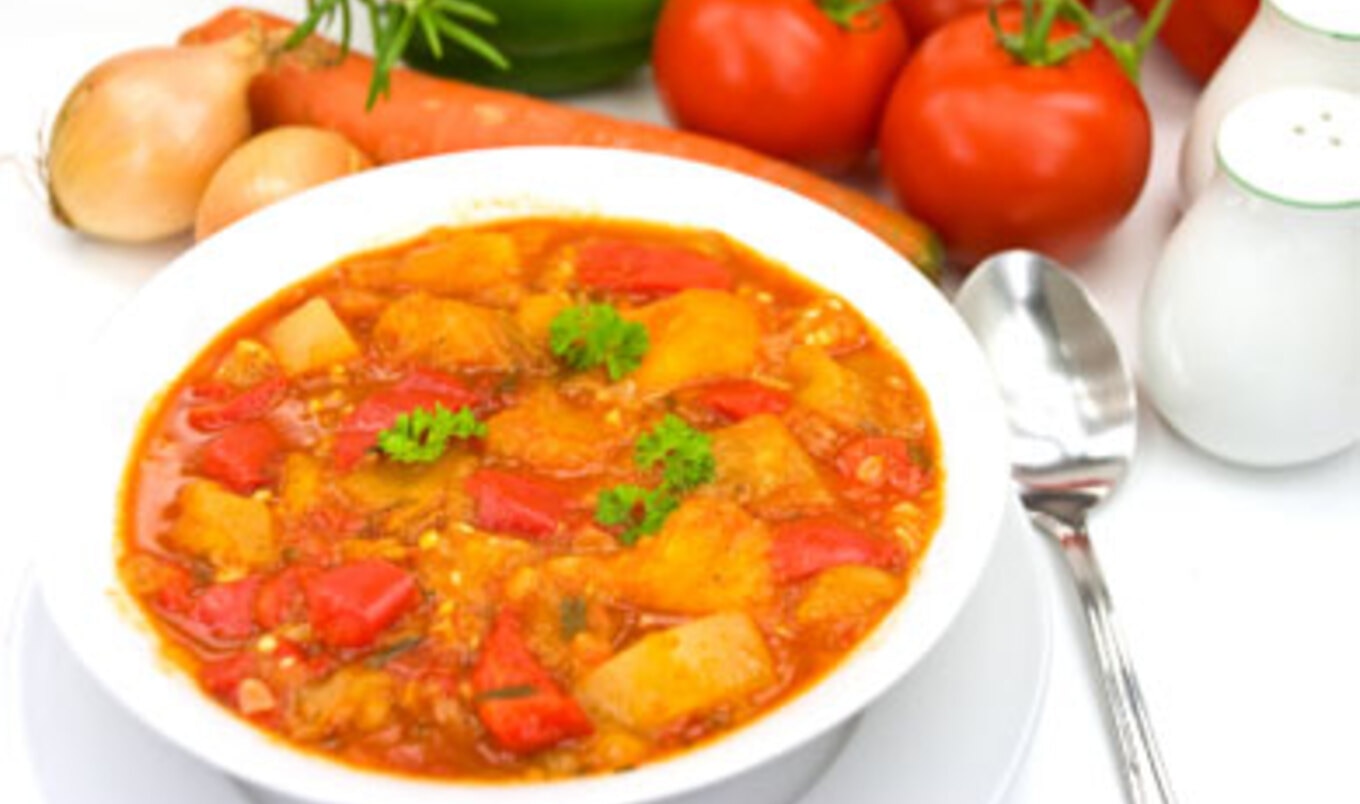 Say "hello" to low-country cooking with this classic Southern stew.
February 1, 2009
Don't let the lengthy list of ingredients scare you off—this veganized Brunswick stew recipe is totally worth the time. Thick, savory, and satisfying, this stew might make you consider heading down home. Dig in, y'all!
Serves 4 to 6
What you need:
1 tablespoon olive oil
1 12-ounce package vegan sausage links, cut into 1/2-inch pieces
1 sweet yellow onion, finely chopped
2 large white potatoes, diced
2 garlic cloves, minced
1-1/2 teaspoons fresh ginger, grated
3-1/2 cups vegetable stock or water
1 15-ounce can diced tomatoes, drained
1 16-ounce package frozen succotash
2 to 3 tablespoons tamari or soy sauce
2 teaspoons prepared mustard
1 teaspoon light brown sugar
1/2 teaspoon ground allspice
1/2 teaspoon hot sauce
1/4 teaspoon salt
1/4 teaspoon freshly ground black pepper
1 12-ounce package frozen vegan burger crumbles
1/2 teaspoon Liquid Smoke
What you do:
In a large saucepan over medium heat, heat olive oil. Add vegan sausage and cook until browned, about 5 minutes, stirring occasionally. Remove from pot and set aside.
Reheat oil in saucepan and add onion, potato, garlic and ginger. Add 1/4 cup of stock or water, cover and cook until softened, about 5 minutes, stirring occasionally.
Remove the lid, add remaining stock or water, and stir in tomatoes, succotash, tamari, mustard, sugar, allspice, hot sauce, and salt and pepper to taste. Bring to a boil, reduce heat to low and simmer, uncovered, until vegetables are tender, about 45 minutes, stirring occasionally. During the last 10 minutes of cooking time, add reserved vegan sausage, vegan burger crumbles, and Liquid Smoke.