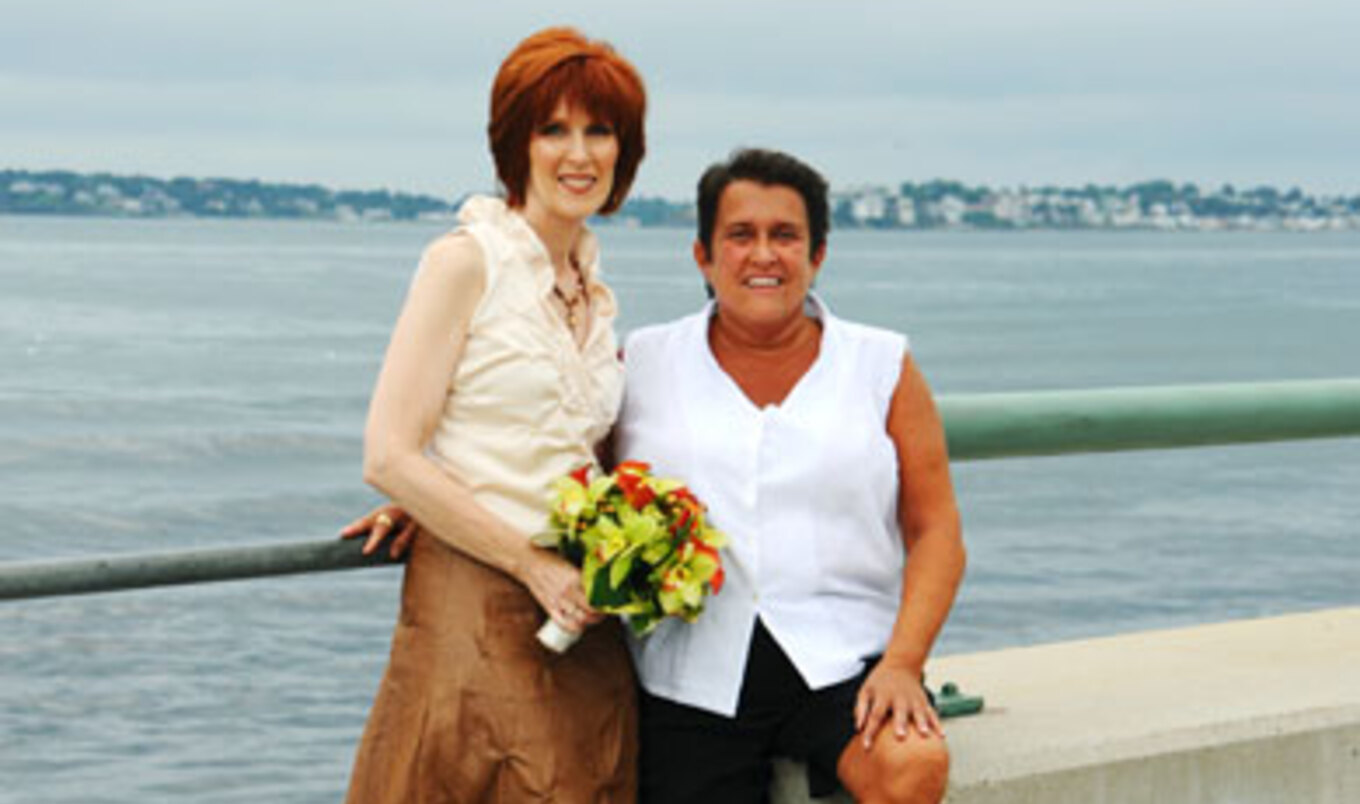 From a picturesque California coastal ceremony to a magnificent backyard masquerade ball in Virginia, this year's vegan wedding couples shatter stereotypes and exceed their own expectations for "the big day."
March 31, 2009
---
Ginger Burr & Marion Davis
Lynn, Mass.
Guests: 58
Pricetag: $14,000
Biggest expense: The food
Best wedding gift: "Our friend Elaine was certified by the State of Massachusetts so she could marry us. It made our day all the more special and meaningful to have her blessing."
Honeymoon: Deerfield and Rockport, Mass.
Tip for success: "The day is yours, so do it in a way—always with love and grace—that makes you happy."
Their story: Nearly a decade ago, Ginger appeared as a guest on Marion's radio show, planting the seed that would someday sprout into a second chance at love. Ginger, in a long-term relationship, didn't find out until long after their initial introduction that Marion had felt a romantic spark. Sadly, Ginger's partner passed away two years later, and after a much-needed healing process, Ginger found Marion resurfacing in her life and cautiously jumped into the dating pool. "I was nervous about dating after such a long time, but knowing Marion made it easier," says Ginger. One intrepid date led to another, finally culminating in a stunning vegan celebration six years later.
Wedding highlights: Friends and family gathered together at Ginger and Marion's home, where the glowing couple took their vows in a simple and elegant backyard setting. In a humorous twist, Marion slyly pulled out a pair of handcuffs as the ceremony drew to a close, handcuffing her wrist to Ginger's. Guests cheered, later asking, "Can I borrow your handcuffs? I wish I'd thought of that!" The party moved to Red Rock Bistro, where friends and family enjoyed sophisticated food and a friendly atmosphere. "Every time we turned around there were fresh drinks and fresh smiles," says Joanne, Ginger's best friend. To return Marion's earlier surprise, Ginger serenaded her with "Embraceable You," adding a sincerely sentimental touch to their special day.
The Menu
Appetizers
Tempura basil leaves with tomato tartar and olive tapenade
Miso nut-cheese dumplings
Curried-parsnip-stuffed zucchini blossoms
Gazpacho shooters
Main Course
Tomato pyramid with roasted poblano peppers, black beans, avocado, and tomatillos with black-eyed peas and coriander
Baby Holland peppers stuffed with quinoa, golden raisins, and pistachios, served with grilled eggplant, zucchini, and squash
Baby arugula salad with candied nuts and poached pears
Dessert
Heart-shaped three-layer wedding cake with chocolate ganache, sliced strawberries, and chocolate-raspberry gateau with vanilla buttercream frosting, served with raspberry sorbet
For a complete list of caterers, dressmakers, and photographers from each of this year's wedding couples, visit our 2009 Guide to Vegan Weddings. Want more vegan weddings? Purchase our special wedding issue featuring Ginger and Marion's vegan wedding! Check out all of our 2009 vegan wedding couples here, 2019 couples here, 2018 couples here, 2017 couples here, our 2016 couples here, our 2014 couples here, our 2012 couples here, 2011 couples here, and 2010 couples here!