News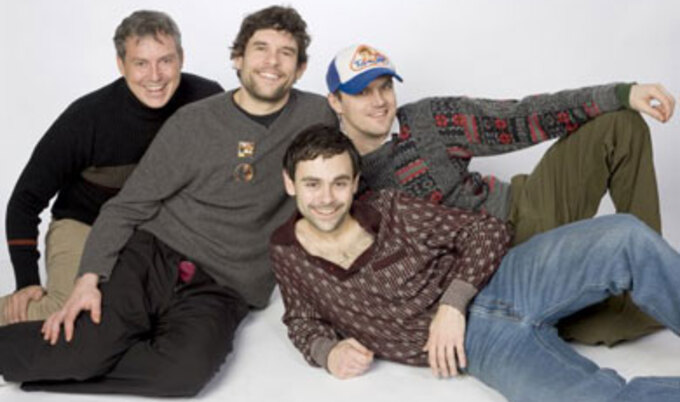 VegNews Interviews Vegan Rockers Propagandhi
Veteran vegan rockers Propagandhi talk to VegNews about their forthcoming album, Supporting Caste.
March 8, 2009
---
Subtlety has never been its strong suit, but Propagandhi has always been a leader of the punk/agit-prop pack. The Winnipeg-based band's new album, Supporting Caste—out March 10—is set to be its best yet. And with pre-release downloads directing donations to the band's favorite charities—Partners in Health, Sea Shepherd Conservation Society, and PETA2—it's hard not to get at least a minor case of the warm and fuzzies. Bassist Todd "The Rod" Kowalski takes time off from touring to give VN the scoop.
VegNews: Tell us about your new album. What should everyone know about it?
Todd "the Rod" Kowalski: We worked really, really hard on the songs, our playing, and the lyrics. We got a great painting from an artist named Kent Monkman for the cover art. I drew a picture for the inside. This is for sure our best record. A labor of love.
VN: How has your music evolved over time?
TK: We practice pretty hard so our music is getting better and closer to what we are hoping to achieve. As always we're still on the journey.
VN: I read an interview with you just after the 2001 election and your outlook of the world was pretty bleak. How do you feel about Obama's presidency? What does it mean for the rest of the world?
TK: I'm sure it's a step forward for the world but certainly Barack will not be the savior people think he will be. I think it's dangerous to idolize politicians and support them full steam ahead without question. I agree with the spirit that got him elected, but he's already surrounded himself with questionable people and has said some things that show a sad foreshadow of future policies.
VN: What is your relationship like with your fans?
TK: Our relationship with the fans is pretty good. We do our best to respond to our emails and letters. We always try to be nice and take time for people, even the drunk kids stinking into our faces. We do get a lot of people who give us some credit for helping them out a bit, and we appreciate it a lot. The fans are ready to rock pretty much anywhere we go. I think the fans appreciate how much we try to prepare for the shows and how much we're putting into each show. We always do the best we can.
VN: You've been giving free downloads of your songs to fans who donate to selected charities. Tell us more about this.
TK: We try our best to support people working for a better world and do what we can to generate interest in them. This time it was Partners In Health, Sea Shepherd Conservation Society, and PETA2. We figured it would be a good thing to do with our new songs, rather than just slap them up on our website or something. It's been going really well. People have been into the idea and going with it. We might do something like this again in the future.
VN: We'd like to hear about your experience as vegans—both on the road and at home.
TK: When we're on tour we end up going to a lot of vegan restaurants and a lot of Thai restaurants. We went to an unbelievable Thai restaurant called Peace Harmony in Sydney, Australia two days ago. We went there four times in two days! When I'm at home I usually cook my own food and every once in a while go to Merkato, my favorite Ethiopian restaurant in Winnipeg.
Check out Propagandhi:
Online
On Facebook
On MySpace
Want more of today's best plant-based news, recipes, and lifestyle?
Get our award-winning magazine!
Subscribe