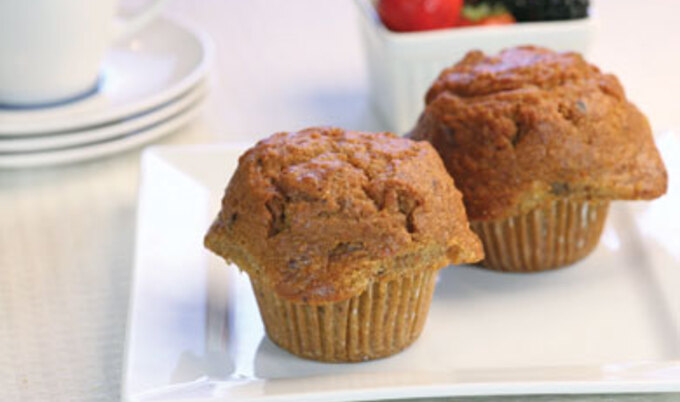 Hemp Breakfast Muffins
No, there's no funny business going on in these delicious hemp-apple muffins.
Hemp won't get you high, but we swear these muffins are good enough to provide you with an other worldly experience. These tasty treasures burst with warm, homey flavor and all the nutrition you could ever want in a breakfast item—essential fatty acids, antioxidants, and fiber, just to name a few standouts. Despite the name, try not to get too serious a case of the giggles!
Makes 12 Muffins
What you need:
1-1/2 cups whole-wheat pastry flour
1 cup oat flour
1/2 cup shelled hemp seeds
2 teaspoons baking powder
1 teaspoon baking soda
1/4 teaspoon salt
1/2 teaspoon cinnamon
1/4 teaspoon ground nutmeg
1/8 teaspoon ground cardamom
1 cup unsweetened applesauce
1/2 cup maple syrup
3/4 cup plain soymilk
1 teaspoon vanilla
3 tablespoons canola oil
What you do:
Preheat oven to 350 degrees. Line muffin tin with cupcake liners. In a large bowl, sift together whole-wheat flour, oat flour, hemp seeds, baking powder, baking soda, salt, cinnamon, nutmeg, and cardamom until well combined.
In another bowl, combine applesauce, maple syrup, soymilk, vanilla, and canola oil. Add wet mixture to the dry and gently mix until just combined.
Spoon batter into prepared muffin pan. Bake for 25 to 30 minutes, or until a toothpick inserted in the center comes out clean.
Want more of today's best plant-based news, recipes, and lifestyle?
Get our award-winning magazine!
Subscribe